Singapore reports three more coronavius cases of unknown origin
Singapore is reporting three more coronavirus cases with no links to previous cases or travel history in
China
.
The country moved its disease outbreak response up a level to "orange" on Friday as the new cases emerged, according to the Straits Times. This means the outbreak is thought to have
moderate to high public health impact
.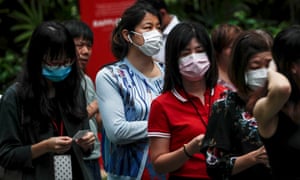 Code orange is one step below red, the most severe category, and this is only the second time it has been activated since the coding system was set up after the Sars outbreak in 2003. It was previously activated for the swine flu outbreak in 2009.
The new cases include a 53-year-old man who visited Malaysia in January, a 42-year-old woman who is a teacher at Victoria junior college, and a 39-year-old woman who was also in Malaysia in January.
The cases were discovered because hospitals in Singapore had started testing all pneumonia patients for the virus, the health ministry said.
The total number of coronavirus cases in Singapore is now 33. Four of these are not connected to previous cases and have no travel connections to China.
The health minister, Gan Kim Yong, said at a press conference:
We have been preparing for this scenario and we are ready to manage this situation. The key is quick detection and managing the local spread.