China Moves to Crush Opposition With Sweeping Candidate Ban
Government bars Joshua Wong, 11 others from seeking office
Authorities unleash full power of Beijing-drafted security law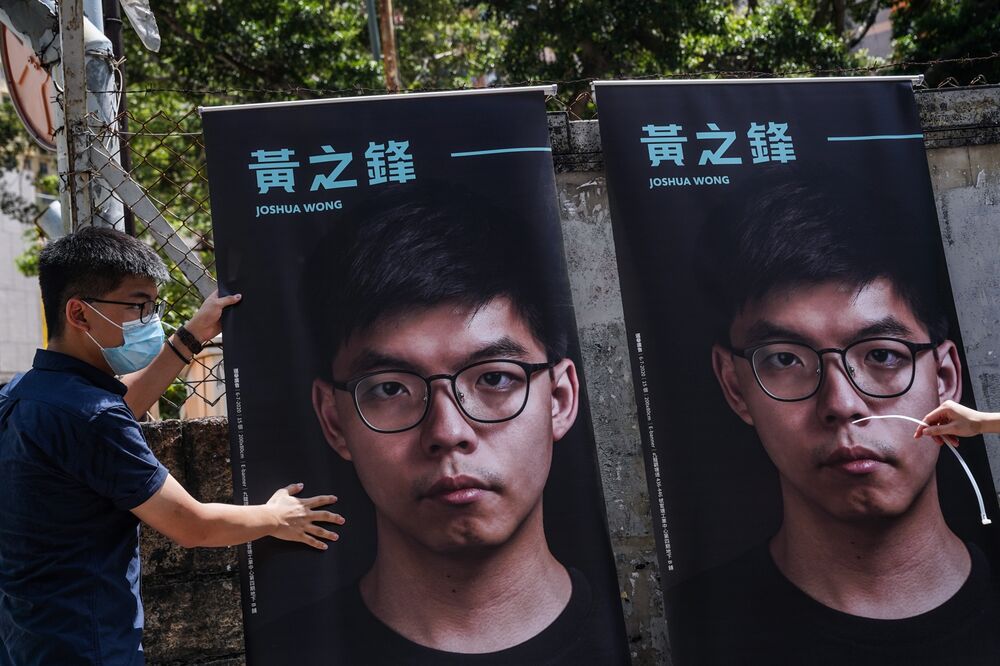 Hong Kong authorities drew new red lines on the limits of dissent in the financial center, barring a dozen activists including Joshua Wong from seeking office and arresting four others over social media posts.
The back-to-back actions came within a span of about 24 hours Thursday -- a sweeping gesture showing how much a
national security law
enacted last month had strengthened Beijing's hand. Both the Chinese and Hong Kong governments issued
statements
praising the disqualification of 12 opposition candidates, showing that mere opposition to the law drafted by Beijing was enough to prevent them from taking office.
"The entire pro-democracy movement now understands that there's no legitimate or effective channels of opposing the government," said Joseph Cheng, a retired political science professor and veteran democracy activist. "Meanwhile, anger will certainly continue to accumulate, which makes governance difficult."
While Chinese authorities argue they're seeking stability after a historic wave of sometimes-violent protests last year, activists and business groups have warned that the clampdown jeopardizes the former British colony's future as a place where capital and ideas are exchanged freely. U.S. President Donald Trump has already begun rolling back special treatment guaranteed to Hong Kong in the 1990s after China agreed to preserve its "high degree of autonomy" until 2047.
The twin blows shocked an opposition camp already reeling from local
media reports
that Hong Kong Chief Executive Carrie Lam planned to ask Beijing to postpone the Sept. 6 Legislative Council election for a year, due to a sudden surge in coronavirus cases. Democracy advocates had hoped to deliver a rebuke to China by winning an unprecedented majority in the legislature after a landslide victory in local elections in November.
The candidates were disqualified because their views made clear they didn't "genuinely uphold" Hong Kong's
Basic Law
, the government said, in a statement that made clear opposition to the national security law was grounds for disqualification and suggested activists were being held accountable for words or actions before the law's enactment. The National People's Congress handed down the law criminalizing subversion, secession, terrorism and collusion with foreign forces on June 30, after losing patience with the government's failure to pass a similar measure through the legislature.
For more on Hong Kong's security law:
The Hong Kong government preemptively disputed claims that the disqualifications infringed on constitutional protections of free speech. "There is no question of any political censorship, restriction of the freedom of speech or deprivation of the right to stand for elections as alleged by some members of the community," the government said.
The returning officer who denied Wong's candidacy cited his advocacy of foreign sanctions to support Hong Kong democracy movements. Other candidates barred included sitting lawmakers Alvin Yeung and Dennis Kwok.
The requirement that candidates support the national security law would rule out almost all of the city's pro-democracy bloc. About 56% of Hong Kong residents oppose the legislation, compared with 34% who support it, according to a Reuters/Hong Kong Public Opinion Research Institute poll released before the law's enactment.
"Today we are seeing the results of the relentless oppression that this regime is starting not only just to take away the basic fundamental rights and freedoms that were once enjoyed by all Hong Kong people, but they also trying to drive fear and repression into our hearts," Kwok told a news conference after his candidacy was rejected. "We must not let them succeed."
Lam has argued that the law will
restore stability
and allow more residents to exercise their own rights, saying that speech supporting independence or other views inconsistent with the law isn't protected. While officials have repeatedly said that the law targets a "very small minority of people," they have also described it as a "
sword of Damocles
" hanging over the government's most strident critics.
| Name | Type of seat | Affiliation |
| --- | --- | --- |
| Joshua Wong | Geographic | "Resistance camp" |
| Dennis Kwok | Legal Sector | Civic Party |
| Alvin Yeung | Geographic | Civic Party |
| Kwok Ka-ki | Geographic | Civic Party |
| Cheng Tat-hung | Geographic | Civic Party |
| Cheng Kam-mun | Geographic | Civic Passion |
| Ventus Lau | Geographic | "Resistance camp"; protest organizer |
| Lester Shum | Geographic | "Resistance camp"; student leader during the 2014 Occupy movement |
| Gwyneth Ho | Geographic | "Resistance camp" |
| Fergus Leung | Geographic | "Resistance camp" |
| Tiffany Yuen | Geographic | "Resistance camp" |
| Kenneth Leung | Accounting sector | N/A |
Calls to delay the election have grown among pro-establishment figures amid a fresh coronavirus outbreak, with the city reporting 149 additional cases on Thursday to bring its total to more than 3,100. Hong Kong's government has reiterated earlier statements that agencies were still preparing for the election and were communicating with health authorities to formulate plans.
Australia, the U.K. and the U.S. earlier this week
voiced concern
that the election be allowed to go ahead.
The disqualifications came hours after Hong Kong police announced the
arrest
four former members of a pro-independence group on secession charges over their alleged connection to a newly established group that pledged online to build a "Republic of Hong Kong" by "any means" necessary. The move marked the first time authorities in the financial hub used the measures to limit speech on the internet.
"Police remind the public that the cyberworld of the internet is not a virtual space beyond the law," the police said in a statement. The suspects were ages 16 to 21.
The U.S. Congressional-Executive Commission on China criticized the latest arrests. The body's co-chairmen, Senator Marco Rubio of Florida and Representative Jim McGovern of Massachusetts, called on Hong Kong to drop the prosecutions.
Ma Ngok, an associate professor of political science at the Chinese University of Hong Kong, said the arrests showed that police would use the law against crimes involving speech rather than just actions.
"If the law is applied that way it will be a major threat to the freedom of speech in Hong Kong," Ma said. "It shows you don't need direct actions. You can be arrested for simply sharing a post."