In mid-June, as Australia began to open up, a report landed that, on the face of it, had nothing to do with Covid-19 or Australia's response.
The Australian Strategic Policy Institute
released a report
on what it described as a "DNA dragnet" and the development of the "world's largest police-run DNA database". It described a massive Chinese police operation to collect and analyse DNA samples from millions of men and boys who had no serious criminal history and had no control over how their samples were collected, stored and used.
Several private companies were named as having involvement.
One of those was a wholly-owned BGI subsidiary, Forensic Genomics International. The company, ASPI said, had struck a strategic partnership with the Public Security Bureau of Xi'an in August 2018 and worked with other such agencies
to build genetic databases
as part of the national program.
"These ordinary citizens are powerless to refuse DNA collection and have no say over how their personal genomic data is used," the report said. "The mass and compulsory collection of DNA from people outside criminal investigations violates Chinese domestic law and international norms governing the collection, use and storage of human genetic data."
BGI, for its part, denies the allegations contained in the ASPI report, saying it has "never been involved in the collection, storage or analysis of personal genetic information with the potential for or the purpose of violating human rights for special regions or groups".
It also denies ongoing concerns about links to the Chinese government, saying it has no government ownership or funding.
"It is owned by cofounders and core employees," a spokeswoman said.
Concerns about the company have been enough to turn some jurisdictions away entirely. In California, authorities were concerned enough about the company's background that it decided to refuse its Covid-19 tests.
The Washington Post reported
that the decision was based on an inconclusive, one-page intelligence report that raised concerns about BGI being potentially subject to Chinese influence.
Any such concerns failed to deter Australia, where security agencies briefed government about the arrangement.
"The Australian government has sought and obtained advice from security agencies about appropriate installation and use of the new platforms and is implementing this advice through contractual arrangements with the Australian pathology providers," a spokesman for Hunt said.
One of the ASPI report's authors, La Trobe University's James Leibold, said Australia should be taking ethical concerns into account when deliberating on its future involvement with BGI.
"It's one of those things where you have to balance up ethical concerns with security concerns, economic concerns, and public health concerns," he said. "Admittedly it's a complicated series of issues to work through, but I think it's important that we raise the ethical and security concerns so that they're considered here in Australia."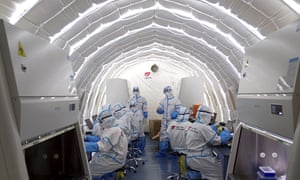 BGI, though, says it holds itself to the highest of ethical standards. It is also at pains to point out that it is independent of the Chinese government.
It says any suggestion that Covid-19 testing data could somehow be handled inappropriately is fundamentally wrong and neglects to understand the fact that it has no access to Australian health data.
"BGI only provides the products and know-how for Covid-19 testing, but does not receive, process or manage patient data," a spokeswoman said. "The labs in Australia are operated entirely by local staff according to national regulations."
Other experts agree there is little risk to Australians' privacy and data from Covid-19 testing.
The Belgian computational biology expert Yves Moreau, a professor at the University of Leuven, has concerns about its separate gene-sequencing business, however.
He says he is not convinced it is possible to guarantee that a copy of the data generated by BGI's gene sequencing services in western countries will not end up in China, though he has no evidence to suggest that has happened.
Regardless, he says genomic data is incredibly detailed, personal, and valuable, and must be treated with care.
"Genomic data is extremely intimate because it reveals key information about your identity, your health, and your family," he said. "It must be afforded strong privacy protections, while also trying to leverage this information for genomic research for the common good. This is a delicate balance to find."
"While genomic data can be economically valuable, it should not be considered as an ordinary commodity that can be traded without restraint."