Russia Opposition Leader in Intensive Care After 'Poisoning'
Navalny hospitalized after visit to Siberia, spokeswoman says
Anti-Putin activist is in grave condition, Tass reports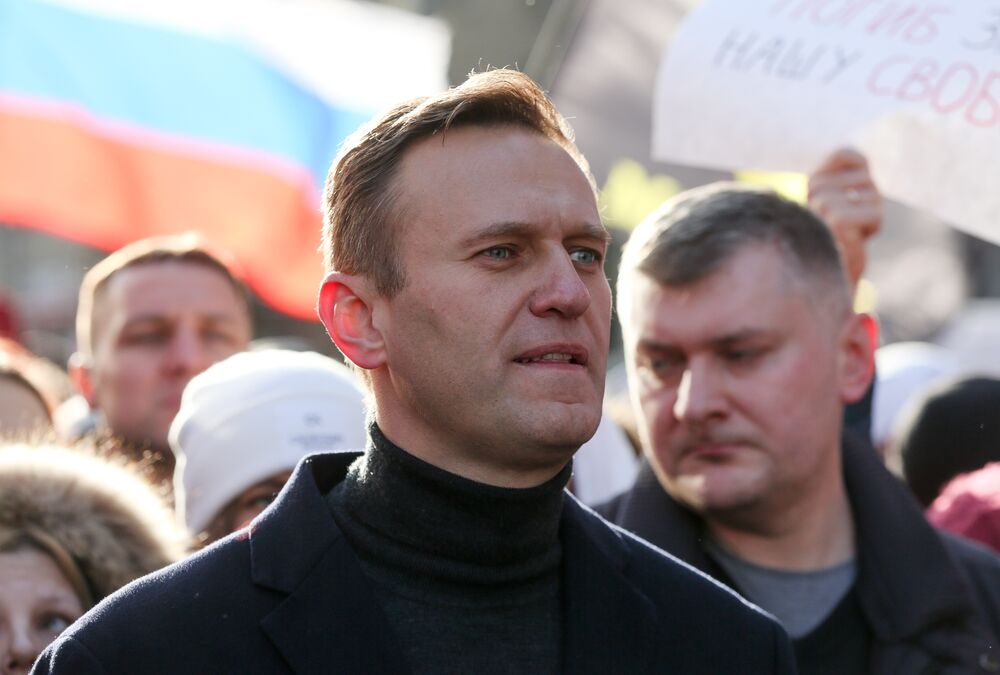 Russian opposition leader and anti-corruption campaigner Alexey Navalny has been hospitalized with suspected poisoning and is in intensive care, his spokeswoman said Thursday.
Navalny, 44, fell ill on a plane returning to Moscow from the Siberian city of Tomsk, Kira Yarmysh, the spokeswoman, said on Twitter. The aircraft made an emergency landing in Omsk where he was taken to the hospital for treatment of "toxic poisoning" and has been put on a ventilator, she said.
The anti-Kremlin activist is unconscious and in "serious condition," Yarmysh said. Aides believe something was put in his tea during the visit to meet activists as "it was the only thing he drank from the morning," she said.
Poison is among the potential causes being investigated, Anatoly Kalinichenko, a doctor at the Omsk clinic where Navalny is hospitalized, told journalists.
"The patient is here in the hospital in serious condition on a ventilator, but his condition is stable," Kalinichenko said in a video posted by Yarmysh. "There is no certainty that his condition was caused by poisoning."
The deliberate poisoning of Navalny is not currently under investigation by the authorities, state-owned Tass news service reported, citing an unidentified person in law enforcement.
Navalny became Russia's most prominent opposition leader during massive 2011-2012 protests against President Vladimir Putin's return to the Kremlin for a third term following four years as prime minister.
He is the latest Kremlin critic to fall victim to an apparent poisoning. Dissident security service officer Alexander Litvinenko died in London after consuming tea laced with polonium in 2006, while ex-spy Sergei Skripal survived an assassination attempt with a weapons-grade nerve agent, Novichok, in England's Salisbury in 2018, attacks that U.K. officials linked to the Russian state.
Activist Pyotr Verzilov, who led a pitch invasion during the 2018 World Cup final game in Russia to protest Putin's rule, was treated for what doctors said were symptoms of poisoning later that year. The chief coordinator for Mikhail Khodorkovsky's Open Russia organization, Vladimir Kara-Murza, also suffered acute kidney failure after being poisoned in 2015, later making a recovery after being flown to the U.S.
Navalny has a huge following on social media in Russia, with 2.2 million followers on Twitter alone, using it to bypass a state media ban to highlight corruption among the country's elite. His YouTube channel regularly posts investigations that have embarrassed top allies of Putin such as former Prime Minister Dmitry Medvedev with videos exposing their lavish lifestyles.
Jailed, Attacked
Navalny has been repeatedly jailed for leading anti-Putin protests, including during the wave of unrest last year when opposition candidates were barred from contesting Moscow city council elections. Those protests were the largest in the capital since 2011.
He was briefly taken to the hospital from detention during last year's protests after he suffered a major allergic reaction that Navalny said could have been an attempt to poison him in prison.
He suffered chemical burns to his eye when a man threw green antiseptic liquid in his face in Moscow in 2017, an attack that his allies linked to a radical pro-Putin group.
Russia's Investigative Committee opened a new criminal probe against Navalny in June after he was accused of libeling a World War II veteran during a campaign against the referendum to approve constitutional changes allowing Putin to continue as president potentially until 2036.
His Anti-Corruption Foundation was also blacklisted as a "foreign agent" by the authorities last October.
Navalny announced in July he was closing the fund and creating another legal entity in response to a lawsuit filed by a company supplying school meals in Moscow that is linked to businessman Yevgeny Prigozhin, known as "Putin's chef" for his Kremlin catering contracts.
He was visiting Tomsk to meet activists and support opposition candidates in September regional elections, amid swelling public discontent with Putin over falling living standards and an unpopular pension reform.
The most recent entry on his website urged people to support a "smart voting" campaign against pro-Kremlin candidates and was headlined "Do you want it to be like Belarus? Here is a list of candidates," a reference to the huge outpouring of protest threatening Belarusian President Alexander Lukashenko's 26-year rule after a disputed election.