Trump Blew Up More Than Just TikTok and WeChat
The latest executive orders targeting China could be deep and damaging. Brace for impact.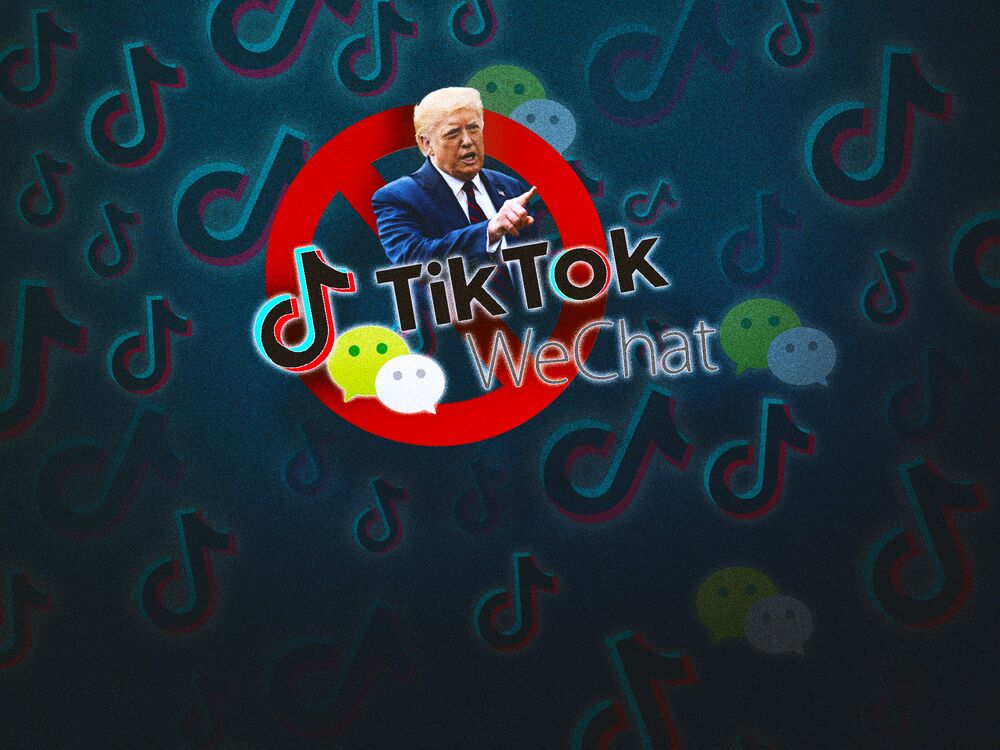 U.S. President Donald Trump's decision to ban dealings with ByteDance Ltd., owner of video-sharing sensation TikTok, appears to codify what his administration has already been warning. A second edict targeting messaging app WeChat and its parent, Tencent Holdings Ltd., seems weirdly overdue.
The executive orders issued by the White House go beyond stopping average Americans from becoming unwitting spies for the Communist Party through their postings and data. The implications could hurt not only the Chinese targets, but the U.S. companies they work with, including Apple Inc. and Alphabet Inc.'s Google.
Though TikTok and WeChat have been getting all the recent attention, the orders state that American companies cannot work with ByteDance or Tencent (though an unnamed U.S. official later stated that Tencent transactions were still OK). That clarification notwithstanding, the wording of the orders does imply that regardless of intention such bans could extend further, to include Americans advertising on dozens of products offered by either Chinese company, or to selling them cloud-storage services, or perhaps the most nuclear option: distributing their apps, even within China.
The preambles address the apps in question and the security threats they supposedly present, but
let's take a look
at the orders themselves. Here's the one for TikTok:
The following actions shall be prohibited beginning 45 days after the date of this order, to the extent permitted under applicable law: any transaction by any person, or with respect to any property, subject to the jurisdiction of the United States, with ByteDance Ltd.
The order doesn't outline actions against TikTok, just its current owner. So if Microsoft Corp. is successful in its
negotiations to buy the business
, we might expect things could go back to normal for the app and its millions of users in the U.S. But ByteDance might continue to suffer, for reasons not enunciated.
A separate edict names both
Tencent and WeChat
, which doesn't have the advantage of a huge U.S. fan base. Ubiquitous at home, the messaging service is used in America mostly by the Chinese diaspora and those who have friends or dealings with people in China. Still, the ban will impact
thousands of Chinese students, visitors and workers.
As an aside, it's kind of amazing that a ban on WeChat took so long given that, according to the White House's own statement, researchers discovered security breaches almost 18 months ago. Washington seems to have become more focused on data privacy concerns stemming from Chinese apps once TikTok's viral dance videos caught on Stateside.
It's important to remember that while TikTok is popular around the world, and WeChat is huge at home, both rely on American companies to function and get distributed.
Even though Chinese smartphone brands dominate their domestic market, iOS and Android remain the dominant platforms and Apple and Google cover almost the entire global ecosystem with their respective app stores. If they can't do business with ByteDance, for example, even after a TikTok spin off, then the Beijing company might be unable to distribute its own apps, even within China.
Despite the days of buildup, the administration issued an order that extends far beyond what had been previously discussed. Perhaps they just botched the wording, or maybe it was deliberate overreach.
Hints came a few hours after the bans were issued — and after Tencent's stock had dropped as much as 10% — when the aforementioned
U.S. official clarified that the WeChat order related only to that app and not to other Tencent transactions.
This kind of clarification-cum-backtrack is common in Washington these days and tells us that the final result may not be so drastic. There are also various loopholes and licensing to allow the companies to function more normally. Think also of bargaining chips. Washington and Beijing are preparing for another round of trade negotiations.
Still, don't bet on a return to normalcy. However it plays out, Trump's orders aren't just about stopping lip-syncing teens. They're a whole lot bigger, and the world had better brace for the blowback.
This column does not necessarily reflect the opinion of the editorial board or Bloomberg LP and its owners.