MI5 Chief Says U.K. Plans to Do More to Tackle China Threat
Domestic spy Chief Ken McCallum makes first public remarks
MI5 protecting U.K. vaccine research from theft, discrediting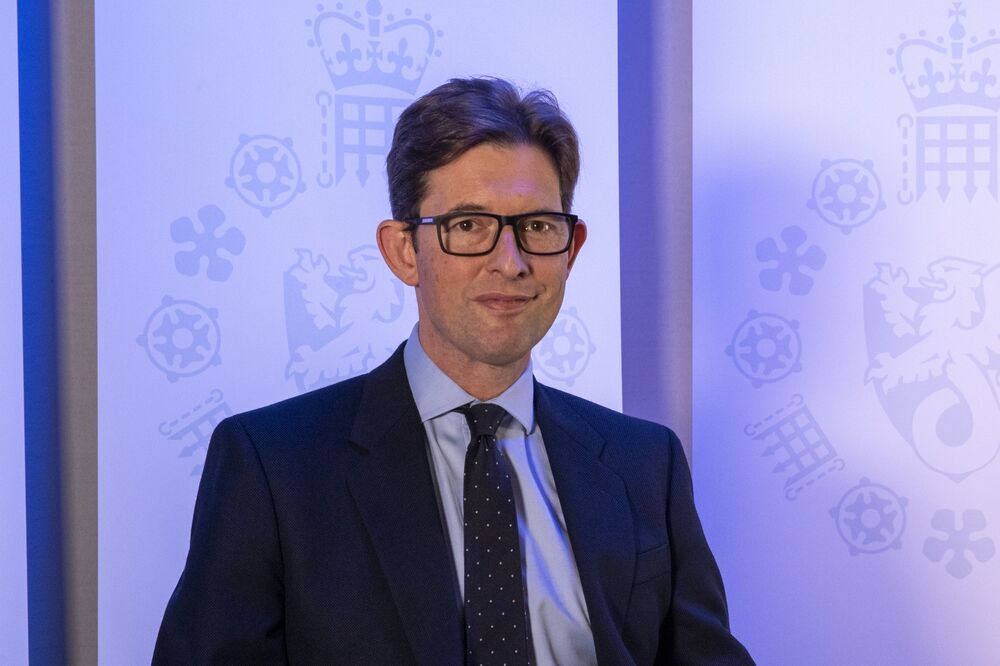 The head of MI5 said the U.K.'s domestic spy agency wants to "do more" to tackle Chinese activities that threaten the intellectual property of British companies and universities.
In his first public remarks since taking on the role earlier this year, Ken McCallum said he will "carefully" prioritize the agency's resources against China's "covert activities."
He also told reporters on Wednesday that he wants the U.K. to be able to intervene earlier when risks to critical national infrastructure are spotted -- before the government if forced to use a "sledgehammer" in a crisis.
McCallum, 45, was speaking as the government drafts a new National Security and Investment Bill, which is expected to be published this month and cover deals in sectors such as defense and critical infrastructure, and will make provisions to protect sensitive intellectual property.
People familiar with the plans say the Boris Johnson's government is planning to give ministers the power to unravel foreign investments in U.K. companies -- potentially even on deals that have been closed -- to stop hostile states gaining control of key assets.
"The U.K. wants to cooperate with China on the big global issues like climate change, while at the same time being robust in confronting covert hostile activity when we come across it," he said.
McCallum, who has been an undercover agent for 24 years, is now the public face of the agency. Born in Glasgow, and a graduate in mathematics, he is the youngest ever director general of MI5.
His career has seen him take charge of the service's response to the attempted assassination of former spy Sergei Skripal in the Salisbury nerve agent attack as well as leading the response to the 2017 terror attacks and taking charge of counter terrorism investigations and risk management surrounding the 2012 London Olympics.
McCallum also called for a register of foreign agents in the U.K. to match the "kind of provision that exists in the U.S. and Australia" to "enable you to fight in that sort of interference and influence which is distinct from the espionage risk."
Vaccine Theft
McCallum also said MI5 is defending British scientists against hostile powers who are seeking to either steal or sabotage research data in the race for the "global prize" of a vaccine that can provide immunity against COVID-19.
The U.K.'s National Cyber Security Centre said in July that hackers backed by the Russian state were trying to steal COVID-19 vaccine and treatment research from academic and pharmaceutical institutions around the world.
"I guess there are two bits we are on the lookout for: attempts either to steal unique intellectual property that's been generated in that research or potentially to fiddle with the data," he said. "And then the second risk we've got to be alive to is the possibility that the research is still high integrity and sound, but that somebody tries to sow doubt about its integrity."
He also set out how the coronavirus pandemic has forced his officers to adapt: "2020 has demanded shifts in how MI5 itself has to operate; you wouldn't expect me to get into detail, but common sense will tell you that covert surveillance is not straightforward on near-empty streets."
Far-Right Fanatics
He highlighted the growing threat of far-right extremism, particularly among young people. Of 27 disrupted terrorist attacks, interrupted at a late stage since 2017, eight of them had been planned by far-right extremists. "This threat is not, today, on the same scale as Islamist extremist terrorism. But it is growing."
"Threats are becoming more diverse and in some ways harder to spot. We face a bit of a nasty mix -- terrorism isn't going away, and state-backed hostile activity is on the rise. But let's not make these people ten-feet-tall," he said.
He added that there are also increasing threats to democracy from overseas intelligence services, with rising "online disinformation, hack-and-leak and attempted covert influencing of political figures" taking place.