China's Financial Markets Start to Price In Deleveraging
Tian Chen and Tom Hancock
Debt-to-GDP ratio rose to record 277% after 2020 stimulus
Concern over tighter liquidity has led to corporate defaults
China is bucking the global trend of greater economic stimulus amid the coronavirus, preferring instead to refocus on controlling its record debt burden.
Policy makers are allowing for tighter liquidity in the financial system, a signal that Beijing wants to stabilize the level of debt in the economy. Though not as aggressive as previous deleveraging drives, the shift is pushing up market rates: government-bond yields trade near an 18-month high and interbank borrowing costs last month jumped to the highest since January. China's big banks have been unwilling to lend to smaller financial firms after a string of defaults at some of the country's safest borrowers.
An economic recovery and a strong currency are giving policy makers more room to focus on limiting -- or even reducing -- the amount of debt in the financial system. While develeraging has been a key priority for President Xi Jinping since 2016, previous attempts were interrupted by the trade war and the crippling economic impact of this year's global health crisis.
Multiple interest-rate cuts and cash injections from the central bank have helped keep Chinese companies afloat this year. But the quick buildup of leverage -- on track for the biggest increase in five years -- also poses a significant risk to the financial system. Debt was 277% of China's gross domestic product in August, the highest ratio since Bloomberg started compiling the data in 2014.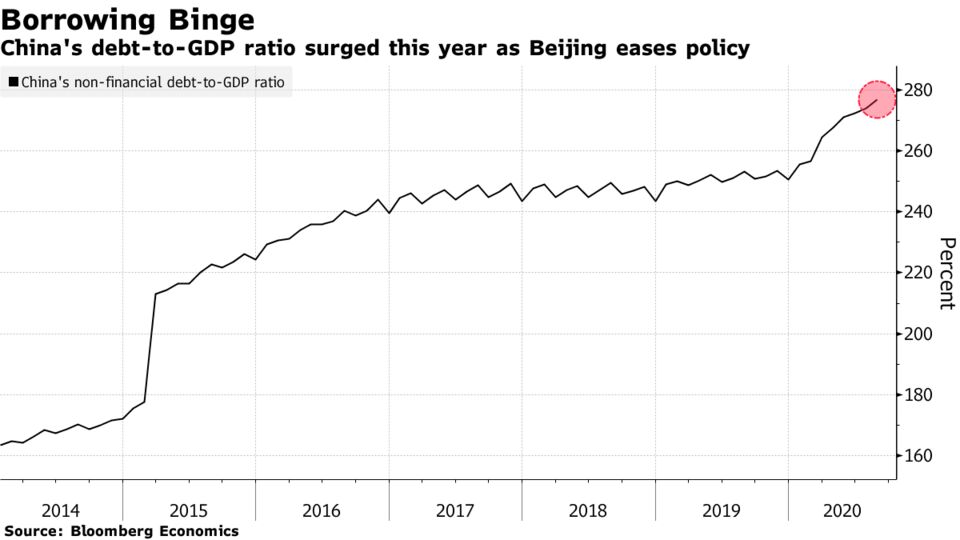 "In the coming six months, the market will see large volatility with interest rates going even higher and liquidity becoming even tighter," said Larry Hu, head of China economics at Macquarie Group Ltd. "Investors will be more nervous and worried. Stabilizing macro leverage is a policy priority, and that direction is not going to change."
As data from manufacturing to export growth show China's recovery from the pandemic is on firmer footing, the central bank has signaled it wants to bring debt under control. The People's Bank of China said in a November report that the macro leverage ratio will likely stabilize, following comments from the vice governor earlier in the month that exiting emergency support measures was only "a matter of time" and "necessary."
The PBOC can limit debt growth by offering some of its pricier funding when it injects liquidity into the financial system, according to Zhaopeng Xing, a markets economist at Australia & New Zealand Banking Group. That means the central bank will prefer its medium-term lending facility -- one-year policy loans with a rate of 2.95% -- rather than freeing up cash at no cost by cutting the reserve-requirement ratio.
The last time Beijing sought to restrain debt growth was in 2017. The aim was to crack down on the booming shadow-banking industry, but the push sent corporate and government bond yields to multi-year highs. The deleveraging drive was shelved a year later, when China eased policy to offset the economic blow of its trade war with the U.S.