The uncertain future of Agnes Chow, Hong Kong's 'goddess of democracy'
This 24-year-old is a reluctant poster child for young Hongkongers challenging China's tightening grip over their city.
I first met Agnes Chow in a coffee shop in Wan Chai on Hong Kong Island in 2018. She was 21 at the time.
Polite and warm, she came over to say hello while I was interviewing her long-term political ally Joshua Wong at the next table. She did not act like a political activist who would later put her life on the line for her ideals.
At the time, Chow and Wong were focused on their campaign to win seats in Hong Kong's Legislative Council elections. They still believed the city, which had been promised semi-autonomy under Chinese rule until 2047, had a fighting chance of a more democratic electoral system. Two years later, they are fighting for their freedom.
"I hope more foreign governments, including Australia, will show support for the human rights situation in Hong Kong," Chow told me at the time.
It struck me how young she was for such an experienced political activist. Dressed in her trademark skirt, collared shirt and cardigan, she looked like a schoolgirl. But she had the weight of the world on her shoulders.
In early December, Chow was sentenced to 10 months in prison for her role in the 2019 pro-democracy protest movement. Bail was denied. She was sentenced along with fellow activists Wong, 24, and Ivan Lam, 26.
Unlike Wong, also a former student leader who became the global face of Hong Kong's disenfranchised youth during the 2014 Umbrella Movement, she has never been in prison before. Despite putting on a brave face, her friends say she is more vulnerable than the determined Wong.
"I know there are many outside these high walls supporting us. This has given me the strength to hang in there," Chow, who turned 24 after the sentencing, said in a message to supporters posted on social media following her arrest.
In a protest movement without official leaders, Chow, Wong and other activists including Nathan Law – who has since fled to Britain – have become the figureheads for Hong Kong's losing battle against Chinese control of the former British colony.
"By ratcheting up the pressure on Hong Kong over the last decade, Beijing has turned mild-mannered young people like Agnes Chow into resolute democracy activists who are willing to sacrifice for their cause and are able to garner broader support within Hong Kong and internationally," Ben Bland, director of the south-east Asia project at the Lowy Institute, tells AFR Weekend.
"Jailing people like Agnes will weaken the democracy movement in the short term but it will deepen the long-term pool of resentment and consolidate the sense of a separate Hong Kong identity," adds Bland, the author of Generation HK, Seeking Identity in China's Shadow who has interviewed Chow many times.
This young generation of activists, who have literally devoted their lives to their political ideals, are the people the Hong Kong public and the international community are looking to for answers about Hong Kong's future. They are also Beijing's primary targets under Hong Kong's new national security laws, which can impose life sentences for acts of sedition, secession or terrorism.
Another figurehead for the movement is media tycoon Jimmy Lai, who is also in prison. The 72-year old was arrested and the offices of his newspaper, the Apple Daily, raided on the same day in August that Chow was first taken into custody.
Veteran pro-democracy campaigners such as Hong Kong Democratic Party founder, Martin Lee, remain vocal but their presence has diminished. Anson Chan, a former top-ranking Hong Kong government official under British rule, who went on to become a prominent critic of Beijing, retired from public life earlier this year.
Fearing a repeat of the 2019 protests which threw Hong Kong into chaos for six months, China introduced new draconian national security laws in Hong Kong on July 1 this year. The vague laws, which mean anyone charged with sedition, secession or terrorism can be imprisoned for life, were effective. Combined with restrictions on large gatherings because of the coronavirus, the legislation was effective. Hong Kong was turned into a police state virtually overnight with hundreds of people arrested, politicians critical of China disqualified and the reputation of its British-style legal system in tatters.
Like many of the tens of thousands of protesters who took to the streets in 2019, Chow was an infant when Hong Kong was handed back to China in 1997. She grew up under the false assumption Hong Kong would retain its political autonomy from China until 2047.
Raised in a Catholic household and a principled student, Chow's political career started at the age of 15 when she became the spokesperson for a political group called Scholarism, which was campaigning against the introduction of a "national education" curriculum in Hong Kong classrooms.
She rose to prominence during the 2014 Umbrella Movement – a 79-day occupation of the city's central business and government district named after the umbrellas carried by protesters. The umbrella became the unifying symbol for those protesters pushing for more direct elections in Hong Kong. However, the pressure of being in the limelight at such a young age took its toll. In October that year, Chow quit the movement.
"I am sorry. But I am only a 17-year-old," Chow wrote in a Facebook post at the time. "I'm under exceptional stress, and I'm extremely lost and tired."
But Chow made a comeback two years later when she, Wong and other activists formed a political party called Demosisto. She was instrumental in rallying support for Hong Kong's pro-democracy movement overseas. A fluent Japanese speaker and a fan of anime, Chow was particularly successful in building a big fan base in Japan where she was dubbed by local media as "the goddess of democracy". In November, she was included in the BBC's list of the world's most influential women in 2020.
A powerful image of her arriving at a Hong Kong court last month to face charges captures Chow's elevation to reluctant hero. She is wearing a mask and the wind is blowing her long hair into her face. She looks very much the harmless schoolgirl except for the sea of cameras pointing in her direction.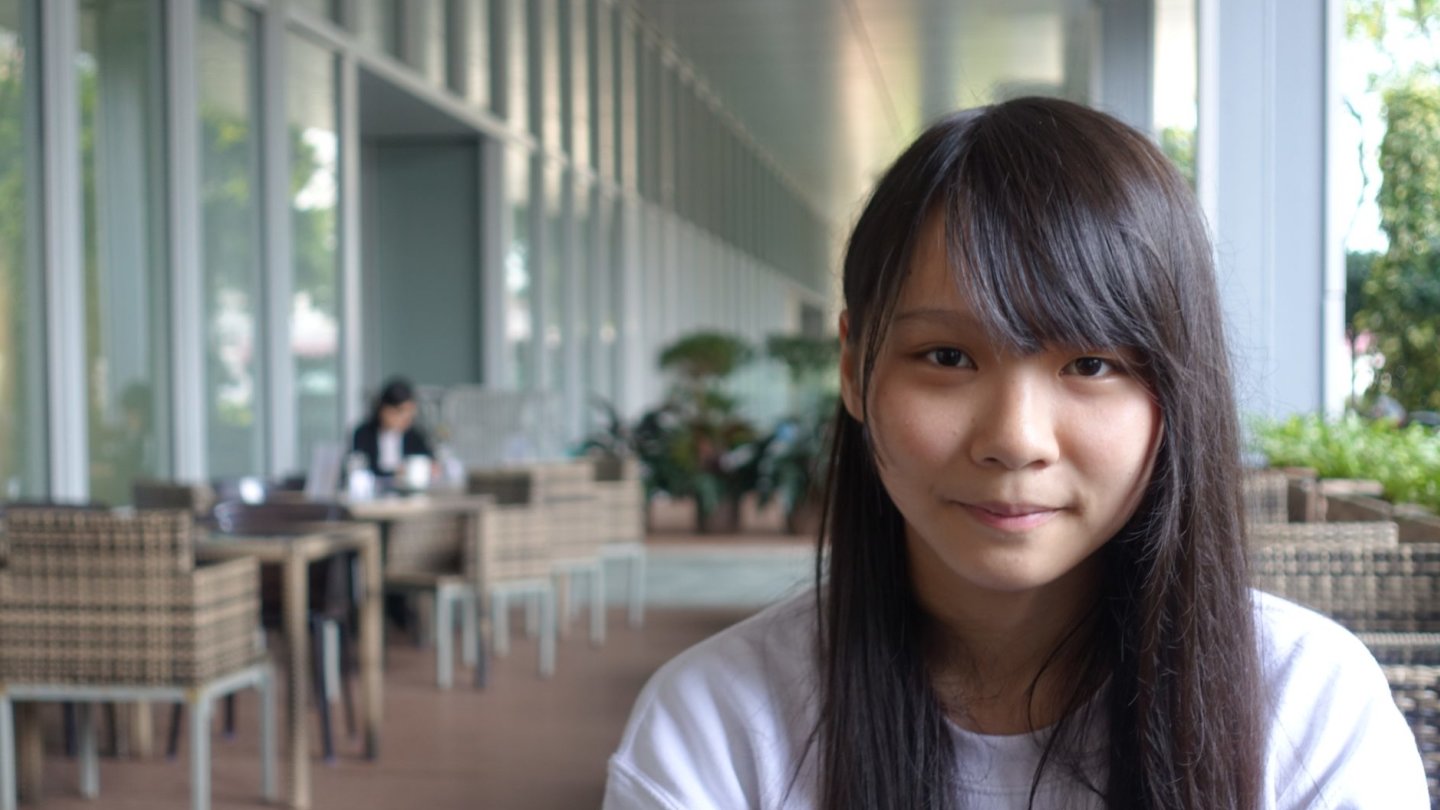 Knowing it would be impossible and increasingly dangerous for their members to keep operating under China's national security laws, Chow quit Demosisto along with Wong and the other founders in June. The security laws were introduced the following day. Chow was arrested in August but later released on bail. She says she was kept under surveillance and lived in fear every time there was a knock at the door. This had been happening to dissidents in mainland China for decades but it was a sinister new development in Hong Kong.
"Because I was arrested at my home twice, I am very scared of doorbells and knocks on the door," Chow said in a YouTube video posted on social media this month.
Although China has effectively crushed Hong Kong's pro-democracy movement – many of its key players are now in prison or have fled overseas – activists like Chow say they will keep appealing for international help and have not given up hope yet.