China's Nifty Fifty Is Feeling a Bit Iffy
The country's investors are focused on a shortlist of companies — let's call them the Beautiful 20 — but the situation isn't pretty.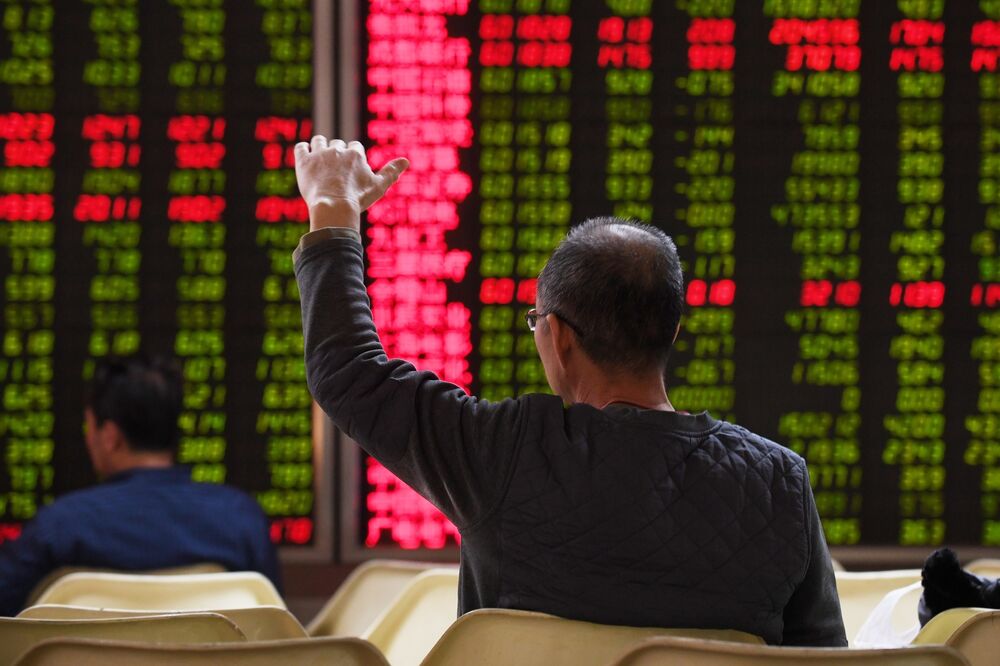 China's stock traders don't care much about history, but lately, they've been obsessed with the U.S.'s roaring early 1970s, worried that its unpleasant end may repeat in Shanghai and Shenzhen.
They have been looking at the era of the Nifty Fifty, a group of premier high-flying growth stocks such as Xerox Corp., International Business Machines Corp., Polaroid Holding Co. and Coca-Cola Co., In December 1972, the Nifty Fifty were so well-loved that, on average, they traded at 41.9 times earnings, compared to the S&P 500's 18.9 times. They came crashing to earth in the vicious 1973-1974 bear market.
All of the Nifty Fifty stocks had proven growth records, almost never cut dividends, and had high market caps. The last attribute, in particular, gave institutional investors enough market depth to load up the goodies. As a result, the Nifty Fifty became the professionals' darlings. "The Nifty Fifty were often called one-decision stocks: buy and never sell," Jeremy Siegel, finance professor at the Wharton School of the University of Pennsylvania, wrote in the American Association for Individual Investors Journal.
The Chinese have good reasons to worry. Their $3 trillion mutual fund industry is generating its own Nifty Fifty. As of the third quarter, the latest data available, about two-thirds of the industry's total assets under management invested in only 100 stocks, while the top 400 stocks lured in a whopping 93% of total funds. China's market has over 4,000 stocks.
As a result, these darlings have become very expensive. On average, the top 20 stocks favored by the professionals – let's call them China's Beautiful 20 — trade at 67.6 times earnings, data compiled by Guoxin Securities Co. show, while the benchmark Shanghai Shenzhen CSI 300 Index is valued at only 21 times. There is a parallel in the U.S., where investors obsess over the so-called FAANG stocks (Facebook Inc., Apple Inc., Amazon.com Inc., Netflix Inc. and Google, now Alphabet Inc.), which trade on average at 53 times earnings.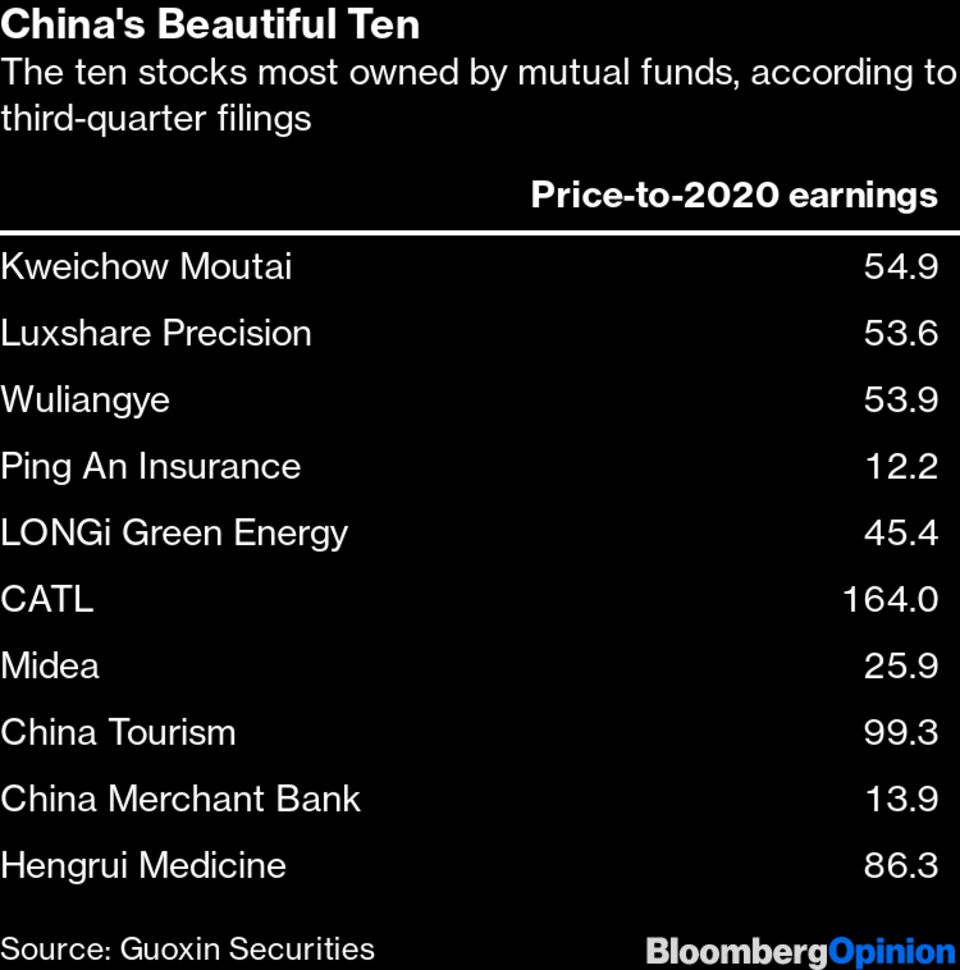 Even though China had a bull run in 2020, its benefits haven't spread out to the entire market. Only 38% of stocks in the Shanghai Composite Index are trading above their 200-day moving average, versus 91% for the S&P 500 Index. Over the last year, the SSE 50 Index, which tracks 50 large blue-chips listed in Shanghai, outperformed the exchange's benchmark index by 7.6 percentage points. A similar picture holds on the Shenzhen bourse. There's a lot of herd behavior in China's $11 trillion stock market.
This comes at a time when China's infamous day traders are rushing to buy mutual funds, hoping to boost their capital gains with the expertise of star managers. On Monday, a fund launched by E Fund Management Co. received a record 237 billion yuan ($36 billion), oversubscribed nearly 15 times. But the fund's veteran manager, Feng Bo, also tends to follow the pack. Of the top ten holdings of a 2 billion yuan stock fund he's been managing, seven names belong to the Beautiful 20 compiled by Guoxin, public filings show.
Even macroeconomic backdrops, which contributed to the market crash, share some similarities. Back in the 1970s, rising U.S. government bond yields eroded the attractiveness of growth stocks. Check. Traders in China are murmuring the central bank may have started tightening. Just last week, the People's Bank of China unexpectedly drained cash from its banks, the first time in six months.
Then there's inflation. Soaring inflation in the 1970's eroded the lure of capital gains in general. While headline inflation in China remains tame, food inflation is not. Scarred by the erosion of "cherry freedom" — the luxury of buying imported fruit — in the summer of 2019, followed by roaring pork prices in 2020, China's middle class doesn't feel its cost of living is all that stable.
The unease perhaps explains why mainland China's blue-chip stock indexes have been falling lately, led by crowded consumer discretionary names such as Kweichow Moutai Co. and Midea Group Co., even as the nation just reported 2.3% gross domestic product growth for 2020. Thirsty for yield, or any economic growth, foreign investors can come up with many superficial reasons to buy China. But not all is well there. The Chinese are certainly worried. Their Nifty Fifty is ripe for a fall.
This column does not necessarily reflect the opinion of the editorial board or Bloomberg LP and its owners.