Why We Need a Vaccine Against Wolf-Warrior Diplomacy
Taiwan thought it had secured 5 million doses from BioNTech. Then "external forces" got in the way.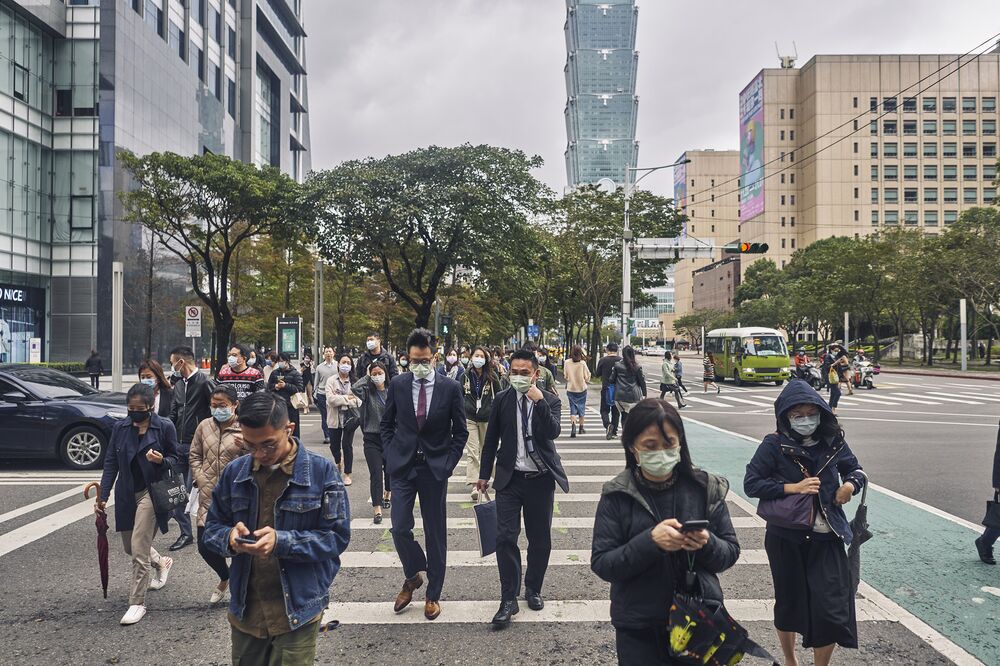 As governments around the world rush to administer Covid-19 vaccines to their citizens, Taiwan had an order for 5 million doses upended at the last minute. The troubled deal highlights the vagaries of surviving in a global community that largely excludes the democratically governed region at the behest of an increasingly assertive China.
Contracts to buy from Germany's BioNTech SE and cover some of Taiwan's 23 million people had been drafted and press releases were ready for publication when "external forces" stepped in last December, Health Minister Chen Shih-chung told a local radio station Wednesday. At the time, Taiwan was ready to announce it had secured those doses plus 10 million from AstraZeneca Plc and 5 million others through the international Covax program aimed at providing equal access to vaccines worldwide — two doses are required per person. Coupled with an expected supply of locally-developed vaccines, Taiwan estimates it would have 65% of the population covered.
"Through this whole process I was extremely anxious about external intervention," Chen told HitFm host Clara Chou. "We worried about political pressure."
He was right to be concerned: the delivery has been put on hold. Chen noted that the roadblock resembled the time Taiwan was abruptly denied access as an observer to the World Health Organization's annual meeting in November after Beijing stepped in. "We intend to supply Taiwan with our vaccine," BioNTech said in a statement. "Discussions are ongoing."
The BioNTech vaccine has a China partner: Shanghai Fosun Pharmaceutical Group Co. Last March, Fosun secured the rights to develop and distribute the vaccine across Greater China — an area that includes the mainland, Hong Kong, Macau and Taiwan. Fosun didn't respond to requests for comment from Bloomberg News.
Taiwan is remaining as diplomatic as it can. It still needs those doses. Chen said in the radio interview that "some commercial considerations or some political implications" could have been at play. "Since then, we've been especially careful."
It says a lot about the state of the world during this pandemic, which has seen an escalation in China's assertive isolation of Taiwan and broader use of vaccine diplomacy, that a health minister's chief concern includes worrying that Beijing may kill a deal to supply crucial medical supplies.
The incident reflects the increasing pressure China is placing on companies and governments, part of the hard-nosed wolf-warrior approach to diplomacy that's seen ambassadors increase their presence on social media to aggressively push Beijing's line.
This month, Guyana reneged on a deal to establish a Taiwan representative office, within a day of announcing it, after China warned the Caribbean country to "take concrete actions to correct the error." Beijing blacklisted a range of Australian products late last year including coal, copper, wine and lobster in retaliation for Canberra's call for an independent probe into the origins of the coronavirus and passage of laws aimed at reducing alleged meddling in Australian politics. The country has also sought to discredit vaccines developed in the West.
Taiwan issued an early warning about the new virus as it surfaced over a year ago and took quick containment measures that won credit internationally at a time China was stepping up a campaign designed to cast doubt on its origins. The goodwill extended to a number of nations supporting Taipei's bid to attend the November meeting of the WHO's decision-making body, which was blocked by Beijing.
Among the reasons for Taipei to be excluded from the WHO and other United Nations organizations is the assertion that China's membership also covers Taiwan, a region that Beijing claims as its own. According to this reasoning, any required information, assistance, or coordination should be fed through China to the Taiwanese people. Conversely, any information that Taipei has should, in theory, be directed through Beijing to the international bodies that it increasingly dominates.
China's tactics have fueled international distrust over the past year. The New York Times reported that officials stood in the way of a recent WHO mission's attempts to collate crucial data that could help determine the source and spread of the Covid-19 outbreak. The Associated Press documented a global disinformation campaign to float the idea that the virus was instead a U.S. bioweapon.
It may be no surprise that Beijing used its political muscle — it has veto power in the U.N. — to halt Taiwan gaining a foothold at the WHO. Taipei has suffered short shrift from other agencies in obtaining information or dialogue to help cope with the pandemic.
But that doesn't make it right. The case of the vaccine deal shows the absurdity of extending geopolitical power plays into every realm of life. The new Biden administration is showing early signs that it won't accept Beijing's diplomatic bullying. Taiwan has been a model global citizen through the pandemic. This should be the last straw for the world to insist it gets a seat at the table.
Earlier this month, Taiwan announced a new deal to get 5 million doses from Moderna.
This column does not necessarily reflect the opinion of the editorial board or Bloomberg LP and its owners.
To contact the author of this story:

Tim Culpan at tculpan1@bloomberg.net