A Pox on Your Americana: What's Next for U.S.-China Relations
The vitriol in Alaska may have been meant for domestic audiences but it is too early for Beijing to be declaring the end of Washington's global sway.
Michael Schuman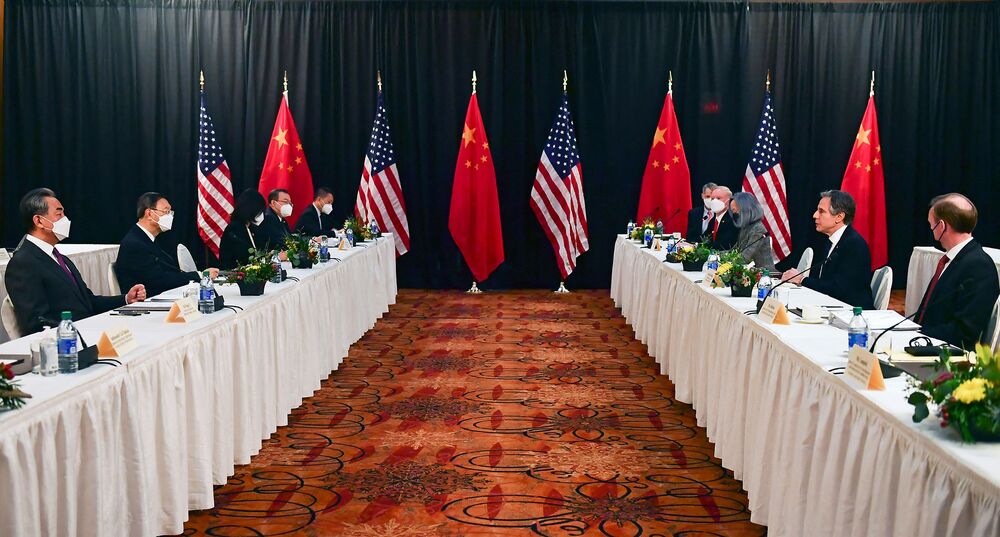 The message China's top diplomats delivered at last week's contentious conference with U.S. officials in Alaska was simple and stark: Pax Americana is dead.
Politburo member Yang Jiechi made it crystal clear to U.S. Secretary of State Antony Blinken that the days of America's great mission to bring democracy to the world are over, that American-style democracy is not universal, and Beijing does not have to adhere to its values, like it or not. "Many people within the United States actually have little confidence in the democracy of the United States," Yang said.
Yang's bluntness in Anchorage warmed the hearts of Chinese nationalists. But Yang's point-scoring might leave them cold in the long run. China is way too premature in declaring the end of the American empire, and the miscalculation could cost China in its quest for superpower stature.
To be fair, Yang was simply reacting to a public rebuke from Blinken. The two sides have been signaling their hardline positions on sensitive topics like Taiwan and Hong Kong for weeks, so their fireworks were hardly surprising, and probably targeted to a great degree to appeal back home. Behind the scenes, the two parties at least got some important talks underway, such as on climate change (though they don't seem to agree on what was actually discussed). That leaves hopes for further engagement still breathing. On Tuesday, U.S. climate envoy John Kerry will attend a virtual conference on the environment chaired by China.
Yet Yang's arguments were part of a much larger campaign by Beijing to declare a new world order. China's state propaganda machine relentlessly paints the U.S. in decline, and its chaotic democratic system as malfunctioning. President Xi Jinping is more loudly promoting a new form of international relations, stripped of the primacy of democratic values. In a January speech delivered to the World Economic Forum, he made the case that foisting foreign political ideals onto other countries – core to America's view of its role in the world — is a form of prejudice and hatred. In other words, China's authoritarianism deserves all the respect of a democracy, perhaps even more.
Of course, there is no doubt that China's government has been immensely successful, in everything from alleviating poverty to fighting the coronavirus outbreaks, and Beijing rightfully expects more influence on the world stage. Still, Xi and his team might want to read less of their own propaganda and more economic statistics. The balance of power between the U.S. and China may be shifting, but it's still pretty unbalanced. The U.S. maintains a significant lead over China, in just about every economic category – from overall wealth, to innovation to financial leverage. By contrast, China remains a middle-income country, with per capita gross domestic product one-sixth of the U.S., a currency that barely registers in global finance, and industries from telecom to aerospace still reliant on American know-how. That's why China has been hoarding chips and the equipment to make them, fearing Washington will further restrict the vital supply. Even in some areas where China appears to have raced ahead, it really hasn't. The government has lavished an estimated $100 billion on subsidies and other aid to its electric vehicle industry, only to watch Tesla's Model 3 claim top share in its battery electric car market last year.
Opinion. Data. More Data.
Get the most important Bloomberg Opinion pieces in one email.
Beijing's leaders admit, backhandedly, to this continued disadvantage, with their urgent stress on "self-sufficiency," especially in technology. Perhaps China can overcome these hurdles without cooperating with Washington. But nothing in economics is assured. A February report from Capital Economics forecast that China will still be the world's second-largest economy in 2050, based on market exchange rates. "The most likely scenario is that slowing productivity growth and a shrinking workforce prevent China ever passing the US.,' the research firm argued.
None of this means Beijing has to kowtow to Washington or accept all of its demands. The two countries have managed to work together in the past, even with human rights issues irritating both sides. But it would serve China well to take a more pragmatic approach to its bilateral relations with the U.S. based on a realistic assessment of China's economy, which would allow room for more compromise on problems of importance to both countries. There are possibly deals to be done, where, for instance, Beijing gives way on concerns in Washington, such as forced technology transfer, state subsidization of industry, and in exchange the U.S. might ease export controls on technology or drop tariffs imposed by the Trump administration. That could bring tangible benefits to China's economic progress.
But Yang's performance in Alaska hampers such an outcome by making it more politically difficult for the new administration of President Joseph Biden to stray from a tough line. Beijing's fiery rhetoric – on top other ire-creating acts, such as the trials of two Canadian citizens, held hostage for the arrest of a Huawei executive – may also chase other countries wary of China into Biden's arms as he strives to build a coalition to check Chinese power. Almost simultaneous with the Alaska summit, the U.S. and India sought closer military ties when U.S. Secretary of Defense Lloyd Austin met Indian Prime Minister Narendra Modi in New Delhi.