HAHAHAHA... HAHAHAHA.. OH GOD! HAHAHAHAHAHA!
China seeks to undermine Biden's Indo-Pacific security push asking Japan and India to co~operate! Hahaha...

China's top diplomat warned the United States to stop "interfering" and "finger-pointing" as he sought to head off moves by President Joe Biden to strengthen security in the Indo-Pacific region and soften Beijing's influence by working more closely with Australia and other allies.
China's foreign minister Wang Yi also called on Japan and India to co-operate with Beijing in the region, saying it was better for the countries to be friends rather than enemies. He said a new coast guard law strongly opposed by Japan did not target any one nation.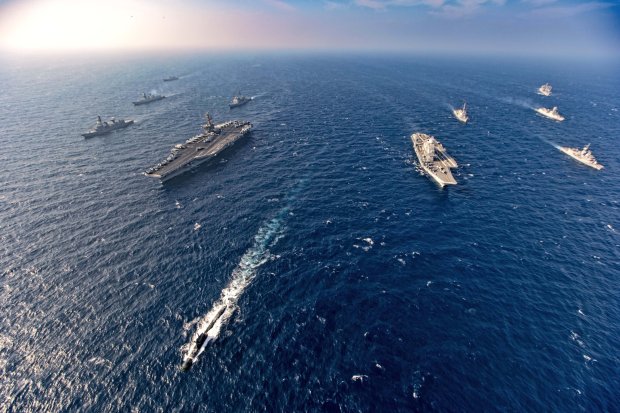 Mr Wang's briefing on key China foreign policy issues at a carefully-choreographed press conference came before the first leaders' level meeting of the Quadrilateral Security Dialogue (Quad), involving Australia, the US, Japan and India, which is expected this week.
Mr Wang did not mention Australia during his annual briefing in Beijing, except for a reference to indigenous Australians in his defence of China's treatment of Uighur Muslims in the western province of Xinjiang. He said Australia's indigenous people were "still struggling today".
However, any moves by China to undermine Mr Biden's efforts to bring Japan and India into a stronger coalition in the region would have implications for Australia, which is looking to strengthen ties with Tokyo and other allies against an increasingly hostile Beijing. China has slapped restrictions on Australian wine, beef, barley, seafood, cotton, timber and coal in the past year.
Mr Wang on Sunday said he was hopeful China and the US could work together, while at the same time accusing Washington of interfering in other countries' internal affairs. He urged Mr Biden to back away from Donald Trump's "dangerous" support for Taiwan.
"It is hoped that the United States and China will meet each other halfway and lift the various unreasonable restrictions placed on Sino-US co-operation to date as soon as possible, and not create new obstacles artificially," Mr Wang said.
The White House reportedly expects a virtual meeting as early as this week between Scott Morrison, Mr Biden, Japan's Yoshihide Suga and India's Narendra Modi.
Japan in frame
Mr Wang said China wanted friendlier relations with Japan, as he urged co-operation on the Olympics while denying that a new coast guard law targeted Tokyo.
"We should be partners and not threats to each other," he said. Tokyo has raised concerns about new laws passed by China which allow its coast guard to use force against foreign vessels that enter waters where China has claimed jurisdiction.
Mr Wang said it was a "routine piece of domestic legislation".
"It is not targeted at any specific country and is totally in line with international law and practice," he said.
Japan's new ambassador to Australia, Shingo Yamagami, told The Australian Financial Review in January that Tokyo wanted Australia to step up joint naval exercises and patrols in the East China Sea to help preserve stability. There have been increasing incursions by Chinese vessels and aircraft into Japanese and Taiwanese territory.
Mr Yamagami is a guest speaker at The Australian Financial Review Business Summit on Tuesday.