HAN CHINESE GENOCIDE COMING TO HONG KONG NOW
China turns its back on Hong Kong loyalists
Beijing has traditionally relied on a loose network of pro-China lawmakers, tycoons and advisers to its Parliament to help govern Hong Kong. Now it is putting its faith in its own mainland officials as it clamps down on the territory.
Nicolle Liu and Primrose Riordan
Hong Kong | China's most devoted supporters in Hong Kong are claiming they have been cut out of decisions about changes to the territory's electoral system.
Analysts said this was because of Beijing's frustration with the inability of the city's elite to quash anti-government sentiment in the city that exploded in pro-democracy protests in 2019.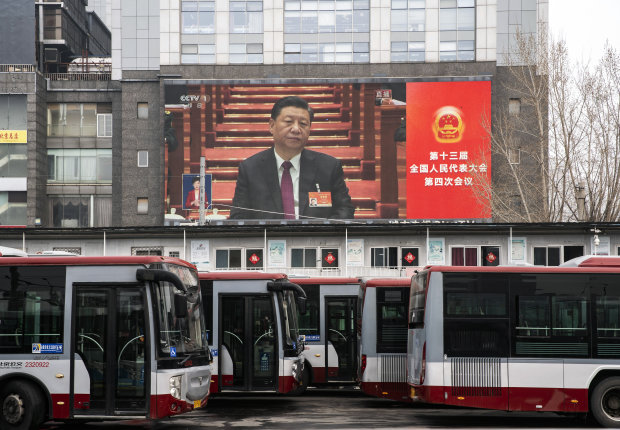 Beijing has traditionally relied on a loose network of pro-China lawmakers, tycoons and advisers to its Parliament to help govern Hong Kong, telegraph its messages and to serve as a sounding board for new ideas before they are rolled out.
But Chinese officials are making sweeping changes to Hong Kong's electoral system without consulting many of the city's loyalists. Instead, Beijing has looked towards its newly installed mainland representatives in the city and select older politicians for advice.
The changes, under which Beijing will further increase its control over who qualifies to be a lawmaker in Hong Kong via a new vetting system, were announced at the week-long annual meeting of the National People's Congress - China's rubber-stamp Parliament.
At the opening session on Friday, Wang Chen, an NPC vice-chairman, said Hong Kong's electoral system had "loopholes and deficiencies" that could allow "anti-China forces" to seize control of the city.
Regina Ip, a staunch pro-government lawmaker who has most recently supported China's internationally condemned Xinjiang policy, suggested she was out of the loop and Beijing was changing who it listened to.
"I am not privy to any thoughts on the part of Beijing officials ...  maybe they have consulted the top, most trusted advisers," she told the Financial Times. "The former strategy of consultation [with Hong Kong elites] did not end well, it did not produce the results Beijing wanted."
A member of the executive council, which advises Hong Kong chief executive Carrie Lam, said he did not believe any council member had seen a blueprint of the reforms a month before they were due to be announced.
One pro-establishment lawmaker said he and many of his colleagues were excluded from a symposium in Shenzhen in February on the electoral changes, which was attended by the new officials, "old guard" politicians such as Rita Fan, a former representative to China's legislature, and some businessmen.
"What the central government is determined to create is not rubber stamps or loyal garbage, but virtuous patriots," wrote Tian Feilong, the director of the Chinese Association of Hong Kong and Macau Studies – a mainland semi-official think tank in Beijing – in Ming Pao, a Hong Kong newspaper.
In his first big intervention since taking office, Xia Baolong, the head of Beijing's office that oversees Hong Kong and Macau, said the central government had to take charge of the changes, rather than Hong Kong officials.
The reforms would increase Beijing's already significant role in Hong Kong politics. China can already determine who is elected chief executive as the candidate is chosen by a committee weighted heavily in favour of the financial hub's pro-Beijing camp and tycoons who have traditionally supported the government.
Opposition parties used to at least have a chance of winning a majority in the city's legislature but authorities have disqualified, or are prosecuting, opposition politicians.
We are not Singapore
China did not want to take the "slightest chance" of the elections not going their way, said Johns Hopkins University professor Ho-Fung Hung.
"[The Chinese government] are not sure they have full control of the elite [and] Beijing don't fully trust the tycoons in the election committee post-2019," Mr Hung said, referring to the pro-democracy demonstrations.
The city was promised a high degree of autonomy in the 1997 handover from the UK. The electoral changes, however, would increase the tempo of Beijing's direct interventions in Hong Kong's affairs, which began with the imposition of a national security law last year.
Jasper Tsang, a founding member of Hong Kong's largest pro-Beijing political party, said the last time he had been consulted by Chinese officials was following the law's introduction. "I'm not sure how much difference it [the consultation] made," he said.
CY Leung, a former Hong Kong chief executive, vice-chairman of the mainland's top political advisory body and one of China's most vocal advocates in the territory, said he had not attended any formal consultation sessions on electoral reforms.
Caught by surprise by the strength of the pro-democracy protests in 2019, Beijing signalled its displeasure at the lack of warning by replacing officials who represented the central government in the city.
Some of its new appointees are known for overhauling wayward provinces. Luo Huining, Beijing's newly appointed head of the Central Liaison Office, rooted out corrupt officials in Shanxi province.
Two pro-Beijing Hong Kong politicians told the FT that mainland officials appointed to the Liaison Office were keeping their distance from the city's traditional elites.
"I think Beijing would like to have some new blood," said Lau Siu-kai at the Chinese Association of Hong Kong and Macau Studies.