More defence co-operation with UK expected under foreign policy pivot
Australia and Britain will look to deepen defence co-operation as UK Prime Minister Boris Johnson pledges to "tilt" Britain's foreign policy towards the Indo-Pacific amid its own fraying relationship with China.
The release of the "Integrated Review" on Tuesday night (AEDT) – bringing together Britain's diplomatic, defence and foreign aid policies – came as Prime Minister Scott Morrison declared the revived Quadrilateral Security Dialogue was the biggest boost to Australia's security since the signing of the ANZUS pact with the United States.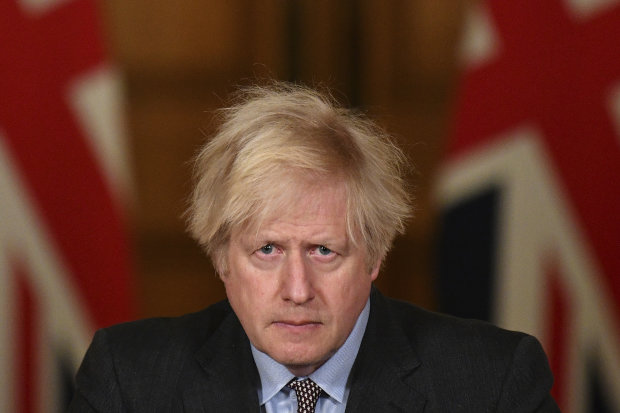 The review will chart Britain's global engagement post-Brexit, with Mr Johnson saying the Indo-Pacific was "increasingly the geopolitical centre of the world".
British officials will brief Australian counterparts on the review following its release but a government source said the countries' militaries would look to enhance interoperability and capacity-sharing "to create a much stronger allied force" as part of the review.
Britain largely withdrew its military forces "east of the Suez" in the late 1960s but remains a participant in the region's security infrastructure through the Five Powers Defence Arrangements with Australia, New Zealand, Malaysia and Singapore, which marks its 50th anniversary this year.
The Royal Navy's flagship, HMS Queen Elizabeth aircraft carrier, will visit the region in coming months and is expected to sail through the contested waters of the South China Sea.
The Australian Financial Review revealed last month that the Australian navy would make a contribution such as a warship to the visiting carrier strike group.
Risk of lip service
Australian Strategic Policy Institute executive director Peter Jennings said Australian defence chiefs had made a "reasonably upbeat" assumption they would work more closely with Britain.
However, he warned there was a risk the review may be little more than lip service.
"The British fascination with Chinese wealth is a danger to making a sensible foreign policy," he said.
"If it's a return to the idea of a British golden century of co-operation with China, that would be disastrous. I think they have worked out that after trying that angle, it's not sustainable."
Mr Jennings also said Britain was unable to change its geography.
"It's fine for them to diplomatically choose to be doing more in the Indo-Pacific, but from a defence perspective the most pressing challenge is Russia's threat to the stability of Europe. You can't redefine that reality away because you voted for Brexit," he said.