NEVER...NEVER...NEVER DO ANY BUSINESS WITH HAN CHINESE MAGGOTS !
Lithium plant builder sheds 400 as China's Tianqi refuses to pay

A Perth-based engineering company has shed hundreds of jobs as a Chinese entity refuses to pay it for building Australia's first lithium hydroxide plant.
MSP Engineering has shrunk from 400 employees and sub-contractors to a staff of four as the payment dispute with Tianqi drags through the courts.
A WA Supreme Court order handed down on Tuesday gave Tianqi seven days to pay MSP almost $39 million, but Tianqi intends to seek a stay and fight the ruling on appeal.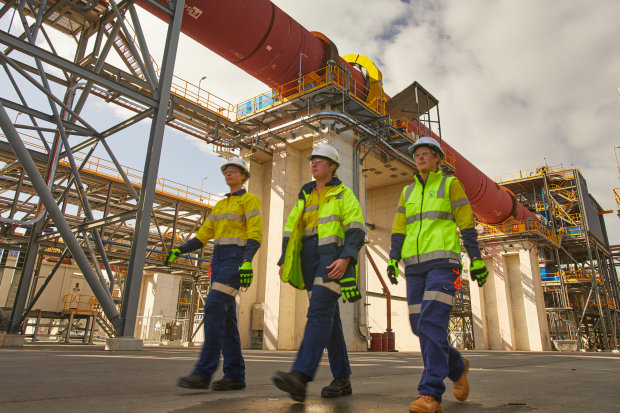 MSP director Craig Burton said the 50-year-old engineering business feared never being paid and urged the Foreign Investment Review Board to look closely at Tianqi's conduct before approving an ownership restructure for the hydroxide plant and high-performing Greenbushes mine.
"The FIRB criteria include the character of the applicant and does the foreign investor comply with the spirit and letter of Australian law," he said.
Mr Burton said it was staggering that Tianqi could sell down its ownership of the hydroxide plant at Kwinana, south of Perth, while refusing to pay the engineering firm that built it.
"They are selling part of this plant (and the Greenbushes mine) for $1.8 billion and we haven't been paid for certified progress claims, which is work actually done on the project by us and our sub-contractors," he said.
"It is a case of a big multinational company taking a very hard line against the small guys and the WA businesses and workers that built their plant."
MSP was contracted to build the hydroxide plant after successful building processing facilities at the Greenbushes mine owned by Tianqi (51 per cent) and US battery metals heavyweight Albemarle (49 per cent).
Tianqi then found itself under pressure from its Chinese financiers led by state-owned CITIC Bank after paying $US4.1 billion for a big stake in Sociedad Quimica y Minera de Chile (SQM) just before the lithium bubble burst in 2019.
Between October 2019 and February 2020, Tianqi certified progress claims for work done by MSP totalling about $60 million, including GST.
In November 2019, cash-strapped Tianqi and MSP agreed on a payment plan to clear the outstanding amounts over the next four months, during which time MSP would complete the plant. Tianqi made some initial payments then stopped.
Our sub-contractors understand we are doing all we can but, like us, they all have bills to pay and families to feed.

— Craig Burton, MSP director
MSP launched legal action on March 4, 2020, seeking payment. Two days later, Tianqi issued notices of dispute under its contracts with MSP and accused the engineering firm of delays, cost overruns and misleading and deceptive conduct.
MSP is fighting the counterclaim and said the allegations, now the subject of arbitration that may take years to resolve, had never been raised before it took legal action seeking payment for work that Tianqi certified as completed.
Mr Burton said MSP had tried to do the right thing by its sub-contractors and partially pay them for their work while waiting for the Tianqi dispute to be settled, but many of them were suffering financially.
"Our sub-contractors understand we are doing all we can but, like us, they all have bills to pay and families to feed," he said.
"We have had to wind down all our other business activities and redirect all working cash flow to pay sub-contractors."
The dispute has also cost MSP the chance to secure work on other lithium processing plants being built in WA.
The first stage of the Tianqi plant cost almost double the initial budget of $400 million and the second stage remains half-built after Tianqi suspended work.
Stage one reached practical completion about 14 months ago but, after commissioning delays, it is not yet in production.
Tianqi is selling IGO a 24.99 per cent stake in Greenbushes and a 49 per cent stake in the troubled hydroxide plant.
Under the deal unveiled in December, IGO and Tianqi will become partners in an entity that holds the 51 per cent stake in Greenbushes and owns the hydroxide plant.
IGO has said it expects commissioning of train 1 at Kwinana in the first half of this year and for it to reach nameplate production of 24,000 tonnes a year in late 2022.
Construction work on a stalled second 24,000 tonne-a-year train is expected to restart in late 2021.
Wesfarmers announced last month that, in partnership with SQM, it would push ahead with the $1.9 billion Mt Holland lithium project that includes building a hydroxide plant almost next door to the Tianqi plant in Kwinana.
Tianqi has been contacted for comment on the MSP payment dispute.