Millions Are Tumbling Out of the Global Middle Class in an Historic Setback
An estimated 150 million slipped down the economic ladder in 2020, the first pullback in almost three decades.
By Shawn Donnan, Vrishti Beniwal, Marisa Wanzeller, Shannon Sims, Prinesha Naidoo, Randy Thanthong-Knight, Suttinee Yuvejwattana, Phil Kuntz and Michelle Jamrisko
One of the most economically significant trends of the past few decades has been the emergence of a global middle class. The expectation that this cohort of consumers would continue to grow relentlessly, as rising incomes in developing countries lifted millions out of poverty each year, has been a central assumption in multinationals' business plans and the portfolio strategies of professional investors.
You can now add that to the list of economic truths that have been upended by this pandemic. For the first time since the 1990s, the global ­middle class shrank last year, according to a recent Pew Research Center estimate. About 150 million people—a number equal to the populations of the U.K. and Germany combined—tumbled down the socioeconomic ladder in 2020, with South Asia and sub-Saharan Africa seeing the biggest declines.
The Developing World's Shrinking Middle
Sources: Pew Research Center extrapolated income-distribution population sizes from 2014 and 2018 World Bank household surveys using the bank's January 2020 growth forecasts and January 2021 growth estimates for 2020; middle and upper-middle income defined as $10 to $20 and $20 to $50 a day, respectively.
Defining the parameters of this global middle class has long been a contentious exercise. Pew, which has been researching the topic for more than a decade, labels as middle income those making from $10.01 to $20 a day, using data that smooth out differences in purchasing power across countries. In Pew's analysis, there's a separate ­upper-middle-income band made up of those earning $20.01 to $50 a day. (Note that $50 per day falls shy of what a minimum wage worker in the U.S. takes home pretax for an eight-hour day.) Others, such as the Brookings Institution, have opted for a more expansive $10 to $100 a day definition.
Taken together, Pew's middle-income and upper-middle-income brackets encompass roughly 2.5 billion people—or a third of the world's population. Buried inside these big numbers are many personal stories. Here we bring you four, from India, Brazil, South Africa, and Thailand. They're tales of hard-won successes that evaporated overnight, along with well-paying jobs. Of once-­accessible luxuries, like steak for dinner or home internet access, now out of reach. Of dreams deferred, whether an automobile or an apartment.
Strivers face a far more uncertain future than in years past. China, which by Pew's definition is home to one-third of the world's middle class, appears to be recovering quickly, but many other developing countries face diminished economic prospects.
In its latest World Economic Outlook, released in full on April 6, the International Monetary Fund predicts the global economy in 2024 will be 3% smaller than it would have been without the pandemic, largely because developing world governments have less room to spend their way to recovery, as the U.S. and Europe are doing.
Global GDP Shortfall
Forecasts point to a struggle for emerging economies to get back to pre-pandemic path
Note: GDP shortfall is relative to pre-pandemic path
Source: Bloomberg Economics
The divergences are stark. India will end 2021 with a gross domestic product that's 5.2% smaller than it would have been otherwise, according to forecasts by Bloomberg Economics. Indonesia's output will be 9.2% smaller than its pre-crisis trend foretold. The U.S.? Just 1.6% smaller.
, the 's chief economist, worries we're just starting to get our heads around the second-order economic effects of the pandemic and that a rebound in growth rates is being mistaken for a lasting recovery.
Immunizations are proceeding far more slowly in poorer countries that have yet to gain the same access to vaccines as the rich world has. But it goes further than that. In many emerging economies, Reinhart says, banks are wondering whether a surge in lending to consumers and small businesses in years before the pandemic will come back to bite them. She's worried that lenders will curtail credit, which could delay the economic healing.
Reinhart is also concerned that in some countries governments may be forced to switch into austerity mode prematurely because they can't shoulder their expanded debt loads. And while inflation is muted in the U.S. and Europe, in places such as Brazil food prices are soaring, which is leading central banks to tighten monetary policy prematurely. The global economy is "bifurcating," she says. "This has been a very long year, and I think the damage has been underestimated."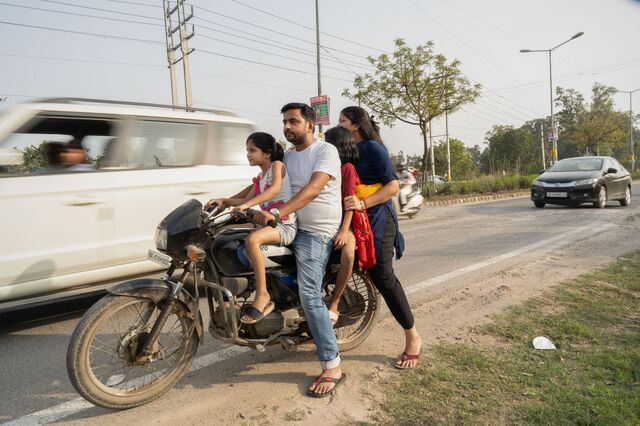 A Dream of Car Ownership Postponed
Ravi Kant Sharma spent more than a decade saving up to buy a $6,000 Maruti Suzuki Alto, the first car many Indians purchase when they make the leap from motorcycles to four-wheelers. He started 2020 with enough for a down payment and a plan to celebrate his upcoming wedding anniversary with the purchase. The pandemic changed all that.
When the Indian economy froze, Sharma, 37, lost his job as an automotive engineer. He managed to find a new one but in another city and at lower pay. The move ate into his savings and put his dream of car ownership on hold. His family of four will be relying on their old motorcycle for some time to come. "I have exhausted all my savings. We are finding it difficult to pay installments of existing loans," Sharma says from his new home in Bahadurgarh near New Delhi.
Sharma is part of an Indian middle class that, by some estimates, makes up one-third of the country's 1.3 billion population. Its growth has lured multinationals making everything from cars to mobile phones, as well as giants in retail and e-commerce, to set up operations in the country. So a hit to middle-class incomes has consequences for the global economy.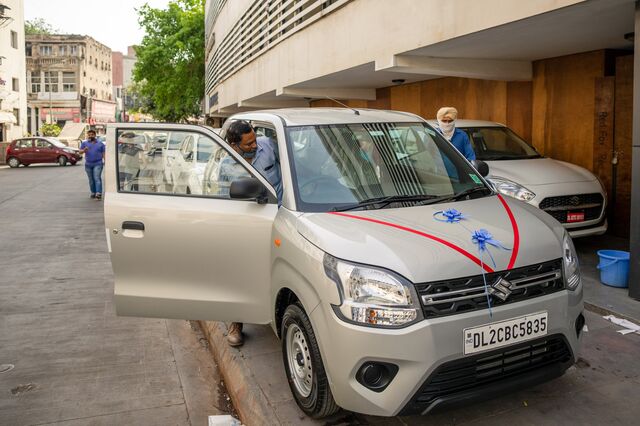 The pandemic has exposed what political scientist Leela Fernandes calls "the socioeconomic fragility" of India's middle class, which she likens to "a stock market bubble waiting to burst."
As in other countries, India's poorest have borne the largest share of the economic pain from the coronavirus crisis, Fernandes says. But the downturn has also wiped out scores of white-collar jobs such as engineers and teachers. About 21 million salaried workers lost their jobs between April and August of last year, according to the .
The upshot is that India's middle class shrank by 32 million people in 2020, accounting for 60% of the worldwide drop in the number of people earning $10-$20 a day, according to Pew Research Center estimates. The reversal looks like the largest India has seen since it began liberalizing its economy in 1991.
Tiny Cars, Big Changes
Source: Maruti Suzuki India Ltd.
The ripple effects have been particularly visible in India's automobile sector, which is the world's fourth-largest and accounts for half of the country's entire manufacturing output. It saw a fall in vehicle sales of more than 18% in the 12 months through February.
Sharma grew up in the central Indian state of Madhya Pradesh and is the third generation in his family to attend university. He's worked hard to shield his two school-age daughters and wife from the economic impact of the pandemic. Still, it's hard to ignore how much his well-laid plans have been disrupted.
From Beef to Eggs
Kidney, tongue, liver. Francinete Alves doesn't love organ meat, but that's what she's mulling bringing home from the discount butcher shop in a suburb of Brasilia. At least dinner won't be another omelet.
For Alves and her 24-year-old daughter, Meatless Mondays have become Meatless Tuesdays, too. Brazil, the country renowned globally for its churrascaria steaks, is battling a vicious Covid-19 outbreak that shows no sign of peaking, and its economic consequences are visible in the diet of middle-class Brazilians.
Data from , the national agricultural agency, shows that residents of the world's No. 1 exporter of beef are eating less of it. Per capita, beef consumption fell 5%, to 29.3 kilograms (64.6 pounds) in 2020, its lowest level since 1996. At the same time, consumption of eggs rose 3.8%, hitting a new high, according to official data.
As Beef Prices Rise, Brazilians Consume More Chicken, Eggs
Sources: Brazilian Ministry of Agriculture, Brazilian Association of Animal Protein
Alves, 58, is lucky in that she's still employed as an office assistant. Her monthly salary of 5,000 reais ($881) is too high to qualify her for emergency cash transfers the government introduced at the start of the pandemic. But her paycheck doesn't go as far as it used to, because food prices have soared on a combination of rising commodity prices and a weaker currency.
Ironically, the government's largesse has played a role in raising prices, since in boosting the incomes of some 67 million poor Brazilians, it's also boosted demand for basic staples.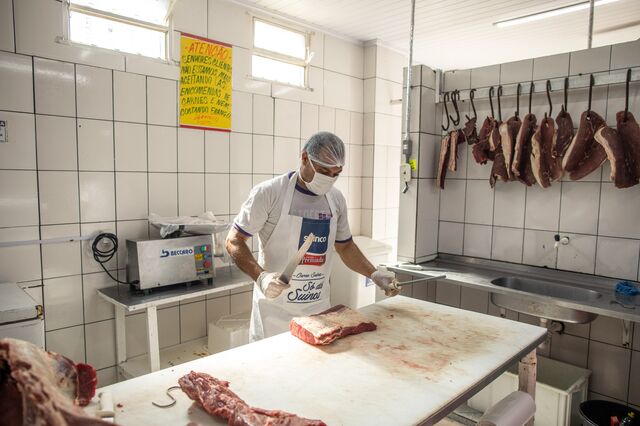 In what has become a pandemic ritual, Alves scours the sales circulars and butchers' social media posts for discounts before she goes grocery shopping, trying to find a way to justify buying the steak she's come to miss so badly. It's not just beef. At the outdoor vegetable market where she tries to stretch the 30 reais in her pocket, the price of everything from apples to tomatoes has skyrocketed. "In the past, 20 reais was enough for you to leave here with a lot of things," she says as her eyes wander over corn she can't afford.
Despite her own tribulations, Alves can still spare a thought for those less fortunate.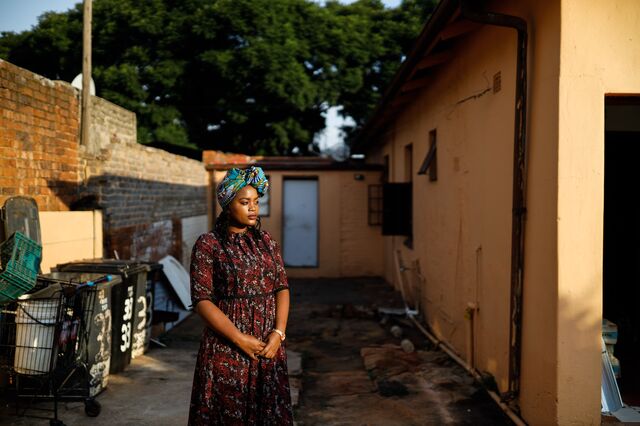 Formal to Informal
It was January 2020, and Mosima Kganyane was exulting in her newfound financial independence. The 26-year-old business administration graduate had landed a full-time job in Johannesburg and leased an apartment for 3,600 rand ($244) a month a few blocks from work so she could save on transportation costs.
Then, in early March, the country recorded its first Covid-19 infection and imposed a strict lockdown that would contribute to South Africa's biggest economic ­contraction in a century. By July, Kganyane's employer, one of the country's largest clothing retailers, was facing bankruptcy. She was laid off, joining the 1.4 million South Africans who lost their jobs last year, pushing the official unemployment rate to a record 32.5%. With no income to cover rent and utility bills and unwilling to dip into her savings, Kganyane paid a $271 penalty to break her lease and moved back into her family home.
South Africa Vacancy Rates
Note: Cheapest monthly rents, in rand, are less than 3,000 ($206); costliest are more than 25,000.
Source: TPN Credit Bureau
Many other South Africans found themselves in similar straits. Nationwide, the vacancy rate rose to a record 13.3% in the first quarter of 2021 from 7.5% a year earlier, according to TPN Credit Bureau. Most of the pressure has been on units that rent for about $475 a month or less, which account for two-thirds of the formal market.
The legacy of apartheid remains apparent almost three decades since its 1994 end in the persistent vulnerability to economic shocks for many in South Africa's Black majority. A 2018 study by the World Institute for Development Economics, which is part of United Nations University, found only 1 in 4 South Africans could be considered part of a stable middle class or elite. The rest were more accurately classified as chronic or transient poor, or among what the report dubbed a vulnerable middle class.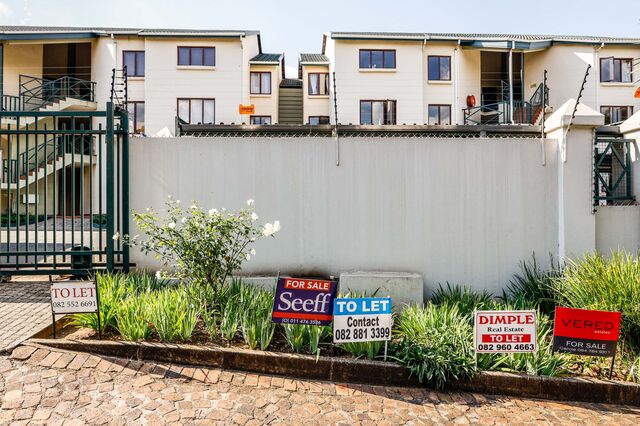 Having lost her own precarious hold on the ladder of success, Kganyane has been working tirelessly to climb back up, despite having been diagnosed with Covid-19. She now works at a financial-services company on a temporary contract. But she's staking her future on the other income she gets from side hustles such as selling carpets, furniture, and eggs. Kganyane also spent $1,000 of her savings to build an extra room at the back of the family home so she could take in a boarder.
So in less than a year, she's gone from being a renter in the formal property market to a landlord in the country's large informal rental market.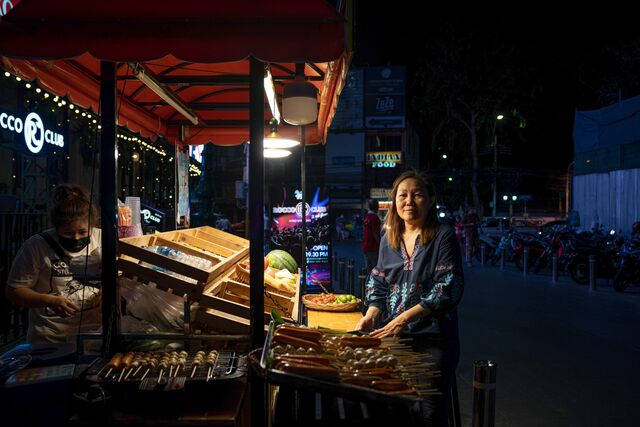 When Will the Tourists Return?
It's early Friday afternoon on Khaosan Road, in the heart of what's normally a busy thoroughfare for foreign backpackers, and Yada Pornpetrumpa is running through the new routine catering to a modest crowd of late-night partyers.
Yada, 52, as well as the other food vendors along Khaosan Road, immediately felt the effects of the pandemic's near-total halt in international travel, losing more than three-quarters of their customers. "Before all of this, when I started setting up my shop, there would already be a line for fruit juice," she says. "I had a 50% profit on everything I sold."
Now she's scraping together a living on government assistance and the meatball skewers and juice she can sell in a night. She figures her daily income has plunged more than 90% since Covid‑19 hit, to 700 baht ($22.42) a day.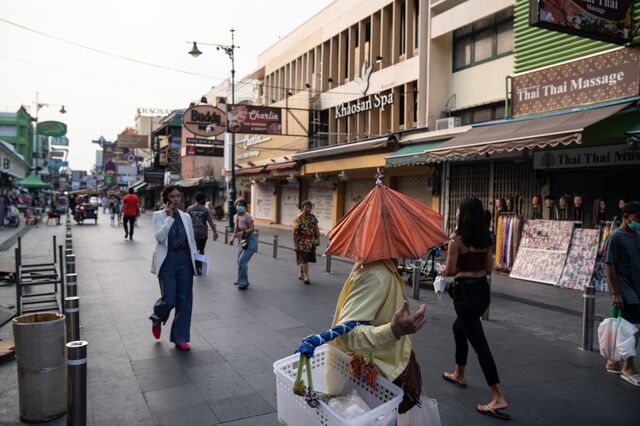 Yada's middle-class life began to unwind last year when she defaulted on the mortgage on a house in a Bangkok suburb, along with her car loan. She now lives with her 31-year-old daughter, five dogs, and 12 cats in a home she rents from a landlord who's agreed to extend her a discount until business improves. She decided to give up one of her two mobile phones and to cancel internet service at home.
Tourism generated one-fifth of Thailand's gross domestic product before the pandemic, meaning there's a giant hole in the economy that will likely take years to fill. Government-supported efforts to lure wealthy visitors through Covid-safe resort packages and quarantine centers at golf courses have fallen flat so far. The expects about 3 million visitors this year, half of what the country saw in 2020 and fewer than a tenth of the 39.9 million arrivals in 2019.
Fewer Nights in Bangkok
Sources: Bank of Thailand, Bloomberg
To feed herself and her daughter, Yada grows her own vegetables. As the leader of a group that lobbies the government on behalf of shopkeepers on Khaosan Road, she sometimes receives free meals from other vendors.
Yada, whose first endeavors on the strip involved selling fake Rolexes to tourists and the occasional brush with the police, says she has a new attitude about what's important in life. She prizes her newfound freedom from debt she incurred to buy material comforts. "Having a car or a house is just what society tells us we should value, but it doesn't define the middle class," she says. "I have no assets now. But I have peace of mind."