'We're watching you': US Navy pokes China

Singapore | The US Navy has released a provocative photo showing senior officers watching a Chinese warship as China and the United States flex their maritime muscle in the East and South China Sea.
The photo, released on Sunday, shows US Navy Commander Robert Briggs and a colleague from the guided missile destroyer USS Mustin gazing steadily out at a Chinese warship, part of the Liaoning carrier strike group. It follows weeks of tension between the Philippines and China over the presence of Chinese vessels at Whitsun Reef in the Spratly Islands.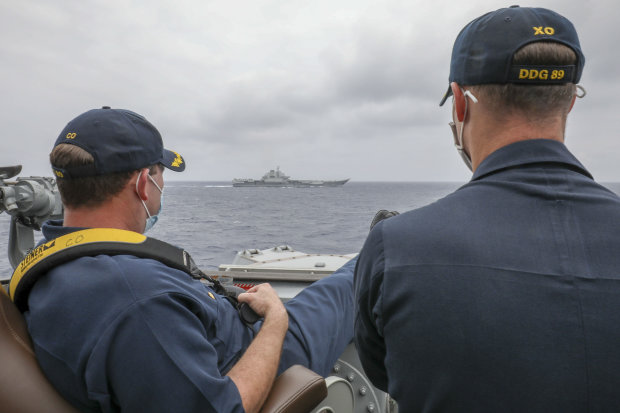 The Philippines claims sovereignty over the Reef but it's within China's self-drawn nine dash line that China believes gives it ownership rights over virtually all the South China Sea.
Last year the US drew a line in the sand when the Trump White House declared China's claims to offshore resources across most of the South China Sea to be "unlawful".
The stand breathed new life into a 2016 tribunal finding that found China's South China Sea claims are incompatible with the international rule book set out in United Nations Convention of the Law of the Sea (UNCLOS).
In the three months since the inauguration of President Joe Biden, his new administration has demonstrated it has no intention of backing down. The USS Mustin is part of an aircraft carrier strike group led by the USS Theodore Roosevelt that's been deployed to the East and South China seas.
Lu Li-shih, a former instructor at Taiwan's Naval Academy told the South China Morning Post the release of the photo was an act of "cognitive warfare" to show China the US doesn't view China's People's Liberation Army (PLA) forces as a threat.
"In the photo, Commander Briggs looks very relaxed with his feet up watching the Liaoning ship just a few thousand yards away, while his deputy is also sitting beside him, showing they take their PLA counterparts lightly, " he said.