Belarus Throws Down The Gauntlet To The West
Sunday's unprecedented forced landing of a Ryanair flight, allowing a journalist on board to be arrested, demands an uncompromising response.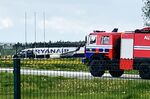 Even by the standards of Belarus leader Alexander Lukashenko, effectively hijacking a flight between two European Union capitals in order to arrest an opposition journalist is an act of unbridled recklessness.
Many details are still murky, including what role — if any — Russia played. One conclusion is, however, already clear: Seizing a dissident out of the sky, in violation of international air travel rules, could create a precedent for far larger authoritarian states to follow, including China. Expressions of concern from Europe and other Western states won't suffice.
Lukashenko has been fighting for the survival of his Soviet-lite regime since last August, when implausible claims of yet another landslide election victory — his sixth — triggered mass street protests. Demonstrations and strikes were met with a violent crackdown and arrests. Thanks partly to Moscow's backing, the former collective-farm boss has managed to hang on regardless, and is still silencing adversaries and tightening his grip. Last week the popular Belarusian news site Tut.by went offline, and authorities opened a criminal case against it, alleging tax evasion.
Nevertheless, forcing down a Ryanair passenger jet travelling between two NATO nations (Greece and Lithuania) to remove a dissident is a dramatic escalation. If Russian President Vladimir Putin was testing U.S. counterpart Joe Biden with his military buildup on the border with Ukraine in April, Belarus is going much further. European nations and the U.S. have demanded explanations over Sunday's forced landing. They're unlikely to get them, and Brussels must use this week's leaders summit to make a swift and robust reply to such a direct challenge.
Lukashenko has moved from being a danger to his people to becoming an international threat, says Nigel Gould-Davies of the International Institute for Strategic Studies, a former British ambassador to Belarus. That undermines any remaining arguments that moderation in the West's diplomacy with Minsk might prompt Lukashenko to be more constructive.
The episode would have been improbable as Hollywood fiction. The Ryanair flight between Athens and Vilnius, carrying some 170 passengers, was forced to divert minutes before leaving Belarusian airspace, ostensibly because of possible explosives on the plane. Instead of proceeding to its destination, which was closer, it was escorted to Minsk by a military jet equipped with air-to-air missiles. On the ground, authorities arrested a prominent journalist on board, Raman Pratasevich, the exiled former editor-in-chief of Telegram news channel Nexta, a key source of independent news in the country.
For all the theater of luggage checks and sniffer dogs, the immediate removal of the 26-year-old — who faces criminal charges and even the death penalty, according to Belarusian opposition leader Sviatlana Tsikhanouskaya — left little doubt as to Minsk's real aim.
It's encouraging that the strength of Europe's immediate verbal response goes well beyond the bloc's usual handwringing. European Commission President Ursula von der Leyen says the "outrageous and illegal" behavior will have "consequences." But what can those be?
Given the eternal challenges of getting the EU's 27 member states to agree sanctions, the widening of existing constraints on Belarus probably won't happen quickly. Maryia Rohava, a Belarus expert at the University of Oslo, makes the smart suggestion of tying a specific punitive measure to this incident, and demanding instant action to reverse it. One idea is to declare Belarus airspace unsafe and for the West to restrict the national carrier Belavia until Lukashenko provides some answers on the incident and Pratasevich and his girlfriend (also detained) are released.
There's plenty of room to act beyond that, too. Existing European sanctions include an embargo on arms sales to Belarus, a visa ban and an asset freeze involving individuals and a handful of enterprises. This is not nearly enough. Next steps could include widening the list of individuals and adding important state-owned enterprises such as Belaruskali — one of the world's biggest producers of potash fertilizers — that make up a significant portion of national revenue.
None of this is without complication. For example, there's the thorny question of how to separate Belarus from sanctions on Russia, without whose support Minsk's outrageous actions probably wouldn't be feasible. Indeed, tougher measures may speed up a Moscow takeover of Belarus by stealth, although that's unlikely to appeal to Minsk so fear of this outcome shouldn't hold back Brussels or Washington. Positive measures like support for independent media and civil society in Belarus would help.
For now, the forced landing of a Boeing 737-800 is too outrageous to go unpunished. If Belarus can do this with light consequences, why not Russia, which is far more powerful and has a vast territory not easily circumvented? Or China, which has shown itself capable of extending its reach into other nations to retrieve dissenters? After all, Hong Kong's new National Security Law applies to anyone, even non-residents.
The West needs to make clear that this won't be tolerated.
This column does not necessarily reflect the opinion of the editorial board or Bloomberg LP and its owners.