European Union puts investment deal with China on ice

London | The European Union has put the skids under its controversial investment deal with China, even as US Secretary of State Antony Blinken said Washington did not expect its allies to "choose" between the rival superpowers.
European Trade Commissioner Valdis Dombrovskis told reporters on Tuesday that "the environment was not conducive" to ratifying the EU-China investment treaty signed in December, particularly since the two sides had recently slapped sanctions on each other.
The European Commission later issued a statement suggesting Mr Dombrovskis had been quoted out of context, but added that "the ratification process cannot be separated from the evolving dynamics of the wider EU-China relationship" – particularly Beijing's "unacceptable and regrettable" sanctions on EU politicians.
The EU's move, which contrasts with recent emollient signals towards Beijing from German Chancellor Angela Merkel, came as Foreign Minister Marise Payne joined leaders of the world's major democracies in London for a discussion on China.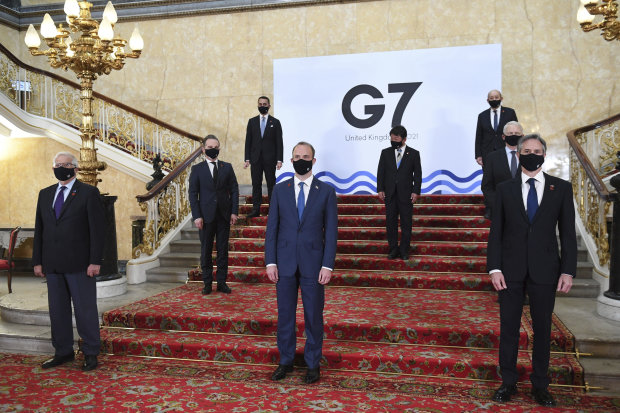 Foreign ministers from the G7 group of the world's biggest democratic economies – the US, Britain, Germany, France, Italy, Canada and Japan - were joined, at Britain's invitation, by their counterparts from Australia, Japan, South Korea, India and Brunei, the latter representing ASEAN.
Before the meeting, US Secretary of State Antony Blinken said the Biden administration's aggressive stance towards China was not intended to provoke another Cold War, nor did it require American allies to pick a side.
"We're not asking countries to choose", he told the Financial Times. Other countries had "complicated relationships" with China and their economic ties did not "need to be cut off or ended".
He also told reporters separately that it was "not our purpose to try to contain China or hold China down".
"What we are trying to do is uphold the international rules-based order that our countries have invested so much in over so many decades," he said.
The G7 ministers reportedly held a 90-minute discussion on China before being joined by their guests for a dinner, where they again canvassed the issue of how to manage Beijing's increasing assertiveness and authoritarianism.
US President Joe Biden has continued his predecessor Donald Trump's combative approach to China, but he and Mr Blinken have sought to build a coalition of like-minded countries rather than wage the campaign unilaterally.
That effort began on the back foot, after French President Emmanuel Macron and Dr Merkel helped ensure the EU-China investment treaty was rammed through at the end of last year, handing Chinese President Xi Jinping a strategic victory just before Mr Biden's inauguration.
Just last week, Dr Merkel held talks with Chinese Premier Li Keqiang that reaffirmed Berlin's commitment to the investment treaty and tried to build bridges with Beijing.

But even though the EU-China trade relationship is larger than the US-China one, the G7 meeting seems to have sharpened up Europe's harder edge.
German Foreign Minister Heiko Maas went into the meeting tweeting that this was the forum "where liberal democracies meet standing together against authoritarian regimes".
"We are united by values to promote in the world. Today's discussions focus amongst others on China and the Indo-Pacific," he said.
Later, the German Foreign Office tweeted a more fence-straddling message after Mr Maas' bilateral meeting with Mr Blinken.
"We are in unison on tangible policies aiming not to open up new rifts or a new East-West conflict, but rather to send clear messages, stand up for our values but always remain open to dialogue," Mr Maas said.
There are reports in diplomatic circles that Mr Macron and Dr Merkel may look to carry out a joint visit to Beijing in coming months, which would raise eyebrows in Washington if neither had been to the White House first.
But the mood is more Sinophobic in Brussels. The EU's Mr Dombrovskis said the bloc's investment pact with China could not go ahead while Beijing had sanctions in place on several European parliamentarians and other prominent individuals.
"It is clear that in the current situation, with the EU sanctions against China and the Chinese counter-sanctions ... the environment is not conducive to the ratification of the agreement," he said.
China slapped the retaliatory measures on Brussels after the EU joined a push across the G7 to sanction officials from Xinjiang Province as a protest over China's harsh treatment of the region's Uighur people.
The European Commission said progress on the treaty, which took seven years to negotiate, would "depend on how the situation evolves".
Brussels is also preparing new laws that will curb large takeovers or public procurement bids in the EU by foreign companies that receive hefty state subsidies – a move clearly aimed at China's state-owned and state-backed enterprises.