Europe's Bankruptcy Paradox
Insolvencies won't remain this low but a cataclysm may yet be avoided.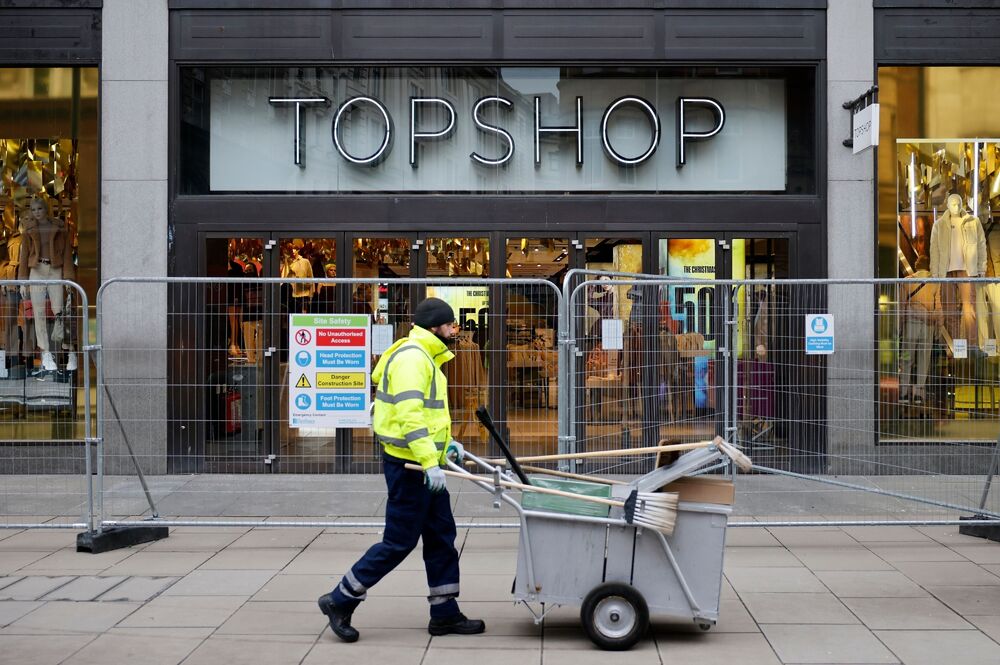 When Covid-19 first plunged Europe into lockdown last spring, there were plausible predictions of a tidal wave of corporate insolvencies. That hasn't happened, at least not yet.
The number of companies declaring bankruptcy declined by about a fifth in the euro area last year, even as economic output contracted more than 6%. Firms were saved by overwhelming government support, including hundreds of billions of euros of public loan guarantees, wage subsidies and loan forbearance by banks. Rules were relaxed on when businesses must file for insolvency.
A Misleading Picture of Corporate Health
European bankruptcies are being artificially suppressed
Source: Eurostat
Index 2015=100
The big question is whether Europe has merely delayed the inevitable by propping up financially distressed enterprises (unkindly dubbed "zombies" by economists), or whether resurgent demand and accelerating vaccination rates can keep the bankruptcy wave at bay. There's been more ground for optimism recently but many company failures still look unavoidable.
Leaving aside high-profile implosions, like the ones at budget airline Norwegian Air Shuttle ASA, Topshop owner Arcadia Group and fraudulent fintech Wirecard AG, the recent insolvency trend has been the opposite of what usually happens in a recession.
Tale of Two Recessions
Bankruptcies soared during the last crisis. This time they fell
Source: Coface
Compared with the U.S., where large companies such as car-rental giant Hertz Global Holdings Inc. and telecoms provider Frontier Communications Corp. had to file for Chapter 11 bankruptcy, some European countries have been especially forgiving. Germany recorded the smallest number of corporate insolvencies since at least 1999; English and French bankruptcies are the lowest in more than 30 years.
With big parts of the economy left relatively unscathed by the pandemic, interest rates still at rock bottom, consumers ready to spend their pandemic savings and Europe's 750 billion-euro ($900 billion) Covid recovery fund poised to start disbursements, it's tempting to think the worst is over.
Policy makers, though, shouldn't consider the "low number of insolvency filings in Europe as a sign of corporate health," the European Systemic Risk Board — which oversees the continent's financial system — has warned. It noted that in a worst-case scenario the current calm might be "the sea retreating before a tsunami."
Because of government loan guarantees, business failures would also further damage public finances. That's one reason France's President Emmanuel Macron and other leaders are in a hurry to relax lockdown restrictions. Every day of lost revenues deepens the hole from which companies must climb.
Genuine zombie businesses — those that were financially distressed before the pandemic but were able to avoid filing for creditor protection last year — will, however, remain in that hole. "Many insolvencies have been postponed rather than prevented," notes French credit insurer Coface SA.
1 Euler Hermes, another credit insurer, expects global insolvencies to be 13% higher in 2021 than in 2019. In 2022 it expects insolvencies will be 27% higher than in 2019.
Given the circumstances, that would be a decent outcome. Even once-healthy companies are burdened with huge borrowings and reopening for business brings new risks. After a long hibernation firms have to rebuild inventory and rehire staff, potentially sinking them further into debt. The travel and hospitality industries face the biggest difficulties, which bodes ill for southern Europe where they account for a bigger share of output and governments have less fiscal firepower. Spain and Italy may see more insolvencies than Germany.
A tricky dance is now underway in which governments and lenders try to wean companies off financial support while separating businesses with sound long-term prospects from the no hopers. Telling one from other isn't easy.
After a long hiatus Germany says over-indebted businesses should file promptly for insolvency. A German government backstop for the credit insurance that underpins vital trade expires next month.
And yet, with national elections looming in Germany and France and governments everywhere under pressure over their handling of the pandemic, there's a strong temptation to keep the cash spigot open. Look at how Paris has showered money on Air France-KLM. Britain's small businesses have been given up to 10 years to repay so-called "Bounce Back" loans. Much of the 47 billion pounds ($65 billion) they've borrowed will probably never be recouped.
Matt Levine's Money Stuff is what's missing from your inbox.
We know you're busy. Let Bloomberg Opinion's Matt Levine unpack all the Wall Street drama for you.
It's no wonder European banks are sounding more sanguine about commercial lending. Lloyds Banking Group Plc and HSBC Holdings Plc have unwound some bad-loan provisions, while Austria's Erste Group Bank AG says the "vast majority" of customers resumed loan payments "without delay." Even if this confidence turns out to be misplaced, the finance sector is better capitalized now than before the last recession. Shareholders are more upbeat, too: The Euro Stoxx banks index has gained 23% this year.
Free-market acolytes will say Europe's decision to prop up zombies has already done lasting damage by preventing labor and capital from shifting to more dynamic businesses. Creative destruction is essential to capitalism, they say. Productivity will suffer.
That's too crude. While massive government intervention is often targeted poorly, it has prevented the collapse of healthy businesses. Employees kept their jobs and banks were able to keep extending credit. Europe's recession was brutal but it could have been much worse.
A year ago no lender or government could judge reasonably which companies' prospects had been permanently impaired. By the summer they should have a much better idea. Some hard decisions await.