Navy goes full speed ahead on South China Sea transits

Australian warships have already conducted four transits of the South China Sea this year, intensifying the tempo of operations in the heavily contested waterway amid growing tensions with China.
The navy last week publicised that three of the navy's Anzac class frigates, Anzac, Ballarat and Parramatta, along with replenishment vessel HMAS Sirius, had sailed through the southern reaches of the South China Sea.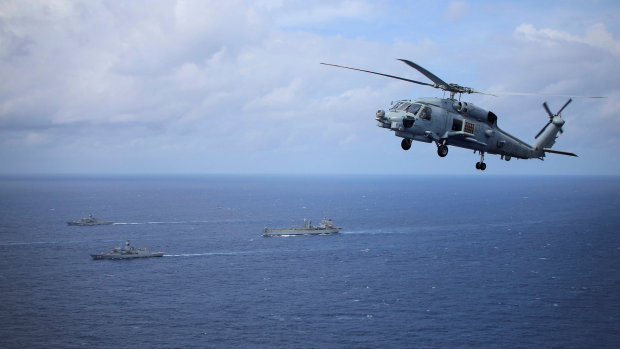 The pace of this year's transits – four in the first five months – compares with six across all of 2020, Defence officials confirmed.
"[The ships] are currently conducting two separate regional presence deployments aimed at strengthening practical co-operation with regional partners and enhancing interoperability," the Defence Department said in a statement.
"These deployments demonstrate Australia's resolve for an open, inclusive and resilient Indo-Pacific, and are conducted in international waters and in accordance with international law in relation to freedom of navigation and overflight, particularly the United Nations Convention on the Law of the Sea."
Anzac and Sirius transited through the South China Sea in mid-March, while Anzac participated in "tactical training" with Japanese Maritime Self-Defence Force vessel JS Akebono in late March.
In mid-April, Anzac and Sirius joined French warships the Tonnerre and Surcouf for exercises across the South China Sea and northern Indian Ocean.
"It's a pretty active tempo and signifies we're not vacating the field," said Rory Medcalf, head of the Australian National University's National Security College.
Overlapping territorial claims
Confirmation of the increased transits comes after the editor of China's state-run Global Times newspaper suggested Beijing should launch a long-range strike against Australian military facilities if the Morrison government provided military support to Taiwan.
China and many of its south-east Asian neighbours have overlapping territorial claims in the South China Sea. Philippines Foreign Minister Teodoro Locsin apologised last week after telling the Chinese government to "Get the f--- out" in a Twitter post condemning the presence of hundreds of Chinese boats inside Manila's exclusive economic zone.
The Australian navy is yet to sail within 12 nautical miles of a disputed territory in the South China Sea, a step which would indicate Australia did not recognise the claim.
International Institute for Strategic Studies senior fellow Euan Graham said Australia had been stepping up its activities in the South China Sea but, significantly, was doing so in co-operation with the US and other navies.
"Lone transits are an operational risk so my impression is Australian ships are dovetailing with US ships," he said.
Professor Graham said maritime activities in the South China Sea by a number of navies were increasing. There was not just a higher tempo of operations by China's navy but its maritime militia was also carrying out a campaign of "occupying without building" in disputed waters.