Is Evergrande Playing Poker with Hong Kong's Future?
Beijing regulators shrug over small-cap flash crashes but it could take just one big scandal for them to crack down on the city's laissez-faire ways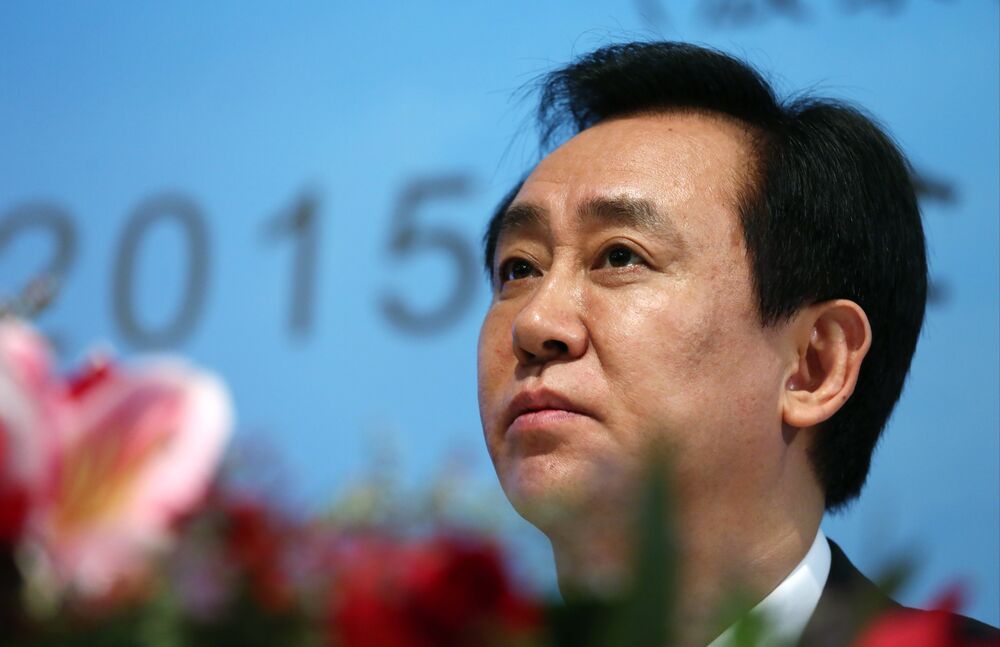 While China has tightened its grip on Hong Kong over freedom of speech, the financial services industry retains its great liberties. The city has its own set of securities regulators; and its banks are still happily arranging financing for mainland companies thirsty for cheap money. But for how much longer?
Over the last few years, Hong Kong has been the center of corporate spider webs that have snarled China's financial stability. The laissez-faire city was home base for Xiao Jianhua, whose Baoshang Bank Co. in Inner Mongolia went bankrupt in 2020, the first commercial lender in China to do so in nearly two decades. It was the direct result of Xiao's conglomerate Tomorrow Group using it like a slush fund. Hong Kong was also the playground for Lai Xiaomin, boss of state-owned China Huarong Asset Management Co., which is now the focus of much anxiety over a potential major restructuring. Lai used Huarong's quasi-sovereign credit rating to issue cheap dollar debt in the city's markets, using the funds to buy up everything from high-yield real estate developer bonds to private equity. Apart from the financial disruption, both scandals deeply embarrassed Beijing.
Now the focus is on China Evergrande Group, the mainland's most indebted real estate developer. Beijing's financial regulators — scarred by the Baoshang bankruptcy — are looking into alleged related-party transactions between Evergrande and Hong Kong-listed Shengjing Bank Co., according to WeNews, a premium service of Caixin, the influential Chinese financial news outlet. Shengjing, based in the northeast Liaoning province, counts Evergrande as its largest shareholder. Through opaque dealings, the bank bought a lot of the developer's bonds, which other investors stayed away from, Caixin reported.
Shengjing reportedly has 130 billion to 150 billion yuan ($23.5 billion) total exposure to Evergrande. That's a huge amount for a commercial bank in a provincial city. With just 79 billion yuan in Tier-1 capital, liquidity issues at Evergrande could have wiped out Shengjing's entire equity buffer, resulting in a possible bankruptcy or state-led bailout.
When contacted by Bloomberg last week, an Evergrande representative said the company wasn't immediately able to comment on the Caixin report directly but that generally speaking it uses its own funds to repay its debts. Shengjing Bank has not commented. Bloomberg Opinion queries on the Caixin article were not answered.
How did Evergrande become such a huge stakeholder in Shengjing? The bank is listed in Hong Kong, where Evergrande's founder Hui Ka Yan has powerful friends. He belongs to the so-called Big Two Club, named for its members' fondness for a Chinese poker game. With the help of his tycoon friends, Hui battled off short sellers, rebuilt confidence in his sinking dollar bonds, and even created a meteoric rally in a loss-making electric vehicle venture.
In July 2019, in a 13.2 billion yuan deal, Evergrande raised its own stake in Shengjing to 36.4%. But Hui's friends, such as New World Development Co.'s Henry Cheng and C C Land Holdings Ltd.'s Cheung Chung Kiu, held substantial interests, too, buying Shengjing shares in Hong Kong. Together, the tycoons effectively own a midsize mainland bank.
A Network of Chinese Real Estate Tycoons
Deals between members of the so-called Big Two poker club and their firms total $16 billion
Sources: Company filings, media reports, Bloomberg calculations
Note: Arrows represent asset flow. Data shows transactions from 2008.
Owning a bank can be useful for a developer whose leverage ratios have crossed Beijing's regulatory "three red lines," which were
formulated in the summer of 2020. China is now banning a practice known as structured issuance, where a company transfers cash to an asset manager to buy a slice of the bonds it's selling, giving financial markets the appearance of greater demand for its securities. But if you own a bank, it is even easier. The majority shareholder can quietly nudge the bank to shell out the initial cash outlay in what the Chinese call "shouldering the sedan chair," or doing the heavy-lifting for the boss. Caixin cited an October 2.1 billion yuan issue by Evergrande that offered low coupon rates that appears to fit the bill of structured issuance. The five-year bond 's coupon was only 5.8%, substantially lower than the developer's market yields, said Caixin.
Friends in Deed
Midsized Shengjing Bank, based in northeast China, counts many Hong Kong-based tycoons as its shareholders
Source: Company filings
Structured issuance would have unnerved Beijing. It was used in transactions between Beijing-based technology conglomerate Tunghsu Group, which defaulted in 2019, and Bank of Jinzhou Co. Jinzhou, similar in size to Shengjing, would have gone bankrupt, had the People's Bank of China not twisted the arm of a fund under its control to assist with a restructuring and recapitalization. Having gone through three regional bank bailouts in two years, China's financial regulators do not have appetite for another troubled bank.
Have Hong Kong regulators asked why the tycoons bought into a mid-sized regional bank in northeast China that offers no stock returns or trading liquidity? The city's securities watchdogs didn't do much about Hui's friends helping him with Evergrande's electric vehicle division. Last August, the Securities and Futures Commission warned retail investors of concentration risks at the EV unit, noting that the parent and a group of 18 shareholders held about 95% of the shares. But nothing concrete was done. This January, China Evergrande New Energy Vehicle Group proceeded to raise HK$26 billion from the usual suspects — Hui's tycoon friends.
Beijing may shrug if Hong Kong's stock market periodically suffers from small-cap flash crashes. That's just local business. But when capital market operations offshore start to affect the health of China's own banks, be assured that China will care. Xiao was carted off from his Four Seasons Hotel residence in Hong Kong in 2017 and taken to the mainland where he is believed to be detained. Lai was executed early this year. If Beijing feels a deeper cleansing is required in Hong Kong, who knows what liberties now enjoyed by the financial industry will be at risk.