THE BEGINNING OF THE END FOR PUTIN
Ukrainians defy Putin's hopes of swift victory as 66,000 return from overseas to fight
US says Ukraine 'absolutely can win' as Russia bombs multiple civilian targets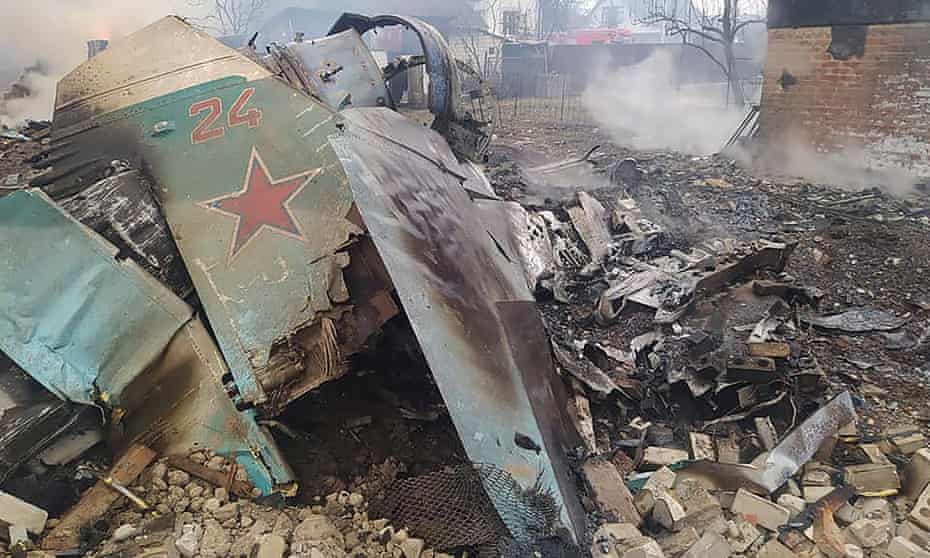 The image is one of the most evocative of the war so far. Ukrainian self-defence forces surround a man in a blue uniform. His T-shirt is bloody. The captive is a Russian pilot. His plane was shot down on Saturday while on a bombing mission in Chernihiv, north of Kyiv. He catapulted to safety and was taken prisoner. His co-pilot perished.
Ten days after Vladimir Putin's invasion, Ukraine continues to fight back. The country's armed forces claimed to have shot down two Russian warplanes on Saturday, with a second fighter downed in the south of the country. It was on a reconnaissance mission when it crashed. Its two pilots survived and were interrogated in a muddy field.
The crew on board a Russian military helicopter were less fortunate. Video shows a missile hitting the transport. It crashes seconds later in a ball of fire. Meanwhile, in the Kharkiv region Ukrainian troops staged a counterattack, seizing Russian weapons and armoured vehicles. These were immediately redeployed in the existential fight against Moscow.
It wasn't supposed to be like this.
Putin's war plan assumed a quick and decisive victory over Ukraine's inferior army. Tanks would roll in from the north and Belarus, as well as the south and Crimea. They would crush any resistance. Meanwhile, paratroopers would secure strategic aerodromes before dropping into Kyiv and decapitating its government, the crowning moment in what Putin called a "special operation".
Most Ukrainians would adjust to these new realities, it was thought. A pro-Russian puppet government would be installed. Those who continued to resist would face condign punishment – imprisonment, arrest and execution.
Russia's military machine has succeeded in seizing much of south-eastern and southern Ukraine, including the city of Kherson and its surrounding province. But it has failed to pacify the locals. Residents flooded Kherson's main square on Saturday, seemingly unafraid of being shot, and protested peacefully and noisily against occupation.
They waved Ukrainian flags and even hijacked a Russian armoured personnel carrier, taking it for a spin to loud applause. Similar large-scale anti-Russian demonstrations took place in Melitopol, where Russian soldiers fired into the air, and the Azov seaport of Berdyansk.
It was too early to say whether Putin's ambitious plan to conquer Ukraine is grinding towards failure. But there is no doubt Ukraine's continued ability to fight back has defied his apparent assumption of a swift and largely unopposed Russian victory.
Speaking to the BBC, the US secretary of state Antony Blinken reinforced the message Moscow's campaign was faltering and said Ukraine "can absolutely win against Russia". He observed: "The war has already not gone as Russian president Vladimir Putin might have planned."
US officials point to the fact that Ukrainian aircraft are still operational this weekend, together with some air defence units. It is a scenario most had believed unlikely when Moscow's so-called "special operation" began last week. Russia has forbidden the word war and made its use a criminal offence.
"The Ukrainians still have a significant majority of their air combat power available to them, both fixed-wing and rotary wing as well as unmanned systems and surface-to-air systems," a US official told Reuters, speaking on condition of anonymity.
With its land invasion apparently stalled, and with little progress made in the advance of a Russian super-column towards Kyiv, Moscow is increasingly turning to indiscriminate shelling and bombing of civilians. The objective, Kyiv believes, is to spread panic and terror.
Multiple cities were hit on Saturday. They included Bila Tserkva, south of the capital, and Kharkiv, where residents spent another night in underground shelters and metro stations. There was fierce fighting in Bucha, just north-west of Kyiv, with reports of civilian casualties.
Ukraine's president, Volodymyr Zelenskiy, says Moscow's "terror tactics" were designed to force capitulation. In a video address on Friday night, he berated Nato members for failing to enforce a no-fly zone over the country, saying it gave a "green light for further bombing of Ukrainian cities and villages".
Meanwhile, a desperate humanitarian disaster was taking place in Mariupol. An apparent agreement to evacuate 200,000 people from the port city fell apart because of what Kyiv said was continuous Russian shelling. About 500 people managed to exit from the nearby town of Volnovakha.
At least 200,000 people remained trapped in Mariupol on Saturday without heat, electricity and water. "Everything has been hit. Apartment blocks, shops, the hospital. It's like world war two," Anatoliy Lozar, a volunteer defender, told the Observer. He added: "We won't give up. We will fight to the very last man."
Lozar said civilians were paying a terrible price for Russian aggression. "I saw a car pull up outside a hospital and a mother run out with a wounded child. I have no idea whether the child lived or died. We can't even collect our dead. The morgue has no electricity." Médecins Sans Frontières said medicines had run out, with locals drinking snow and rainwater.
The city's mayor Vadym Boychenko said supplies of food were critically low. "They want to wipe Mariupol and Mariupol residents off the face of the earth," the mayor said, describing indiscriminate shelling of residential areas and hospitals.
These attacks seem borne not of a grand strategy but of increasing frustration in Moscow at the progress of the war. Andrei Soldatov, an expert on Russia's security services, said Russia's military did not seem to be fully in control. "You have the political element dominating decision-making," he told the Observer.
Others pointed to outdated hardware. "Russian has a 20th-century army. Ukraine is using 21st-century weapons," Olena Chebeluik, a historian in Lviv, said. She added: "We are fighting in small mobile groups. Our fighters can hide. They know the territory. Locals support them."
The Ukrainian offensive in the Kharkiv region was possible because of "low morale" and a lack of preparation among Russian reserves, Ukraine's armed forces said. Some separatist units had also pulled back to the Donetsk and Luhansk regions after Ukrainian units seized the town of Horlivka.
Ukraine's military claims 10,000 Russian soldiers have been killed. Moscow puts the figure at 500. On Saturday the defence minister, Oleksii Reznikov, said 66,224 Ukrainians living abroad had returned home to fight – the equivalent of 12 brigades. '"Ukrainians, we are invincible!" he said.
Outside Lviv's main recruitment office, instructor Vitaly Glyuk said Ukraine had taken the initiative against a more powerful opponent. "The Russians are getting a bit exhausted and now we are going forward. It's our time," he said. He added: "We have been fighting this monster for 300 years already." Optimistically, Glyuk talked about recapturing Crimea, eight years after Putin annexed the Black Sea peninsula.
"Once we have won back our territory in the south we will get Crimea as well," he said.