The US Has a Problem With Its Biggest Chip Friend
In the rush to build resilient supply chains, Washington seems to be bypassing its most trusted partner.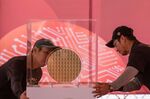 For a nation trying to rebuild alliances and bring together a group of like-minded countries against a common threat, the US has a funny way of treating its friends. In the semiconductor sector, for which it's ready to dole out billions of dollars in incentives, the single most critical partner is Taiwan.
But Taiwan isn't feeling the love. At least, that's how the man responsible for building the world's most important semiconductor company sees it. Speaking in Taipei on Thursday, Morris Chang gave his thumbs up to the Trump and Biden administrations' strategies to limit Chinese access to US chip technology, but took issue with Washington's broader policy of "friendshoring" — moving supply chains away from China to trusted nations. His problem? This doesn't include Taiwan.
Chang, 90, is the founder and former chairman and chief executive officer of Taiwan Semiconductor Manufacturing Co., one of the world's largest companies that has a lock on the most advanced chip technologies on the planet. "I certainly support that part of America's industrial policy to slow down China's progress," Chang said, noting the Commerce Secretary Gina Raimondo has said that Taiwan is a dangerous place, and "you cannot rely on Taiwan for chips."
In her defense, Raimondo made those remarks in the context of Taiwan being the sole hub of global leading-edge semiconductor manufacturing, while also being the target of Chinese posturing over a possible military invasion. It is "a scary scenario" for the US to lose access to those chips, she said in July. "It's a deep and immediate recession." Treasury Secretary Janet Yellen said in December that businesses reviewing their supply chains should be mindful of the geopolitical risk connected to China-Taiwan tensions.
They are both right. But so is Chang, particularly when it comes to leaving Taiwan off the list of "friends," that so far includes Japan, South Korea, India and Vietnam. There doesn't appear to be an explicit policy in Washington to exclude Taiwan, but as Chang notes, it seems implied by its absence.
He also observed, as he has previously, that the US is not as reliant on the rest of the world as it thinks.
In fact, when the whole supply chain is taken into account — including chip design, software tools, materials, equipment, intellectual property, and fabrication — the US commands 39% of the global market, Chang said. But Washington seems obsessed with just one link in that chain: fabrication. And that's the sector receiving the lion's share of CHIPS Act funds. This single-minded focus on dragging manufacturing back to the US, where costs are double those in Taiwan, while not including Taipei in the circle of trust is bewildering — especially when you consider that TSMC has even been a supporter of the policy through its commitment to invest $40 billion to build a plant in Arizona.
Chang's words represent neither Taiwan nor TSMC. However, he has been Taiwan's envoy to the Asia-Pacific Economic Cooperation as a stand-in for the president 1 . He can also get away with saying things that his successors at TSMC — Chairman Mark Liu and Chief Executive Officer CC Wei — cannot, for fear of upsetting clients and governments.
Just as crucial, he has the ear of both Taipei and Washington and meets with congressional delegations when they visit. So when Chang speaks, the Biden administration would do well to listen.
Perhaps the first thing they should keep in mind is that when it comes to technology, and the semiconductor industry in particular, the US has no greater friend than Taiwan.
It's the largest buyer of US materials, equipment and design tools — creating thousands of high-paying, leading-edge American jobs. And the services it offers to US companies has allowed the likes of Nvidia Corp., Advanced Micro Devices Inc., Qualcomm Inc., Broadcom Corp. and Apple Inc. to dominate their markets. Apple is now the world's largest company, and Nvidia the eighth, thanks in no small part to the technical edge TSMC offers them. It's also been a supplier to Intel Corp., even though that company is a would-be competitor and its CEO has argued loudly for a shift in manufacturing away from Taiwan.
This means that as the US tries to enhance its chip manufacturing sector, it'll need Taiwanese business and political leaders to play ball. Publicly, these leaders have not kicked up a fuss because they're aware that a lot of the rhetoric is for a domestic audience, and they still see the US as a valued partner. The fact that Washington is a likely military protector, along with Japan, Australia and other nations, also tempers their public comments.
Privately, though, they're increasingly perturbed. The military risk not withstanding, Taiwan sees itself as a trusted and reliable partner that ought to be part of any conversation about shifts in the supply chain. Taipei-based Foxconn Technology Group, for example, is the most significant electronics manufacturer in the world and is already working with like-minded nations such as India, Vietnam, Mexico and the US to move production away from China.
No company knows how to build and scale-up chip manufacturing plants like TSMC, and when it comes to managing complex electronics supply chains, Foxconn is peerless.
If the US is truly committed to developing resilient and decentralized global supply chains, then it will need to work with those partners who have the experience, skills and leadership to make it happen. And it'll need to start calling Taiwan a "friend."