History's Whispered Warnings on Authoritarianism vs. Democracy
From the US to Hungary, Israel, Brazil and beyond, the struggle is worldwide and never ends. A look back offers hints of what's ahead.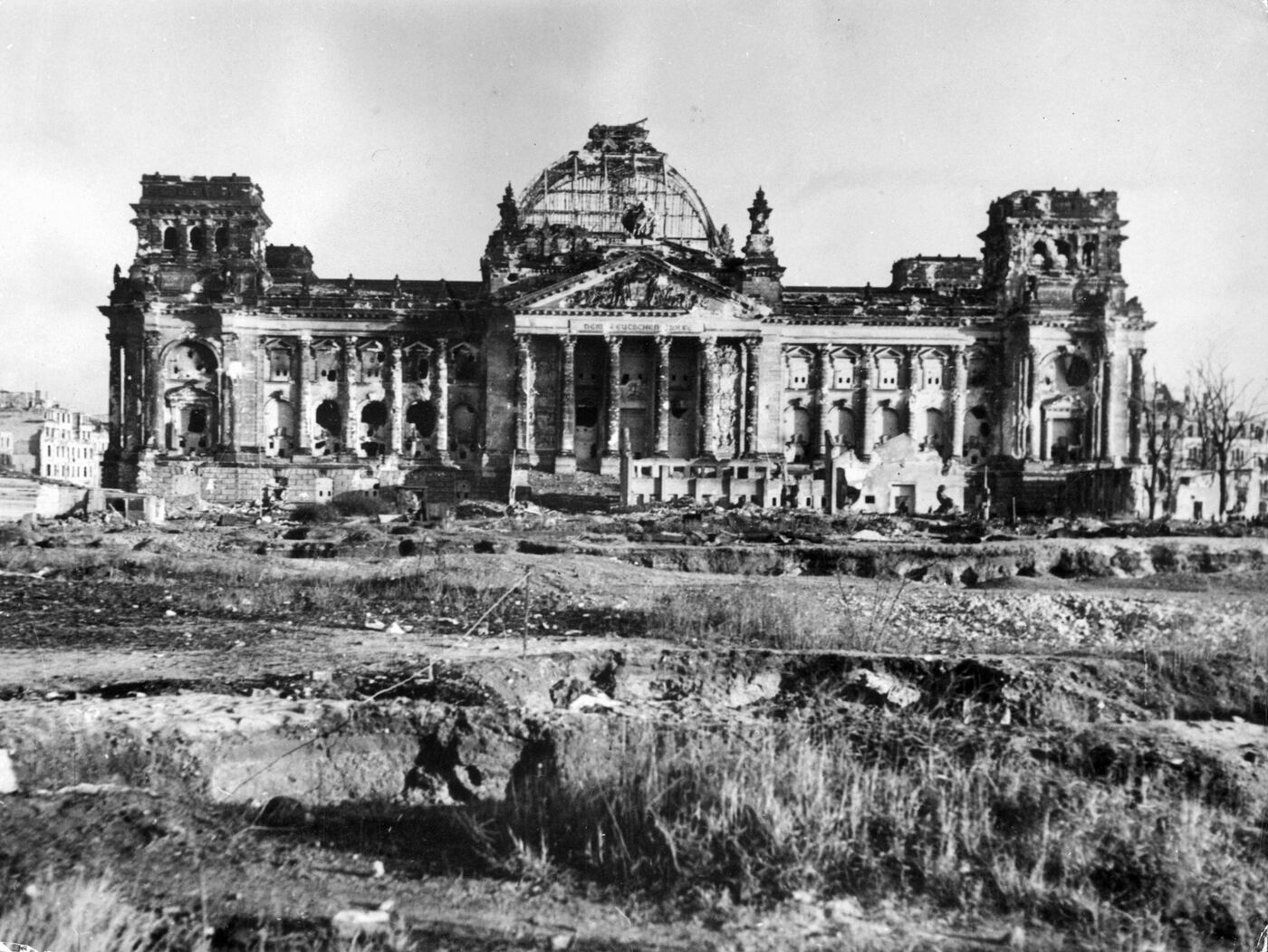 5 April 2023 at 12:00 pm GMT+8
Authoritarianism is on the rise worldwide. But the democratic resistance is also growing. Which side will win in this tug-of-war, and what are the stakes?
I can't think of a better place to ponder these questions than central Berlin, nor a better sparring partner to do it with than Timothy O'Brien, Bloomberg Opinion's senior executive editor. The other day, we walked from the Reichstag — where the Weimar Republic was born and burned — to the site of the bunker where Adolf Hitler killed himself, and the adjoining Holocaust Memorial. You can listen to our conversation in our Crash Course podcast.
Go ahead and swap in your own vocabulary. Authoritarianism is basically synonymous with autocracy, and can lead to despotism, tyranny, dictatorship, and ultimately fascism and totalitarianism. Democracy, meanwhile, means much more than regular elections. It also presumes many other liberal, pluralist and constitutional institutions that check and balance the power of wannabe strongmen.
This contest is explicitly not between "left" and "right" — you can have authoritarianism at both ends. Instead, it describes the perennial tension between what the philosopher Karl Popper called open and closed societies, and ultimately between liberty and serfdom. And these days, a casual glance at the spinning globe in your library shows that the fault line runs through all continents, except — for now — Antarctica.
Consider Israel in recent weeks. Born in answer to one totalitarianism — that of the Third Reich and its Holocaust, which Tim and I were revisiting symbolically — the country is a proud democracy. But even there, a populist leader and aspiring autocrat, Benjamin Netanyahu, has come dangerously close to wrecking one of the institutions that's universally considered — at least since Montesquieu argued for the separation of powers — to be a prerequisite for liberty: independent courts.
Similar currents are causing, as the think tank Freedom House calls it, democratic "backsliding" or "decline" in other places. In some, the slide seems reversible. Poland and Brazil, as well as the US since January 6, 2021, are in that category. In others — such as Turkey, Peru or Hungary — the descent is steeper. And in some countries, such as Burkina Faso after two successive coups, democracy may have failed altogether, as it once did in Weimar Germany.
Elsewhere, liberty hasn't even been on the menu in recent memory. North Korea and Iran are ruled by despotic regimes. Russia has in effect turned fascist since President Vladimir Putin attacked Ukraine and mobilized his entire society for a genocidal war of aggression. China increasingly looks totalitarian, with its Orwellian surveillance infrastructure, and its incarceration and "re-education" of an entire population, the Uyghurs.
The picture isn't all bleak, however. Whereas 35 countries became more authoritarian last year, according to Freedom House, almost as many — 34 — turned more democratic, among them Colombia and Lesotho. In theocratic Iran, people — and especially women — have demonstrated bravely for their liberties, including the simple right to show hair. Most encouragingly, Israeli society has risen up against Netanyahu's proposed reform — and stopped it for now.
Here, then, are some of the themes Tim and I distilled during our walk through Berlin. The first is a reminder that historical lessons are never blunt, and always subtle. Nobody is exactly like Hitler, so we should avoid "Nazi porn" and "Fuehrer kitsch." The threat today or tomorrow won't come from a guy with a toothbrush mustache. But it'll still come from some other guy — or gal.
Standing in front of the Reichstag, we looked at the balcony from which a German republic was proclaimed at the end of World War I. For about 14 years, this building then housed the parliament that represented a democracy that was vibrant for a while, before turning dysfunctional and chaotic — and then failing. For Americans, Brazilians, Hungarians, Israelis and others today, this period — the 1920s and early 1930s — is the most pertinent.
A superficial parallel is that Germany a century ago lived through successive crises, including a hyperinflation and — more importantly — a deflation. You could compare that to our financial crisis in 2008 and all the turmoil that's followed, including the pandemic.
The more relevant similarity is that Weimar society, like America and other countries today, was ultra-polarized. Owing to different electoral systems, this took the form of fragmentation — a proliferation of parties — in Weimar but a two-way schism in the US. Yet in both cases, factionalism cleaved the nation into hostile camps — commies and other "reds" versus monarchists, nationalists and Nazis then; Democrats, progressives and the "woke" against Republicans, conservatives and MAGA today. And hapless pluralities of pragmatic or moderate centrists were and are caught between these fronts.
There's nothing bad about disagreement as such. In fact, controversy — provided it stays civil — is what democracy and pluralism thrive on. The problem then as now is that other ingredients were thrown into the mix.
One was the spread — abetted by the media of the day — of conspiracy theories, and a corresponding devaluation of objectivity and truth as standards. Intriguingly, some of those conspiracy theories even share strands of narrative DNA, notably the anti-Semitic tropes of Weimar Germany and the ravings of today's QAnon. Authoritarians promote such reality distortion. Putin, with his KGB-trained mind, spent years training Russians to believe, as one expert puts it, that "nothing is true, and everything is possible."
Another factor was the rise of populism. This is not an ideology, but a style of politicking that appeals to resentments (as opposed to hopes or ideals) in the population. The populist's goal is to energize mobs that will propel him (rarely her) into power. Back then, populists harped on the humiliation of German territorial losses or war reparations after World War I. Nowadays they might dwell on, say, "American carnage."
Because populism frames politics as a struggle between "us" and "them," it needs to define enemies, foreign and domestic. But in the pursuit of power, the latter category is more potent. Compatriots who should be viewed as a loyal opposition are instead depicted as traitors. Violence creeps into politics, first subliminally, then rhetorically and eventually physically, when thugs— Brownshirts, Proud Boys or what have you — go at it in the streets.
In this climate, it pays to be ruthless, not civil. Gradually, voters get used to taboos being broken — as during the first decade of Viktor Orban's current reign in Hungary — until they become numb. Eventually, a populist considers the time right to go from lots of little lies to one Big Lie.
That term — Big Lie — comes from Hitler's "Mein Kampf." In that book, written in prison after his failed first coup, he theorized that a lie could be so colossal that nobody would believe that someone "could have the impudence to distort the truth so infamously." From this insight sprang his own Big Lie, which was that Germany never lost the war on the battlefield at all, but that domestic traitors — Jews, socialists and other groups he hated — delivered a "Stab-in-the-Back."
Big Lies abound again today. Putin inverts reality by claiming that Ukrainians are Nazi Satanists and, with their puppet masters in the West, the aggressors rather than the victims. Former US President Donald Trump — arraigned this week in an unrelated indictment — still claims falsely that the election of 2020 was "stolen" from him.
The final ingredient in the corruption of democracy is personalization. Every authoritarian — from Mussolini, Hitler, Stalin and Mao to Putin, Xi Jinping, Orban and Trump — tries to redirect loyalty. If it used to be toward a flag, nation, republic or constitution, it is now diverted to the Fuehrer, Duce, leader. Worryingly, such personalization has been the trend in political parties for the past two decades.
How, then, do democracies die? Rather as one of Ernest Hemingway's characters famously went bankrupt: gradually, then suddenly. And you never know in advance when the time is nigh. Hitler tried to putsch himself into power in 1923 but failed. Trump egged on his mob to take the US Capitol on January 6, 2021, but failed. Hitler tried again in 1933, and succeeded.
That year, he was made chancellor by elites who didn't take him seriously. The following month, arsonists set the Reichstag on fire. To this day, it's not known what really transpired. What's clear is that Hitler immediately blamed, and eventually executed, a Dutch communist, then eliminated his domestic enemies and, the following month, leaned on parliament to vote itself out of power with an Enabling Act that gave the Fuehrer dictatorial powers.
An interesting footnote is that Hitler never bothered to abrogate the Weimar constitution — on paper, it remained law until 1945. The dictator simply ignored it, knowing that Germans now pledged allegiance to him, not a document. The rest is history. Tim and I walked past some of the reminders, just minutes from the Reichstag: a Holocaust memorial to the murdered Roma and Sinti, another to the Jews. Nearby is yet another, to Hitler's homosexual victims.
But the story of our walk has an uplifting ending. In the 1990s, a newly reunited Germany, with a much stabler democracy, moved its capital back from Bonn to Berlin, and its parliament into the Reichstag building again. A British architect, Norman Foster, was chosen to give it a new look. The edifice had been mothballed for decades. Workers had to peel off plaster and paneling. And suddenly the past re-emerged, as it is wont to do.
There on the walls were not only the bullet holes left by the Soviet soldiers when they took the building in April 1945, but also the Cyrillic graffiti they scribbled. Some wrote their names, others their journey, others profanities.
A debate broke out about what to do with these reminders of Germany's "zero hour" — its defeat and shame — right in the seat of its new democracy. Eventually, a decision was made not only to keep the graffiti, but to incorporate and highlight it. Today, members of the Bundestag walk past it when they enter the plenary to cast their votes.
Is each German politician aware of the subtle exhortation in the architecture? Probably not. Germany, like other Western democracies, once again has populists on the far right and the far left seated in the chamber. But the warning is there, whispering to all who have ears to hear it: It happened here, and can happen anywhere. Therefore, do your part to make sure it never happens again.