China's strange isolation and economic strains
Australian exporters gathering at a trade fair in Shanghai this week are facing a more isolated and economically challenged China than they did two years ago.

Tokyo | More than 100 Australian exporters piled into a vast exhibition hall in Shanghai on Thursday to promote their goods to the world's largest consumer market.
Companies such as Woolworths and others representing agribusiness, food, health and other consumer sectors were present. An Austrade spokesperson said more than 80 companies would also join an online business-matching program to connect them to Chinese buyers.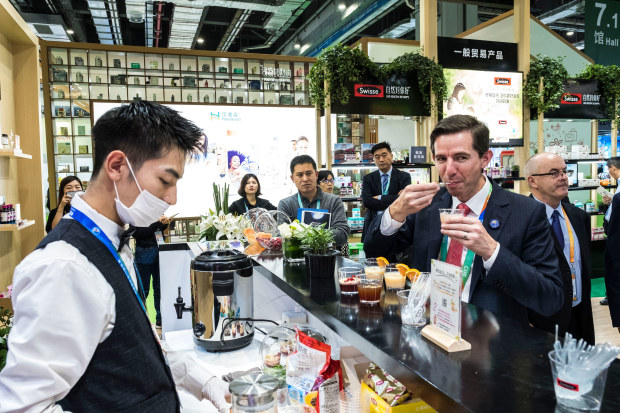 Still, the massive trade fair has lost the allure and importance of yesteryear. Xi Jinping's annual China International Import Expo (CIIE) takes place minus the thousands of global executives and government ministers who used to swamp the trade fair in pre-pandemic times.
The only Australians there this year are those already based in China, and even those in the capital, Beijing, are struggling to make it to Shanghai due to coronavirus-related travel restrictions. Top foreign diplomats from Beijing were required to quarantine on arrival in the city. Australia's ambassador Graham Fletcher is not attending.
China remains firmly sealed off from the rest of the world and is likely to stay that way for the medium term as it doubles down on its zero-case strategy. Its heavy-handed pandemic control measures were in the spotlight this week after 35,000 guests were prevented from leaving Shanghai Disney on Sunday night until they tested negative.
China's isolation was underlined by Xi Jinping's absence from the COP26 summit in Glasgow this week. China's leader has not left the country in almost two years and analysts predict borders will stay closed for another year.
However, China's determination to keep COVID-19 out as the rest of the world opens up is the least of Australia's worries. Deteriorating consumer confidence and hostile bilateral relations are not helping exports, but the biggest threat comes from a slowdown in industrial production and construction due to severe energy shortages and a property debt crisis.
"Iron ore demand will decline over the long term. More than half of that goes into property and infrastructure," Andy Xie, an independent economist based in Shanghai, told The Australian Financial Review.
"Over time the Chinese government has decided to pull the plug on the property market. That is a political decision because the bubble has become so big it threatens political stability."
Xie's comments back up a warning by Treasurer Josh Frydenberg this week that the slowdown in China's construction sector poses risks to the Australian economy. The $US300 billion ($402 billion) debt overhanging Evergrande Group has exposed investors' darkest fears about China's hot property market. As demand for steel-intensive infrastructure falls, demand for Australian iron ore will decline with it.
Economists are divided over whether coal-reliant China's energy shortages or the risk of contagion from Evergrande are the biggest threats to financial stability.
The Chinese government is determined to cool the property market, although there is a question over how far it will go if measures such as lending restrictions and price caps threaten broader economic stability. New house prices have stalled and second-hand housing transactions have fallen dramatically in September and October, usually the hottest months for deals.
Stephen Joske, a former Australian Treasury representative who went on to work with AustralianSuper in Beijing, has been warning about a financial crisis in China for years. He says there are growing signs a downturn is imminent despite assurances from the central bank, Chinese officials and economists working for global investment banks that Beijing can manage its way out of a crisis.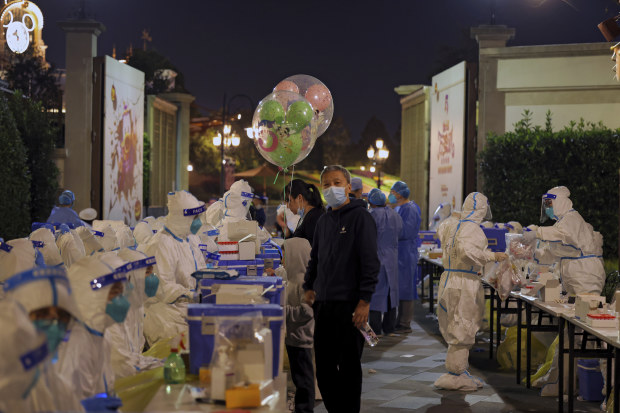 "People are under a lot of illusions about how much support the government will show them," Joske says by telephone.
"People aren't buying second apartments in Shanghai and Beijing. There is some panic going on among customers and investors. There appears to be some credit rationing to the retail development sector.
"There is no way all these things can happen to an economy, and it just passes. It is a pretty big shock effect already happening. The real danger is that people are too focused on Evergrande and something else is going on which provides the real trigger."
China's Premier, Li Keqiang, this week warned the economy faces new downward pressures, but did not specify the nature of the risk. He flagged tax cuts and other measures to help small and medium-sized companies.
China's factory activity contracted more than expected in October and its official third-quarter growth slowed to 4.9 per cent from a year earlier, but was close to stalling on a quarter-by-quarter basis. Factory activity is being hurt by supply chain issues and power shortages.
While China has fared better than most developed countries in its COVID-19 management, heavy-handed lockdowns and restrictions are sapping consumer confidence and decimated the domestic tourism industry.
"Tourism is an important part of the economy," Xie says. "The recent disruptions are concerning. The Chinese people in general are very jittery. They are not like Americans or Australians. If you have a stream of disconcerting news, they just stop travelling. This is a worry now."
Underlying social anxiety about economic and security instability surfaced r this week after a routine government warning to stockpile food and essential goods worked everyone into a lather on social media. The government later rejected speculation the warning was linked to tensions with Taiwan.
At the same time, life continues as normal for many in China. Most ordinary people are not worried about financial collapse, although the government's tight control over information means they may not even know about it if it happened. Business owners complain about supply chain issues but say the economy continues to grow, and they are reasonably confident about the future.
It is a different story for some foreigners and foreign companies based in China. This week, US technology group Yahoo exited China because of the "increasing challenging and legal environment". Ker Gibbs, the president of the American chamber of commerce based in Shanghai, told the Financial Times this week to expect an exodus of foreign executives from the country given there was no end in sight to the border restrictions. Many Australians based in China and Hong Kong are also frustrated at their inability to travel.
"China has benefited a great deal from interacting with the world. You had ideas and technology coming in – but that has not been the government's priority for quite a long time," Xie says.
Despite this, and Xi's focus on a more self-sufficient economy under his "dual circulation" strategy, China remains heavily integrated into global supply chains and there is no real alternative as a manufacturing powerhouse.
Joske says China will not drag the rest of the world down with it if it experiences a financial crisis, but there would be serious ramifications for export economies like Australia which rely on its growth. As well as a slowdown in the steel-intensive construction industry, China is curbing steel production under Xi's climate change initiatives – even if his lack of new initiatives in a written statement to the Glasgow summit have raised doubts about China's ability to meet carbon emission goals.
Other observers rule out a financial crisis, but say China will enter a new phase of lower growth as Japan did in the 1990s.
"The Chinese government's complete control over China's financial system makes it highly unlikely that China will experience the same sort of bust that the United States did following the bursting of its housing and credit market bubble," Desmond Lachman, a senior fellow at the American Enterprise Institute and a former International Monetary Fund (IMF) deputy director, wrote in The National Interest magazine this week.
"Rather, it would seem all too probable that China will experience the same sort of lost economic decade that Japan did following the bursting of its bubble with its zombie companies and its banks' balance sheets overburdened with non-performing loans."

China's leaders value stability above all else and will be keen to avert a crisis ahead of what is a politically delicate year for Xi as he prepares to become leader for an unprecedented third term.
The Communist Party's Central Committee, comprising 300 top leaders, will meet behind closed doors next week. Stamping out COVID-19 as infections from the latest outbreak rise to around 500 will be at the top of their agenda.