Japan has PM's back over China

Japan is standing shoulder-to-shoulder with the Morrison government to explicitly repudiate China's economic coercion of Australia on the eve of a crucial world leaders' meeting, warning its pressure tactics undermine international order.
A strongly worded joint communique issued after talks between Australian and Japanese foreign and defence ministers assails Beijing on a range of fronts, including territorial disputes in the East and South China seas, condemning new laws that allow Chinese coast guard ships to fire on foreign vessels.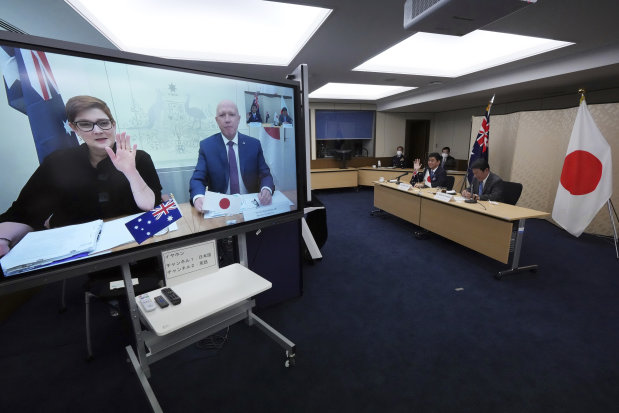 The statement opens the door to greater intelligence-sharing between Australia and Japan and emphasises growing defence co-operation, with the promise of the two countries' military "undertaking targeted, effective, and practical defence activities in support of a secure and stable region".
The statement also expresses support for Taiwan and criticises the weakening of democracy in Hong Kong and human rights abuses against the Uighurs, calling on Beijing to grant urgent and unfettered access to international observers, including the United Nations, to Xinjiang province.
The virtual meeting between Foreign Minister Marise Payne and Defence Minister Peter Dutton and their Japanese counterparts Toshimitsu Motegi and Nobuo Kishi comes after Prime Minister Scott Morrison used a speech to urge liberal democracies to work with a common purpose not seen since the Cold War.
In his speech before departing for the Group of Seven leaders in the United Kingdom, Mr Morrison said an overhaul of the World Trade Organisation was the best defence against economic coercion.
China has imposed punitive tariffs and de facto bans on more than $20 billion of Australian exports including coal, barley and wine since last year in response to the Morrison government leading global calls for an independent inquiry into the origins of the coronavirus pandemic.
The Biden administration has expressed its backing for Australia against China's trade strikes and now Japan has added its voice through the joint communique.
"We commit to opposing coercion and destabilising behaviour by economic means, which undermines the rules-based international system," the joint statement issued following the meeting said.
"We pledge to further strengthen cooperation in the area of economic security. We express concern over coercive economic practices and will work with partners to address economic challenges to support a free, open, inclusive and prosperous Indo-Pacific."
The statement said both nations reinforced their opposition to "destabilising or coercive unilateral actions" that altered the status quo or increased tensions in the East China Sea and South China Sea.
While Australia's official position has been not to take sides in South China Sea territorial disputes, the statement expressed opposition to China's maritime claims and activities that went against the international Law of the Sea.
"We share serious concerns about the recent negative developments and serious incidents in the South China Sea, including continuing militarisation of disputed features, dangerous use of coast guard vessels and 'maritime militia', and efforts to disrupt other countries' resource exploitation activities," the statement said.
Coast Guard Law
Chinese coast guards have become increasingly assertive, encroaching into other countries' territorial waters such as Japan, Malaysia and the Philippines, and harassing foreign ships like fishing boats.
A law that took force earlier this year allows China's coast guard to fire upon foreign vessels in waters Beijing claims as under its jurisdiction, in defiance of international law.
"We express our concerns over China's Coast Guard Law and reaffirm that the actions of a state's coast guard must be consistent with international law," the Australia-Japan statement said.
For the first time in memory, the statement expresses support for Taiwan, amid fears over the self-governed island's future given Chinese President Xi Jinping's determination to reunite it with the mainland.
"We underscore the importance of peace and stability across the Taiwan Strait and encourage the peaceful resolution of cross-Strait issues," the statement said.
Japanese officials have indicated their desire to join the Five Eyes intelligence-sharing partnership made up of Australia, the US, UK, Canada and New Zealand, but as an immediate step the statement said Australian and Japanese bureaucrats would be given the task of boosting information-sharing.
"We recognise the value of strengthening co-operation to facilitate the secure and timely exchange of information and analysis and improving information security between the foreign and defence agencies of our countries," the statement said.
Pointedly, the statement celebrates the "growing depth and complexity" of bilateral security and defence co-operation, with plans to conduct a wider range of military exercises, including air-to-air refuelling.
"We highlight the growing inter-operability and familiarity our forces share through increasingly sophisticated air, ground and maritime exercises and operations," the statement said.
"We underscore the importance of co-ordinating strategic approaches, enhancing capability, and deepening real-world defence co-operation in line with the increasingly challenging security environment."
The ministers also raised concerns about the military coup in Myanmar and its implications for regional security, calling on the junta to cease violence and release all those arbitrarily detained.
The wide-ranging statement came as Opposition Leader Anthony Albanese insisted a bipartisan consensus still existed domestically about concerns with China, despite recent speeches from him and foreign affairs spokeswoman Penny Wong criticising the government over the handling of relations with Beijing.