China and Australia clash in 'vaccine diplomacy' battle
The Morrison government has promised to send 15 million coronavirus vaccine doses to Pacific nations and Timor-Leste by mid-2022, helping Australia pull ahead of China in "vaccine diplomacy" to build regional influence.
Australia has already supplied more than 500,000 of the promised doses, as Beijing accused Canberra of obstructing the authorisation of Chinese vaccines in Papua New Guinea. A state-owned newspaper claimed Canberra was using consultants to undermine Beijing's efforts to help Pacific island nations tackle the coronavirus.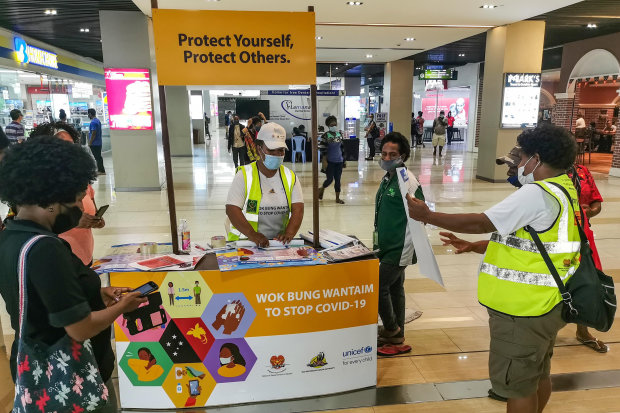 The biggest beneficiary of Australian-made AstraZeneca vaccines has been Fiji, which has received 320,000 doses as it battles an outbreak with thousands of new infections since mid-June.
Timor-Leste has received 135,000 doses and Papua New Guinea 28,470 – including 8500 UK-made doses diverted from Australia's supply. Another 13,000 went to the Solomon Islands and 7000 to Tuvalu.
Prime Minister Scott Morrison committed at the Group of Seven leaders summit last month to supplying 20 million vaccine doses to the region. Australia will have a glut of locally made AstraZeneca doses after health advice recommended the vaccine be limited to the over-60s because of the rare risk of blood clots.
The other 5 million doses have been earmarked for south-east Asia. Australia is also working with its fellow Quadrilateral Security Dialogue (Quad) members the US, Japan and India to deliver vaccines to Indo-Pacific countries, as well as supporting the global COVAX facility for developing nations.
Foreign Minister Marise Payne and International Development Minister Zed Seselja, who is visiting PNG, said the 15-million-dose commitment would assure comprehensive vaccine coverage for the Pacific.
Assurances from Canberra came as China's Foreign Ministry accused Canberra of undermining global co-operation to tackle the pandemic.
It was responding to questions about allegations reported in the nationalist tabloid Global Times last week that Australia was "planting" consultants in PNG to obstruct Chinese vaccines.
"Those in Australia who take advantage of vaccine issues to engage in political manipulation and bullying coercion are being callous to the life and health of the people in PNG," the Foreign Ministry spokesman said at a press conference on Monday.
"What they've done is a breach of the basic humanitarian spirit and gravely undermines global anti-pandemic co-operation. China voices its deep concern over and firm opposition to such irresponsible behaviour."
China's accusation follows widespread reports since the pandemic broke out that Beijing has used vaccines to gain political leverage among poorer nations.
The head of the Lowy Institute's Pacific Islands program, Jonathan Pryke, said China's attack appeared to be aimed at undermining positive publicity around Senator Zeselja's PNG visit.
Criticism that Australia had been blocking the use of China-made vaccines was off the mark, as the Marape government had said it would wait until the World Health Organisation approved China's vaccines before it began allowing them to be administered in PNG.
'Stepping up its game'
That approval came in May, although so far the Chinese vaccine had only been given to Chinese citizens living in PNG.
Mr Pryke said some of the Australian-donated vaccines were about to expire, and that the issue was not a lack of supply in PNG but overcoming vaccine hesitancy and logistics.
Australian vaccines had been a success in Fiji, with 55 per cent of people receiving a first dose and 10 per cent fully inoculated. "That's better than what we have in Australia."
He said although the Solomon Islands and Vanuatu had blended Chinese-made vaccines into their rollout, Australia was ahead in the vaccine diplomacy stakes.
"Australia is stepping up its game in getting vaccines out to the region and providing support. China is feeling a bit under pressure," he said.