For Didi, the U.S. Is a Wonderland of Amateurs
Foreign investors are on the hook for unknown risks, as the ride-hailing giant becomes a test case for China's new cybersecurity law.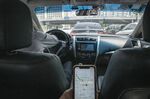 The Chinese have a nickname for unsophisticated stock investors. They call them chives, a healthy crop that can flourish soon after planting, which keep coming up again and again — just like the chumps chasing meme stocks and blank-check companies for spectacular returns. The U.S. market seems to be the perfect place for Chinese companies to harvest chives.
This sure feels like what's happening with Didi Global Inc., the ride-hailing giant. Just days after the company pulled off one of the largest U.S. public offerings this year, raising $4.4 billion, China's cyberspace regulator ordered app stores there to remove the Didi Chuxing app, citing serious violations related to the company's collection and usage of personal data. The latest move came just two days after regulators blocked the mainland business from adding new users, and put the company's cybersecurity practices under review. In a statement Sunday, Didi said current users who had already downloaded the app wouldn't be affected by the move.
Upon their return from the July 4 holiday weekend, Americans will be in for some volatile trading. This Didi probe is the first one publicized by China's Cybersecurity Review Office. That makes the company a test case for Beijing's fresh focus on data security, just like Alibaba Group Holding Ltd. was for its antitrust crackdown on Big Tech, and Ant Group Co. for the government's rethink about internet companies' role in financial services. We are in uncharted territory, and U.S. investors could be on the hook for big losses.
According to the new measures, which came into effect last year, companies under review could receive initial results in as few as 45 days. But no one knows for sure how long this process will take — complicated cases could drag on — or what the penalty will be. The fine could be anywhere between one to 10 times what the cybersecurity law vaguely defines as "illegal proceeds," or could result in a shutdown of the entire business.
One question is why Didi decided to go public now, despite intensifying scrutiny from various government departments. In April, the antitrust regulator, along with the cyberspace watchdog, summoned over 30 major internet companies, including Didi, and asked them to conduct self-inspections about their anti-monopoly practices, tax policies and abidance to related laws and regulations. A month later, the Ministry of Transport asked the company to ensure fairness to passengers and drivers, amid social outcry over the plight of gig economy workers. Drivers in Tier One cities make around 10,000 yuan ($1,500) a month, 10% below the average income in such locations, according to Bernstein Research. A notice on Didi's app dated June 29, one day ahead of its stock market debut, said new changes to its user information and data privacy policy would come into effect on July 7.
One answer is that Didi is no longer your fresh-faced unicorn. What started as a taxi hailing service in 2012 has morphed into a major enterprise: The company went through a big merger in 2015, a large acquisition (of Uber China) in 2016, and six financing rounds. Its business outlook is not improving — the market in its stronghold Tier One cities is becoming saturated and profit margins are razor-thin. This is perhaps as good a time as any to go public. Plus, its major foreign investors need to exit. SoftBank Group Corp. and Uber Technologies Inc. have stakes of 20.1% and 11.9%.
Opinion. Data. More Data.
Get the most important Bloomberg Opinion pieces in one email.
Sign up to this newsletter
But a simpler answer is, why not? After all, the U.S. market allowed SPACs, or shell companies looking for acquisition targets, to raise over $100 billion this year. Meme stocks flourished too, despite companies' repeated moves to sell new shares into the sizzling rally. As of Friday close, AMC Entertainment Holdings Inc.'s stock, for instance, had risen more than 23 times this year, even though the company sold new shares in April and June. So if the market has the stomach for massive equity dilutions and shell companies, why wouldn't Chinese companies, haunted by their government, want to test their fate in New York?
The U.S. has tried very hard to deter Chinese companies from going public there, even threatening delisting procedures. Yet they keep on raising fresh capital, simply because investors have the appetite, regardless of the risk.
By now, China's antitrust stance is fairly well-understood. Recent fines, including those slapped on Alibaba, show that the penalty is about 2% to 3% of a company's annual sales. Big Tech can just pay and move on. But with Didi's cybersecurity violations, we are entering a world of known unknowns. U.S. investors are on their own.
This column does not necessarily reflect the opinion of the editorial board or Bloomberg LP and its owners.
To contact the author of this story:
Shuli Ren at sren38@bloomberg.net