Daily death toll rises 250%
In addition to the rise of new cases, there has also been a significant rise in the death toll in the past 24 hours.
More than 245 deaths were recorded on Wednesday (figures published on Thursday). This compares with 97 deaths the previous day.
There has been no change to the way deaths are recorded, so this really is a significant increase in one day. It's a rise of 250%.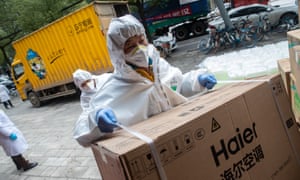 Updated
Huge increase in new cases of virus
First up let's have a look at the massive jump in reported new cases of coronavirus.
Nearly 15,000 new cases have been reported in a 24-hour period, taking the total number of cases to just under 60,000.
To get an idea of the significance of this, the figure for confirmed new cases for Wednesday was 2,015.
The commission noted that it had begun including cases diagnosed through new clinical methods from Thursday.
You may know that there has been a lot of debate in the media in recent days about a change in the way of counting figures by the National Health Commission.
There was a suggestion that from 7 February, people who had tested positive but showed no symptoms, were not counted as confirmed cases. It has been very difficult to pin down the exact changes, and I'll try to do that today.
But from my reading, it's likely that this huge jump in new confirmed cases reflects an adjustment of calculations, rather than a massively steep increase in actual new cases. I'll keep updating you on this as we get more information on it.