'This may be the last piece I write': will a Xi critic's words ring true?
Professor unreachable and his social media accounts cut off as fury rises over state censorship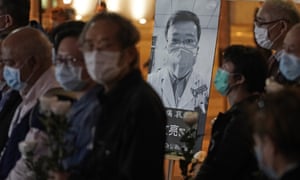 But public anger over censorship, and the particular circumstances of a national emergency, should not be mistaken for any fundamental change within the Chinese Communist party, which has been honing its ability to control the national conversation for decades, activists and intellectuals say.
"I can now all too easily predict that I will be subjected to new punishments; indeed, this may well even be the last piece I write," he wrote at the end of his latest essay.
Friends say that, since publication, Xu's account has been suspended on WeChat, a Chinese messaging app, and they have been unable to get in touch with him for days. Most believe he has not been detained, and is at home in Beijing, but his name has been scrubbed from Weibo, and only a few articles from several years ago showing up on the country's biggest search engine, Baidu. Calls to his mobile phone went unanswered on Friday.
"There is no space for speech freedom in China now," said Hong. "The impacts on the individuals are multi-faceted. Economically, they would cut off your livelihood [academics get fired, writers can't publish and no one dares hire you]. You would get sidelined by mainstream society, you'd lose friends and, worse than that, you might lose your personal freedoms, so a number of intellectual elites have chosen to leave China."
Since he took power in late 2012, Xi has tightened ideological control and suppressed civil freedoms across the nation, reversing a trend under his predecessor to give Chinese media some limited scope to expose and report regional corruption and lower-level officials' misdeeds.
Even within the Communist party, cadres are threatened with disciplinary action for expressing opinions that differ from the leadership.
Under Xi's crackdown on speech and academic freedoms, a number of prominent liberal intellectuals, journalists, rights lawyers and NGO workers have either been silenced, jailed or escaped abroad.