Coronavirus: medical association warns Australia must protect medical supplies amid reports of stockpiling by China-backed firm in February
AMA's call follows report Sydney staff were instructed to source bulk medical items to send to China as virus took hold in Wuhan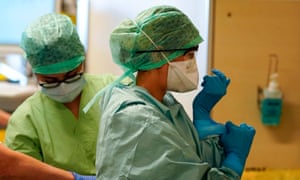 The Australian Medical Association is warning that the nation needs to protect its stocks of face masks, suits and other protective equipment amid reports that a Chinese property company in Sydney diverted its staff to purchasing medical equipment during January and February.
The
Sydney Morning Herald reported
that as the coronavirus took hold in Wuhan earlier this year, staff from the Sydney office of the Chinese government-backed global property giant Greenland Group were instructed to put their normal work on hold and source bulk supplies of essential medical items to ship back to China.
According to the report, a whistleblower from the company told the Herald it was a worldwide effort by Greenland and the Sydney office was no different, sourcing bulk supplies of surgical masks, thermometers, antibacterial wipes, hand sanitisers, gloves and Panadol for shipping.
The Greenland Group reportedly confirmed the shipment of medical supplies in January and February, saying it "felt compelled ... to assist in efforts to mitigate the spread of the virus, which had caused a shortage of crucial medical supplies in China".
The Department of Health has said there is currently
significant pressure on stocks
of all consumables used by laboratories, but the extent to which shortages are due to the exporting of supplies to other countries is unclear.
Comment has been sought from customs officials.