Time for the ABC to reprogram all those dead white males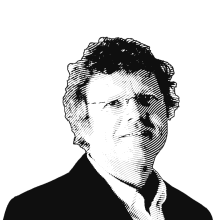 Western culture is made acceptable for the alternative universe of our public broadcaster.
Accused of overt political bias and an obsession with identity and Green politics, the ABC announced this week that it is launching an entire new arts channel devoted to restoring its reputation as the nation's leading cultural broadcaster.
In a world exclusive, the Fin's media and entertainment guru, Ms Rowita Rosebutt, gets a sneak look at the ABC's new line-up of classical arts programs.
The Dreadful Works of Leonardo da Vinci: In this must see 10-part series, a panel of experts explore the militant white supremacy within the drawings of this Renaissance-era arms dealer, who was single-handedly responsible for inventing the helicopter, the tank, the submarine and other aggressive machines responsible for five centuries of European oppression and enslavement of people of colour, w*mmin, gays, lesbians, the disabled and other minority groups.
In Episode 1, da Vinci's most reprehensible work, the so-called "Vitruvian Man", is critiqued for its unique combination of misogyny, sexism and genitalism. As one experienced ABC presenter notes, the idea that a cis-gender man disgustingly displaying overtly non-binary genitals with arms and legs outstretched is somehow at the centre of all mathematical shapes such as a circle or a square is of course typical of the transphobic Euro-centric thinking of this renowned right-wing agitator and war-monger.
Episode 2 explores the domestic violence and coercive control behind the forced half-smile of Lisa Gherardini, the long-suffering spouse of the so-called Italian "nobleman" Francesco del Giocondo, who disgracefully insisted his wife pose for hours on end for the pleasure of a lecherous old white man with a beard only to be leered at by five centuries of oppressive white male "art critics".
Meeting Michelangelo: A creative re-imagination of the life and times of repressed homosexual and queer activist Michelangelo di Lodovico Buonarroti Simoni. In this multimedia experience, the audience is invited to walk in Michelangelo's own footsteps as he struggles to come to terms with his identity and is forced to seek friendship and love in the most unlikely places, including the public baths in Florence and behind the cloisters in the Duomo.
In a world-first for digital interactive technology, the audience is then invited to create their very own new set of Michelangelo masterpieces, including the spectacular Sistine Chapel Ceiling Graffiti App which allows the user to re-design this problematic piece of religious propaganda in a more eco-friendly and progressive style in keeping with today's more acceptable values.
The Disabilities of Vincent: A must-see doco on one of the world's most revered artists, the Dutch post-impressionist Vincent Van Gogh who was forced to create over 2000 works of art while suffering from acute mental depression, catastrophic near-blindness and dysmorphic aurisphobia (fear of one's own ear).
The documentary shatters the popular myth that Van Gogh's use of vibrant colours and impulsive brushwork was revolutionary in the field of modern art and instead points to the disgraceful state of mental health facilities in mid-19th century Holland with explosive revelations about the shameful lack of a properly-funded public healthcare system and draws terrifying parallels with the Liberals plans for Medicare if they win the next election.
Mozart Goes to Paris: Music-lovers will delight in this modern interpretation of the fascinating story and inspiration behind Mozart's delightful compositions such as Concerto for Flute and Harp, Piano Sonata in A minor and Symphony No. 31, all of which were written on a train trip to Paris as he flees Salzburg determined to attend the 1778 Climate Change Conference and persuade Australia (surely Austria? - ed.) to re-double our efforts under the Paris Agreement.
In a unique fusion of past and present, Mozart's incomplete ditties have been vastly improved by being set to several speeches by Greta Thunberg, also a child genius and prodigy who, just like young Amadeus, is determined to save the planet before it's too late. In a chilling finale, Mozart composes his Requiem for a Dying Planet as rising ocean waves lap at his feet in his gloomy Prague attic.
Beethoven's Life Matters: In this challenging and confronting six-part documentary filmed around the world from Bonn to the Bahamas to Botswana, proclaimed Instagram blogger Alaysha Brown journeys into the dark past to explore the most dramatic discovery in classical musical in over a century; namely, that the opening bars of Beethoven's Eroica when played backwards and at twice the normal speed are eerily similar to the ancient tribal rhythmic dance songs of the Aciore people of the Kalahari, who for centuries lived in amazingly sophisticated settlements before being kidnapped by ruthless white colonialist slave traders and sold into a lifetime of servitude culminating in Donald Trump's America, and poses the tantalising question: was Beethoven black?