EUROPE'S PURSUIT OF ITS CIVILIZING MISSION REQUIRES THE DESTRUCTION OF THE CHINESE GENOCIDAL EMPIRE.
EU-Außenpolitik: Europa sucht die Kraftprobe mit China
-00:00:00
Mehr zu diesem Audioangebot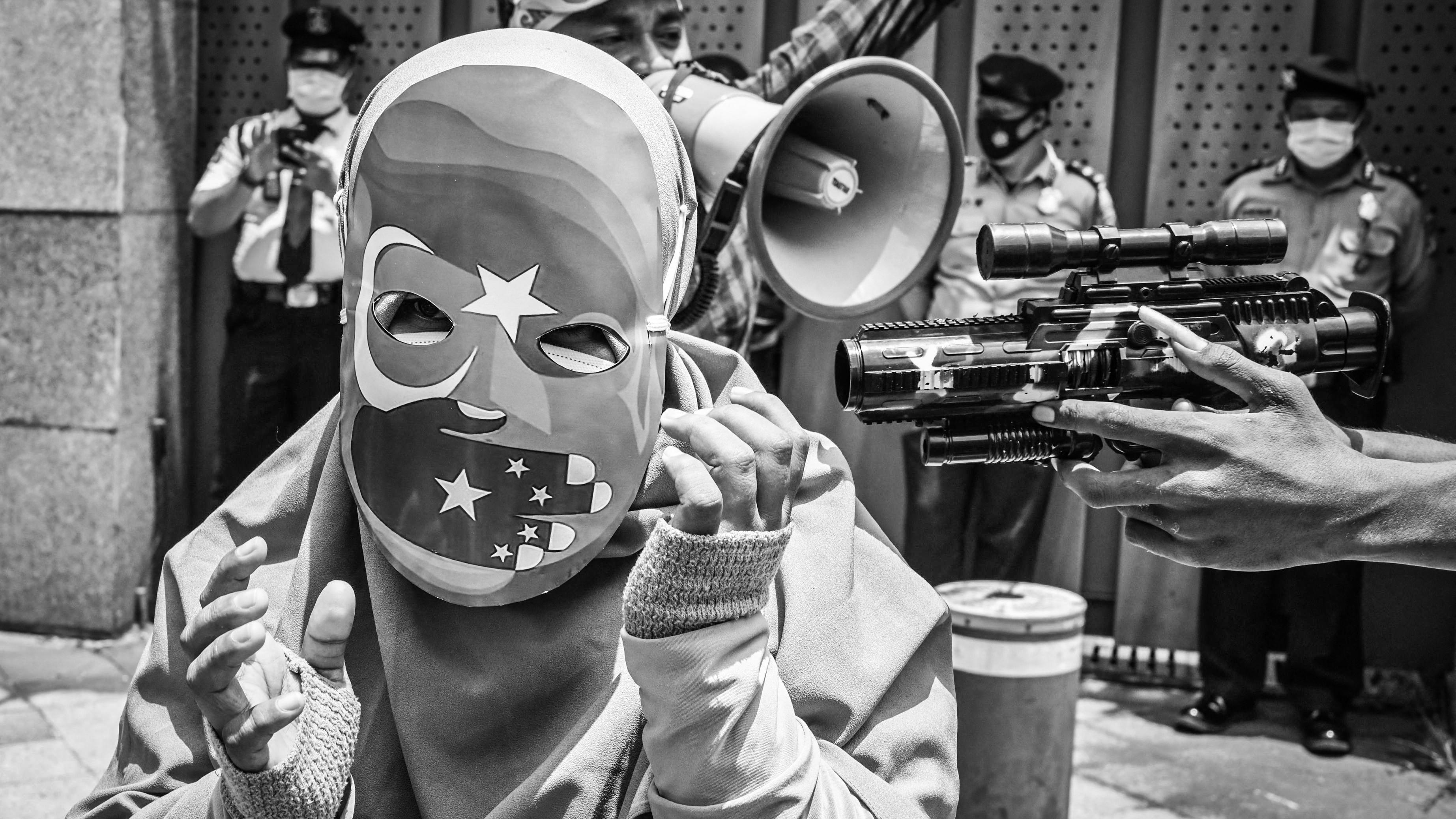 Europa sucht die Kraftprobe mit China – Seite 1
Seit 30 Jahren hat es zwischen China und Europa nicht mehr so gekracht wie in der vergangenen Woche. Auf Sanktionen folgen Gegensanktionen, Botschafter werden einbestellt, ein eben vereinbartes Investitionsabkommen gerät in Gefahr. Europäische Minister verteidigen die Meinungs- und Forschungsfreiheit, chinesische Medien verbitten sich "Lügen" und eine Einmischung in die inneren Angelegenheiten der Volksrepublik. Es geht, man kann es nicht anders sagen, richtig zur Sache.

Entzündet hat sich der Streit am Schicksal der Uiguren, der muslimischen Minderheit in Chinas Nordwest-Region Xinjiang. Deren Unterdrückung, vor allem die Inhaftierung von mehr als einer Million Menschen in "Umerziehungslagern", ist seit Jahren bekannt. Sie ist belegt durch zahlreiche Recherchen westlicher Medien und Forscherinnen, durch offizielle chinesische Dokumente, durch heimlich aufgenommene Fotos und Fernsehbilder, durch Berichte von Geflüchteten.

Das kanadische und das niederländische Parlament haben die Verfolgung der Uiguren sogar als "Genozid" eingestuft. Die Begründung: In Xinjiang komme es zu Zwangsabtreibungen und Zwangssterilisierungen. Und laut UN-Konvention erfülle der Versuch, die Kultur einer ethnischen Gruppe auszulöschen, den Tatbestand des Völkermordes.

Auch der neue US-Außenminister Antony Blinken teilt diese Sicht. Bei einer Senatsanhörung im Januar gefragt, ob er sich der Meinung seines Vorgängers Mike Pompeo anschließe, der gesagt hatte, China begehe einen "Genozid" und "Verbrechen gegen die Menschlichkeit" an den Uiguren und anderen ethnischen und religiösen Minderheiten, sagte Blinken: "Das wäre auch meine Beurteilung."

Die Europäische Union hat sich mit Kritik bisher eher zurückgehalten. Sie wollte erst einmal das "Umfassende Investitionsabkommen" unter Dach und Fach bekommen, über das sie sieben Jahre lang mit der Volksrepublik verhandelt hatte. Die Vereinbarung wurde Ende des Jahres abgeschlossen. Für China ein Signal, dass den Europäern ihre wirtschaftlichen Interessen wichtiger seien und sie sich im Streit der Weltmächte USA und China nicht auf die Seite der Amerikaner schlagen würden.

Ein Irrtum. Zwar verhängte die EU Anfang dieser Woche nur vorsichtige Sanktionen – gegen vier nicht sehr hochrangige KP-Funktionäre und eine Institution. Aber Überraschung und Wut auf chinesischer Seite waren so groß, dass sie mit doppelter Härte zurückschlug: Sie verhängte Strafmaßnahmen gegen Abgeordnete des Europäischen Parlaments (darunter den Grünen Reinhard Bütikofer) und nationaler Parlamente, gegen Wissenschaftlerinnen und Forschungseinrichtungen, wie das hoch angesehene Mercator Institut für China-Studien in Berlin.

Kommt er also doch, der zweite Kalte Krieg?
Damit nicht genug. Gleichzeitig und in enger Abstimmung mit der EU hatten auch die USA, Kanada und Großbritannien neue Xinjiang-Sanktionen gegen China beschlossen. Als Antwort darauf verhängte die Führung in Peking nun auch gegen britische Parlamentarier, Forscher und eine renommierte Anwaltskanzlei in London Strafmaßnahmen.

Eine unheilvolle Eskalation nimmt Fahrt auf. In Chinas sozialen Netzwerken bricht sich nationalistischer Zorn Bahn, angefacht von der Kommunistischen Jugendliga. Er richtet sich gegen westliche Unternehmen, die sich kritisch über die Situation in Xinjiang geäußert haben – und die in ihren Produkten keine mit Zwangsarbeit geerntete Baumwolle aus der Region verwenden wollen. Am Pranger steht die schwedische Textilkette H&M, die in China 550 Läden betreibt. Auch Sportartikelhersteller wie Nike und Adidas geraten unter Druck.

Früher endeten solche von der KP gesteuerten Kampagnen meist mit einem Kotau der betroffenen Firmen; zu groß war die Bedeutung des chinesischen Markts. Daran hat sich nichts geändert, die Abhängigkeit ist eher größer geworden. Was sich geändert hat: Der Blick in den westlichen Gesellschaften auf die Volksrepublik ist viel kritischer geworden, auch die Bereitschaft, den "strategischen Wettbewerb" (Joe Biden) aufzunehmen.

In der Politik des Westens (und der demokratischen Länder Asiens) bildet sich ein Konsens heraus, es mit dem auftrumpfenden autoritären Staatskapitalismus Chinas nur gemeinsam aufnehmen zu können. Deshalb steht China bei allen wichtigen Treffen auf der Agenda. Jüngst beim Gipfel der "Quad"-Staaten zwischen den USA, Japan, Indien und Australien, ebenso wie bei den Frühjahrskonferenzen von EU und Nato. Der britische Premierminister Boris Johnson hat zum bevorstehenden G7-Gipfel auch Indien, Australien und Südkorea eingeladen – aus G7 soll D10 werden, ein Treffen von zehn Demokratien. Und noch in diesem Jahr wird Joe Biden zum Summit of Democracies einladen. Immer geht es um den Aufstieg Chinas.

Der Westen hat also die chinesische Herausforderung angenommen. Dabei wird es, soviel scheint sicher, nicht sehr angenehm zugehen. Wie soll das Europäische Parlament auch dem Investitionsabkommen mit der Volksrepublik zustimmen, wenn deren Regierung Sanktionen über EP-Abgeordnete verhängt? Und die nächste, für China unerträgliche Debatte, hat bereits begonnen: Soll der Westen an den Olympischen Winterspielen 2022 in Peking teilnehmen? Es ist ja schwer vorstellbar, dass holländische Eisschnellläuferinnen oder kanadische Eishockeyspieler um olympische Medaillen in einem Land kämpfen, dem die eigenen Parlamente einen Genozid anlasten.

Kommt er also doch, der zweite Kalte Krieg? Lange hieß es, die Auseinandersetzung mit China lasse sich mit dem Ost-West-Konflikt zu Zeiten der Sowjetunion nicht vergleichen. Das ist richtig. Denn China ist heute auf das engste mit der Weltwirtschaft verknüpft und eine ökonomische Erfolgsgeschichte ohne Beispiel. Die Kosten eines offenen Streits wären für alle Beteiligten verheerend. Und trotzdem bewegen sich China und der Westen auf eine offene Konfrontation zu. Das Tempo beschleunigt sich, von Tag zu Tag.