This Civilian Resistance Needs the West's Help, Not Its Silence
Myanmar's military is busy importing arms and committing atrocities. The pro-democracy groups fighting back urgently require the same assistance that Syria and Ukraine received.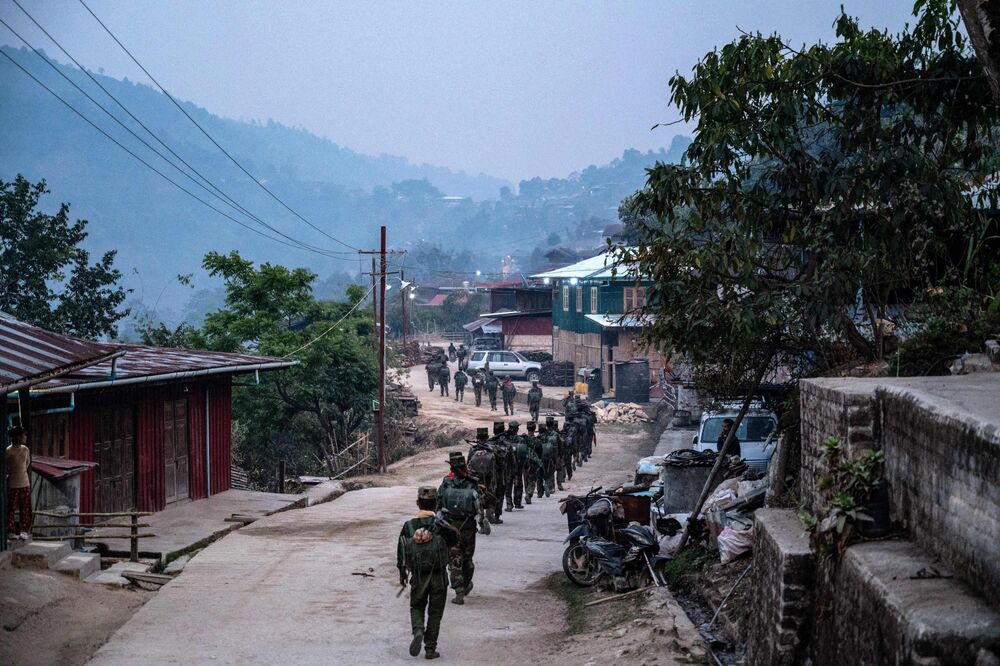 Winning the hearts and minds of fellow citizens is a key pillar of any armed resistance.
The 95,000 civilians thought to have joined Myanmar's grassroots insurgency since the 2021 coup have done that, harnessing people's fury at the military for overthrowing the democratically elected government, imprisoning leader Aung San Suu Kyi and bringing to an end a period of relative freedom. Waging a surprisingly effective and enduring guerrilla war, the People's Defense Forces have taken on an experienced army that has shown no limits to its brutality.
To the surprise of seasoned analysts, this network of opposition groups has inflicted sustained casualties via ambushes, skirmishes, bombings, the sabotage of military-related facilities and businesses and targeted assassinations from the hinterlands to the former capital, Yangon. Many of the armed ethnic groups that have fought insurgencies along Myanmar's borders for decades have been lending vital assistance to this new resistance, including weapons, resources and training.
But without access to heavy weaponry or counter-measures to withstand the military's deadly airpower, these anti-junta forces and the people they're fighting for are stuck in a grinding civil war. And they are no closer to achieving the goal of the National Unity Government, under whose umbrella they loosely operate. Made up of representatives of those elected in a landslide in 2020, the NUG, operating in exile with an office in Washington, wants to remove the junta from power and restore democracy to a country that's been in an almost constant state of conflict since its independence from British rule in 1948.
To do that, Myanmar's citizens need more from the West, and from allies in Asia, including financial, diplomatic, strategic and political assistance. New sanctions announced by the US last week on the Ministry of Defense, as well as two state-owned banks, are a welcome step forward. However, the junta's most valuable asset — the Myanma Oil and Gas Enterprise — remains untouched, despite the European Union imposing sanctions on the lucrative firm in February 2022.
We know that the military has been able to import at least $1 billion in arms, dual-use goods, equipment and materials to manufacture weapons since the coup — a clear failure of the current sanctions regime and the Association of Southeast Asian Nations' five-point plan adopted in the wake of the coup that called for an immediate end to violence and dialogue among parties. Using these weapons and equipment, the regime has killed at least 3,500 civilians, detained as many as 22,000 political prisoners and forcibly displaced over 1.5 million people since February 2021. The violence has continued unabated: Airstrikes, land attacks, murder, torture and rape. Villages aligned with opposition groups have been burned to the ground; suspected collaborators have been beheaded.
An investigation by the United Nations' Special Rapporteur, Tom Andrews, revealed that it's not just private and state-owned entities in China, Russia and India profiting off the misery of Myanmar's people, but also networks and companies in Singapore and Thailand, two members of Asean supposedly backing the five-point plan. His inquiry identified the transfer of fighter jets, attack helicopters, reconnaissance and attack drones, advanced missile systems, tank upgrades, radio and communication equipment, radar complexes, and components for naval ships.
One of the worst air attacks since the coup occurred on April 11, when a Yak-130 fighter jet armed with two 250-kilogram bombs struck a National Unity Government ceremony attended by around 300 people. As Andrews details in his May 17 report to the UN, the attack caused widespread carnage, compounded when two Mi-35 attack helicopters arrived soon afterward to strafe survivors and first responders. At least 160 people died, including nearly 40 children.
Russia supplied the fighter jet and the choppers, while the Myanmar military's Directorate of Defense Industries domestically manufactured the bombs and the machine guns, relying in part on raw materials supplied by private entities from Singapore, China and Thailand, the report said. Separately, it documented that Indian state-owned arms manufacturers have shipped a coastal surveillance system, a remote-controlled weapons system, components from an ammunition and missile manufacturer, and 122-mm howitzer barrels, while private sector entities exported explosive fuses likely for artillery shells.
This weaponry, along with a vast array of other military hardware, has been used in countless operations across Myanmar that have caused atrocities amounting to probable war crimes and crimes against humanity, Andrews noted.
With lengthy borders along both China and India, Myanmar is strategically important — and its stability matters well beyond Southeast Asia. The junta has been struggling to stabilize an already-backward economy that contracted 18% last year and is facing soaring inflation, a weakening currency and shrinking foreign-currency reserves. The NUG says the regime now controls only half the country, and transnational crime including fraud scams, slavery and drug production is rife. There are still protests, including strikes and non-violent demonstrations, almost daily, from Yangon to smaller cities and towns. Significantly different from past periods of military rule, even the formerly stable ethnic majority Bamar and Buddhist heartland is engaged to an unprecedented degree in resistance.
The military is facing a high attrition rate from casualties and desertions, and correspondingly low morale, Richard Horsey, senior Myanmar adviser with the International Crisis Group, told me. But it is difficult for anti-junta groups to take advantage of this weakness, despite their tenacity and effectiveness in some areas.
Beijing has already made its move. Foreign Minister Qin Gang met with the head of the military government, General Min Aung Hlaing, last month in the capital, Naypyidaw, with a statement released afterward noting China "supports all parties in Myanmar to properly handle differences and achieve reconciliation under the constitutional and legal framework." Thailand's recent plan to re-engage with junta officials — rightly shunned by key Asean partners Indonesia, Singapore, Malaysia, the Philippines, Brunei, Vietnam and Cambodia — is counterproductive at best, while the UN Security Council has yet to find a way to hold the junta accountable for its abuses.
Now is the time for Washington to better coordinate a more effective sanctions regime and take a more active role to support pro-democracy forces — as it is empowered to do by the Burma Unified through Rigorous Military Accountability Act that President Joe Biden signed into law in December. It authorizes the provision of "non-lethal assistance" to both the ethnic armed organizations and People's Defense Forces. In Syria and Ukraine, non-lethal assistance has included uniforms, protective armor, armored military vehicles, radar and medical equipment. It begs the question: Why not for Myanmar?