THE FINANCIAL PLAGUE IS COMING! CURTAINS FALLING FOR RATLAND
China Huarong's Worsening Bond Rout Stokes Market Contagion
Other Chinese dollar bonds also slump, Asia credit risk widens
Speculation of worst-case scenario circulating among traders
Growing panic over the financial health of one of China's largest bad-debt managers spilled into the broader market, as traders circulated a Caixin report that openly considered the worst-case scenario for the company.
China Huarong Asset Management Co.'s $300 million 3.375% bond due May 2022 tumbled 8.4 cents on the dollar to 80.8 cents, while a 5% bond maturing in 2025 fell 10 cents to 79.3 cents, Bloomberg-compiled prices show. In a commentary dated Monday, Ling Huawei, managing editor of Caixin Media and Caixin Weekly, discussed the possibility of a China Huarong bankruptcy.
The selloff spread to other high-yield Chinese dollar notes, with some property bonds falling by a record. Asia's investment-grade dollar debt spreads widened as much as 3 basis points, while a gauge of Asia credit risk widened for a seventh straight day, set for the longest rising streak since 2018.
"Huarong is a $22 billion curve and as a distressed situation it dwarfs anything that we have seen in the Asia credit market before," said Owen Gallimore, head of trading strategy at Australia & New Zealand Banking Group. "This is a fatal event for a few trading desks and small funds."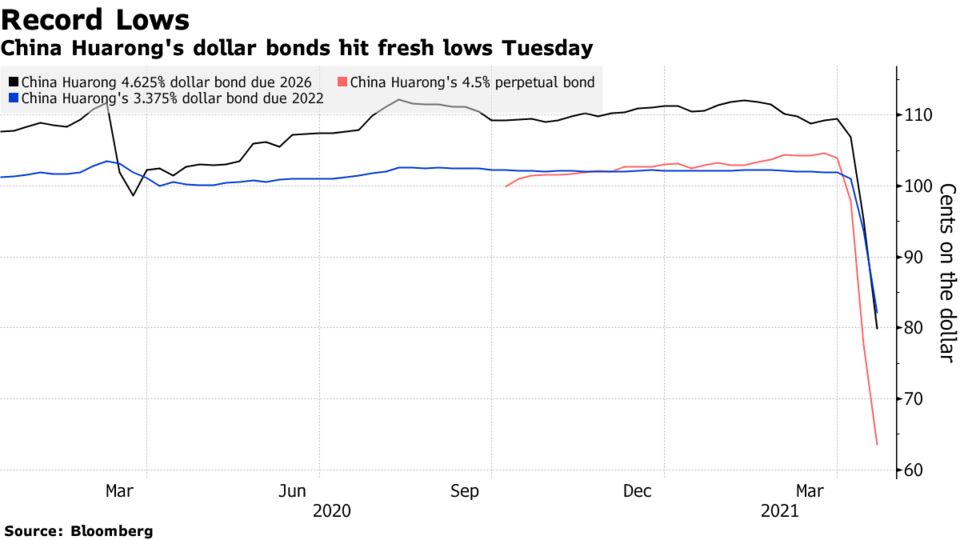 Bonds linked to the company have plunged this month after China Huarong failed to publish its 2020 preliminary results by the March 31 deadline, with Caixin attributing the delay to plans for a significant financial restructuring. The stock has been suspended in Hong Kong since April 1. The company has until the end of the month to release its final earnings report. China Huarong's biggest shareholder is the country's Ministry of Finance.
China Huarong has been under a shadow since its then chairman Lai Xiaomin came under investigation in 2018. Under his watch, the company expanded into areas including securities trading, trusts and other investments, deviating from the original mandate of disposing bad debt. Lai was put to death earlier this year for bribery after a brief trial, an unusually harsh sentence for such a crime.
Read more on China Huarong:
Andy Mukherjee
The country's blockchain industry has come under threat from a bureaucracy that doesn't understand it. But two big-named proponents are coming to its defense.
Anjani Trivedi
The asset manager was Beijing's tool to clean up toxic debt. Instead, the company created a miasma of its own and bondholders may pay the price.
Daniel Moss
John Williamson's formula for helping Latin America through boom-bust cycles became shorthand for the free-market ideals that ultimately roiled Asia, much to his distress.