THE FOX IN CHARGE OF THE CHICKEN PEN!
L'Iran élu à la Commission de la condition de la femme de l'ONU
L'Iran a rejoint mardi comme nouveau membre cette Commission dédiée à la promotion de l'égalité des sexes, pour un mandat de quatre ans.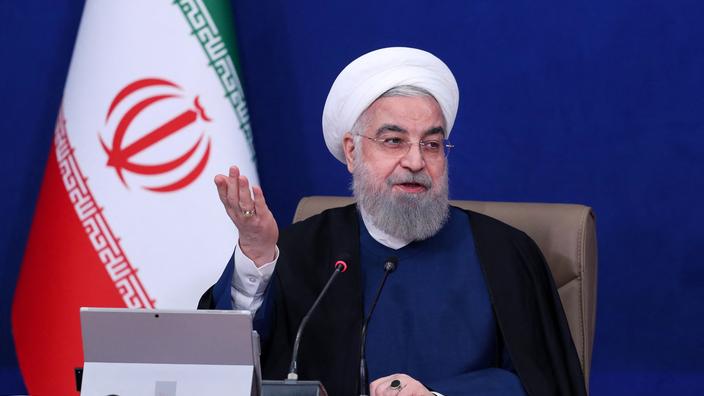 La nouvelle a été accueillie froidement. Plusieurs nouveaux membres, dont l'Iran et le Pakistan, ont été élus mardi pour rejoindre la Commission de la condition de la femme des Nations Unies (CSW) - organe intergouvernemental «dédié exclusivement à la promotion de l'égalité des sexes et de l'autonomisation des femmes », est-il écrit sur le site de l'ONU.
Le CSW est une commission fonctionnelle de 45 membres appartenant au Conseil économique et social des Nations Unis (ECOSOC), et fut créée en 1946. Lors d'une session de l'ECOSOC, mardi, 12 nouveaux membres ont été élus pour rejoindre le CSW en 2022 et pour un mandat de quatre ans. Sept membres ont été désignés par acclamation: le Cap-Vert, l'Égypte, la Mauritanie et la Tunisie (dans la catégorie États africains); le Costa Rica, le Panama et Trinité-et-Tobago (pour les États d'Amérique latine et des Caraïbes). Pour les États d'Asie-Pacifique, un vote secret fut toutefois nécessaire, à la suite duquel la Chine, l'Iran, le Japon, le Liban et le Pakistan ont été élus pour un mandat de quatre ans.
«Surréaliste»
L'élection de l'Iran a provoqué la colère et l'incompréhension de plusieurs activistes des droits de l'homme. «C'est surréaliste. Un régime qui traite les femmes comme des citoyennes de deuxième classe, les emprisonne pour ne pas porter le hijab obligatoire, leur interdit de chanter, les interdits des stades et ne les laisse pas voyager à l'étranger sans la permission de leurs maris est élu au plus haut organe de l'ONU pour les droits des femmes», a ainsi dénoncé Masih Alinejad, journaliste iranienne et militante des droits des femmes.
Kylie Moore-Gilbert, une universitaire australo-britannique et experte en études islamiques, emprisonnée en Iran de 2018 à 2020 pour des accusations d'espionnage, a également témoigné de son incompréhension face à ce vote sur les réseaux sociaux.
«La persécution des femmes par l'Iran est flagrante et systématique, à la fois en droit et en pratique. Le secrétaire général de l'ONU lui-même a signalé la 'discrimination persistante contre les femmes et les filles' en Iran », s'est également insurgé Hillel Neuer, avocat, militant pour les droits de l'homme et à la tête de «UN Watch», une organisation non gouvernementale basée à Genève. UN Watch dispose d'un statut consultatif auprès du Conseil économique et social des Nations unies. Affiliée à l'American Jewish Comittee, l'ONG fut toutefois critiquée pour son manque de neutralité et sa proximité avec Israël.
Hillel Neuer a également publié la vidéo du vote sur les réseaux sociaux lors de la session de l'ECOSOC. Dans un article publié sur son site, UN Watch indique «qu'au moins quatre des quinze membres du groupe des 'démocraties occidental' ont voté pour intégrer l'Iran». Dans ce groupe sont notamment présents la France, les États-Unis, l'Allemagne, le Canada ou encore le Royaume-uni.
« Discrimination solidement ancrée»
Dans son rapport annuel sur l'Iran de 2020, publié en avril, Amnesty International a notamment indiqué que «les femmes se heurtaient toujours à une discrimination solidement ancrée dans la législation, notamment en qui concerne le mariage, le divorce, l'emploi, la succession et l'accès aux fonctions politiques». «La violence domestique, le viol conjugal, le mariage forcé ou précoce et les autres formes de violences liées au genre faites aux femmes et aux filles n'étaient pas passibles de sanctions pénales et restaient très répandus», a ajouté l'ONG qui dénonçait par ailleurs une «police des moeurs et les milices» qui «ont continué de soumettre des millions de femmes et de filles à un harcèlement quotidien et à des brutalités qui s'apparentaient à des actes de torture ou à d'autres mauvais traitements».
Déjà en 2017, l'arrivée de l'Arabie saoudite comme membre de la Commission jusqu'en 2022 avait fait grand bruit. Car jusqu'en 2015, les femmes ne pouvaient toujours pas voter dans la monarchie du golfe et ce n'est que depuis 2018 qu'elles peuvent conduire. À l'époque, l'administratrice du programme de développement des Nations unies et ancienne première ministre de la Nouvelle-Zélande, Helen Clark, avait assuré qu'il était «important de soutenir ceux qui, dans ce pays, s'efforcent de changer les choses pour les femmes. Les choses changent, mais lentement».