Eine Ansage an Putin
Unterschätzt nicht die Kraft von Demokratien: Das ist die Botschaft von US-Präsident Joe Bidens Rede zur Lage der Nation. Ihre Kraft muss sie auch im eigenen Land finden.
ARTIKEL HÖREN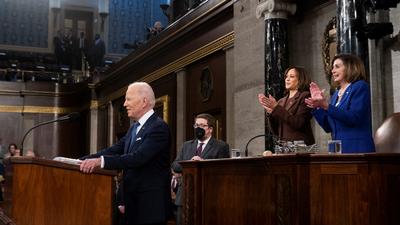 Es ist ein Bild wie aus einer vergangenen Zeit: ein US-Präsident, der vor dem versammelten Kongress steht und Standing Ovations von den Politikerinnen und Politikern beider Parteien erhält. Eine solche Einigkeit gibt es in den Vereinigten Staaten schon lange nicht mehr – Republikaner und Demokraten haben sich in jeder politischen Frage so weit voneinander entfernt, dass selbst bei der Schweigeminute im Repräsentantenhaus zum Jahrestags des Sturms aufs Kapitol nur zwei Republikaner standen: Liz Cheney und ihr Vater Dick Cheney.
Als Joe Biden am Dienstag aber in seiner Rede zur Lage der Nation über Russlands Präsident Wladimir Putin und seinen Krieg gegen die Ukraine spricht, da stehen tatsächlich alle im Saal des Repräsentantenhauses. "Putin dachte, er könnte in die Ukraine einfallen und die Welt würde sich überschlagen. Stattdessen traf er auf eine Mauer der Stärke, die er sich nie hätte vorstellen können. Er traf auf das ukrainische Volk." Hinter diese Botschaft können sich dann auch die meisten Republikaner versammeln. Einige von ihnen hatten die Rede des Präsidenten allerdings boykottiert und waren gar nicht erst erschienen. Doch das bleibt eine Randnotiz an diesem Abend. Denn diese Rede ist eine Rede, von der Joe Biden wohl nicht geglaubt hätte, dass er sie je halten würde. Aber er ist der richtige Präsident dafür.
Biden ist kein starker Redner, kein Charismatiker, der Zuhörer mit seiner Rhetorik in den Bann zieht. Und die in der US-amerikanischen Tradition so wichtige State of the Union Address ist stets vor allem auf die innenpolitischen Themen fokussiert. Doch dann spricht Biden klar, lang, konsequent und stark über den Krieg in der Ukraine, die Aggression von Diktatoren und die Bedeutung des transatlantischen Bündnisses. Es ist nichts dabei, was er nicht schon in den vergangenen Tagen gesagt hat. Aber auf dieser Bühne ist ihre Wirkung noch einmal eine größere. Und während der Präsident an diesem Abend in den USA spricht, sterben zugleich Menschen in der ukrainischen Nacht. Deshalb ist es wichtig, dass Biden Sätze wie diesen sagt: "Putin hat sich geirrt. Wir waren bereit. Wir sind vereint."
Der richtige Präsident ist Biden auch, weil er in einem Moment, in dem sich die Weltordnung verändert hat, die Erfahrung und den Willen besitzt, auf die Gemeinschaft mit Europa und den Westen zu setzen – nicht die Spaltung. Vielleicht wird Biden der letzte Präsident der Vereinigten Staaten sein, der den Multilateralismus in einem Moment der größten Krise und im Angesicht eines unberechenbaren Aggressors wie Putin so klar und eindeutig bejaht.