Covid: UK faces 'catastrophe' without tougher action, warns scientist
Published
24 minutes ago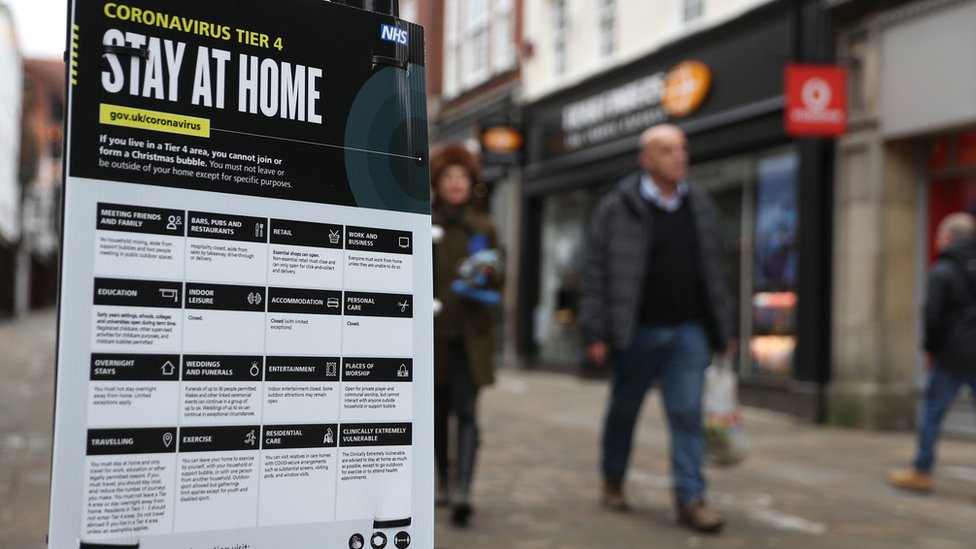 "Decisive" national action is needed to tackle the spread of Covid and prevent a "catastrophe" in the new year, a scientist advising the government says.
Prof Andrew Hayward suggested tougher measures may be necessary to deal with rising numbers of infections.
Health Secretary Matt Hancock will announce any changes to England's tier restrictions on Wednesday.
Hospitals in England and Wales are now treating more Covid patients than at the peak of the first wave in April.
On Monday, a record 41,385 new Covid cases were reported in the UK, though it is thought the infection rate was higher during spring when testing was much more limited.
In Scotland, people have been urged to stay at home and not celebrate Hogmanay with other households as daily case numbers hit a record high.
The spread of a new coronavirus variant means the UK is "entering a very dangerous new phase of the pandemic", according to Prof Hayward, a member of the government's New and Emerging Respiratory Virus Threats Advisory Group (Nervtag).
He told BBC Radio 4's Today programme: "We're going to need decisive, early, national action to prevent a catastrophe in January and February."
The "50% increase in transmissibility" of the new variant means that "the previous levels of restrictions that worked before won't work now, and so tier four restrictions are likely to be necessary - or even higher than that", he added.
Tier four - England's toughest level of coronavirus restrictions, currently in place in parts of east and south-east England - includes a "stay at home" order and the closure of non-essential shops.
Prof Hayward, a professor of infectious disease epidemiology at University College London, said: "I think we're really looking at a situation where we're moving into near lockdown."
He added that he thought schools would have to return "maybe a little bit later" but that having schools open would mean "we're going to have to have increased, strict restrictions in other areas of society to pay for that".



Two stats underline the extent of the pressure on the NHS.
One is the more than 20,000 Covid patients in English hospitals, more than the peak in the first wave in April.
In many ways it is even tougher for hospitals now, as they are trying to clear the backlog on non-urgent operations and procedures cancelled in the first wave - as well as cope with the surge in Covid numbers.
It is worth pointing out, though, that one reason for the high level of patients is that some are there thanks to drugs and therapies discovered in the past year who might not have survived in the first wave.
The other key statistic is the 41,385 new daily reported cases - by far the highest number since the testing system was fully established in the summer.
Some sadly will become seriously ill after a week or so - which points to even greater strain on hospitals in the new year.


Another epidemiologist and member of Nervtag, Prof Neil Ferguson, said the new coronavirus variant had "undoubtedly" made the situation "considerably more difficult".
He told BBC Radio 4's World at One programme that it had given the government "even less wiggle room" in trying to keep control of the virus while maintaining "some semblance of normal society".
"There are no easy solutions here. My real concern is that even if universities, schools, do have staggered returns or even stay closed, how easy it would be to maintain control of the virus... is unclear now, given how much more transmissible this variant is."
Researchers found no significant difference in terms of mortality or morbidity when they compared 1,769 people infected with the new variant versus 1,769 who had "regular" or "wild type" of Covid.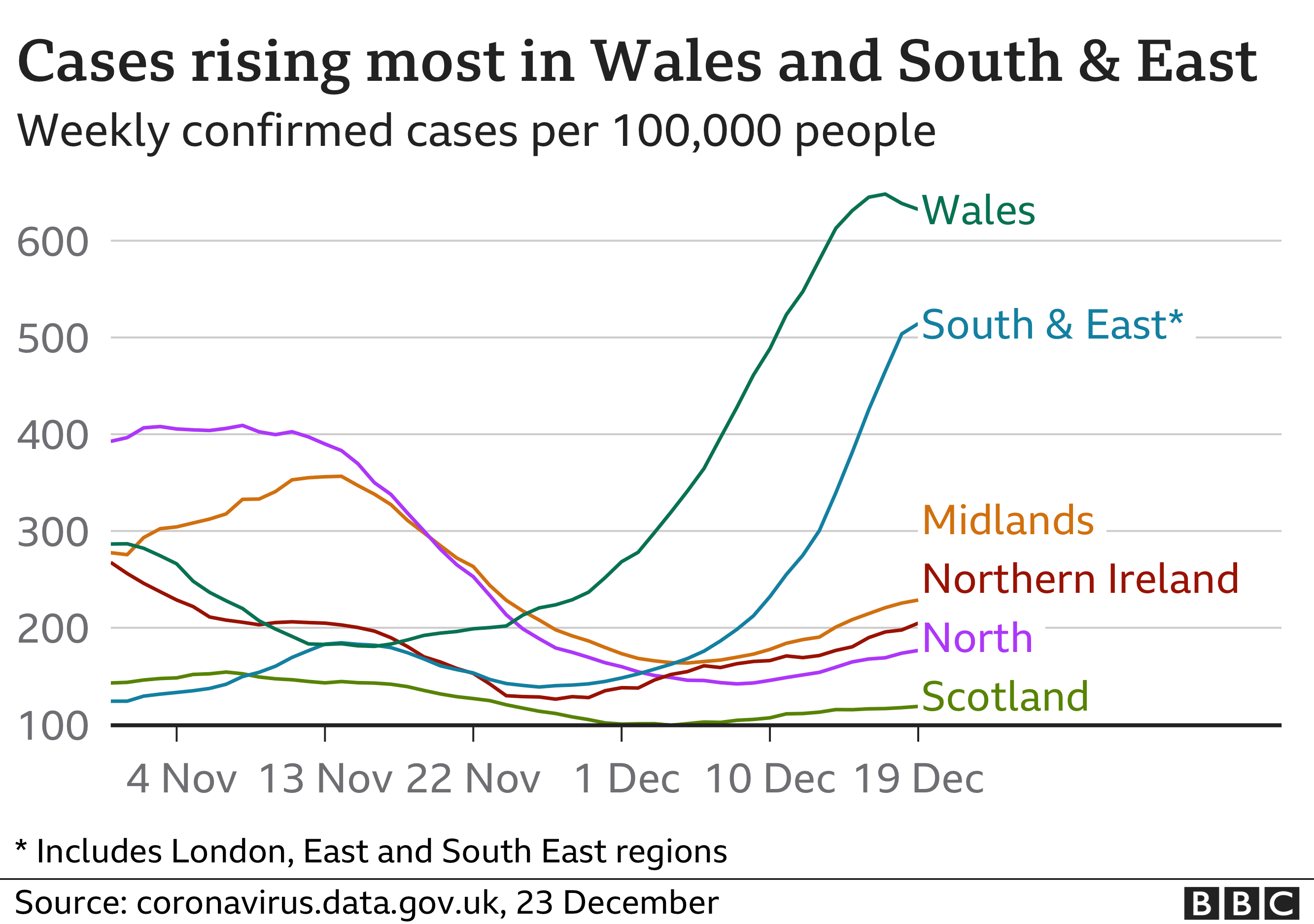 Hospitals in Wales, Scotland and the south of England have reported rising pressure on their services as the number of Covid patients increases, with health officials warning they are at risk of becoming overwhelmed.
There were 20,426 people being treated for the virus in hospitals in England on Monday, which is higher than the previous peak of about 19,000 in April.
Emergency medicine consultant Simon Walsh, who works in north-east London, said staff were working in "major incident mode" in many hospital trusts in the capital and the South East.
He said they were dealing with "queues of ambulances outside many emergency departments" and some were considering setting up triage tents - normally reserved for major incidents like terror attacks - outside hospitals.
Dr Sonia Adesara, an A&E doctor in London, told BBC Breakfast that her hospital had seen "a massive rise" in people with Covid arriving in the past week, adding: "The situation is untenable and I think we are very close to becoming overwhelmed."
Prof Steve Hams, a chief nurse at Gloucestershire Hospitals NHS Foundation Trust, said the situation was becoming "increasingly challenging" and staff were becoming "increasingly exhausted".
He told BBC Breakfast: "We felt during April that there would be an end to this but actually we're now seeing a third peak so trying to keep our colleagues and our teams going through this time is just incredibly difficult."
In a new year message to staff recorded at a vaccination centre, Sir Simon, the NHS England chief executive, said Covid-19 meant 2020 had probably been "the toughest year most of us can remember".
He said the "the biggest chink of hope" for 2021 was that by late spring he expected the NHS to have offered vaccinations to all vulnerable people.
media caption
"Now is the right time... to record our enormous debt of gratitude," says NHS England boss Sir Simon Stevens
The prime minister's official spokesman said the government was "still planning for a staggered opening" of secondary schools after Christmas but it was keeping this under constant review.