How to Get U.S. Companies to Leave China
Rather than threatening American manufacturers, the Biden administration needs to offer them someplace better to go.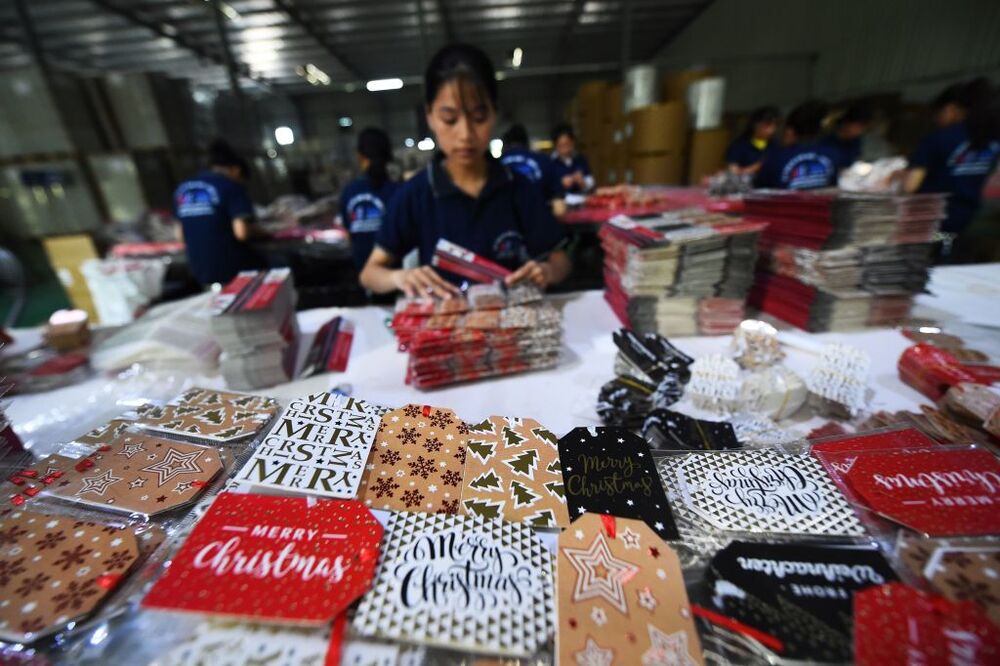 We learned something very important over the four years of Donald Trump's scuffle with China: However frustrated U.S. businesses may be with some aspects of Chinese policy, they are not ready to abandon the world's second-biggest economy. That should be a lesson to President-elect Joe Biden and his administration. U.S. companies won't be frightened out of China; they need to be enticed.
The simple fact is that, for many of America's most important firms, China's massive market and efficient supply chains are still too attractive to abandon, especially for the high-wage U.S. Precious few have left, despite much talk of "decoupling." Foreign direct investment from U.S. companies into China has remained generally stable despite rising tensions, even ticking upward a bit in 2019 to $13.3 billion, according to data from the Rhodium Group. Meanwhile, the persistently large U.S. trade deficit with China testifies to the continuing reliance of the American economy on Chinese supply.
To be clear, full-on "decoupling" from China is neither a realistic nor desirable outcome. But decreasing American dependence on China, particularly for supplies of critical technologies, would be smart for both business reasons and national security. No U.S. administration can ignore the risk that China might weaponize supply chains that are based on the mainland. President Xi Jinping has openly suggested that China should ensure other countries remain dependent on Chinese supply in order to gain leverage and deter them from cutting off China from vital imports.
Trump's attempts to bully U.S. companies into leaving China using tariffs and tweet tirades were a form of friendly fire that hurt U.S. companies at least as much as China. Most of the remaining tariffs should be ditched as counterproductive. Instead, the new administration should be searching for positive incentives to reorient U.S. investment and trade away from China.
First and foremost, that means inking new trade and investment pacts with China's competitors to encourage U.S. companies to shift supply chains to friendly countries, if not back home. Several nations in Asia, including Vietnam and India, are making great efforts to attract such business, with some success. Deals to decrease the costs of doing business with these countries could caffeinate the ongoing shift
The Biden administration should also join the successor to the Trans-Pacific Partnership, a grossly misunderstood agreement that could help redirect trade and investment away from China. And the U.S. should leverage the Quad — a loose strategic alliance it has with Australia, India and Japan — to focus not just on military cooperation but on forging closer economic ties. Those three countries are intimately familiar with the pressure China can bring to bear economically and are already working to protect supply chains from Chinese dominance. Such cooperation could help advance Washington's Clean Network initiative by securing safe locations for the production of high-tech equipment.
Next, Biden ought to consider more active policies, such as granting tax breaks and other inducements to companies to "reshore" production from China back to the U.S. or, perhaps for lesser amounts, to move it to friendlier countries. The Japanese government is trying something similar, earmarking more than $2 billion to lure companies out of China. Taiwan, too, is offering fast-tracked regulatory approvals and other perks for companies to come home. According to Taipei's Ministry of Economic Affairs, more than 200 of them have qualified for the program, bringing in $28 billion in investment.
Finally, Biden should strive to limit collateral damage. The Trump administration got itself into trade tussles with a host of allies — from Mexico to South Korea — in a fruitless quest to right perceived wrongs. Competing with China will require deepening U.S. trade ties to other countries, especially in the emerging world. That means the U.S. may have to tolerate rising deficits with certain countries as the cost of decreasing its reliance on China.
Minor trade disputes will have to be set aside. For instance, the Treasury Department's recent designation of Vietnam as a currency manipulator is short-sighted, foolishly damaging ties with a country that should be a key partner in the contest with China.
Ultimately, a successful China strategy will require adopting the opposite of an "America First" mentality. Instead of seeking a retrenchment of the U.S. role in the world economy, the Biden administration should promote a new, wider wave of globalization to disperse supply chains and trade. This will strengthen U.S. bonds with the emerging world and enlist more governments in the cause of upholding free and fair trade. And it'll help give U.S. companies in China what they don't yet have: someplace better to go.