Beijing Pushes Its Big Banks to Weakest Health in a Decade
Bloomberg News
Bad debt has swelled to a record after virus outbreak
China is leaning hard on banks to sustain economic recovery
Sign up for Next China, a weekly email on where the nation stands now and where it's going next.
Warning signs are flashing for China's $45 trillion banking industry, just when Beijing needs it the most to keep the world's second-largest economy on its recovery path.
Enlisted to ease the financial hardship of millions of people and businesses hurt by the pandemic, Chinese banks are under increasing stress. Profits are plunging at the fastest pace in at least a decade, bad debt has hit a record and capital buffers are eroding. Bank executives and analysts predict the damage is likely to continue in the second half of this year.
The strain risks hamstringing Beijing's efforts to prop up the economy, raising pressure on the central bank to follow up with deeper stimulus. It's also of global importance, with behemoths such as Industrial & Commercial Bank of China Ltd., the world's largest lender by assets, and China Construction Bank Corp. on the global "too-big-to-fail" list.
Worst Hit
China banks led U.S. and European peers in provisioning for bad debts
Source: Data compiled by Bloomberg, company filings
"The government needs to strike a balance between sacrificing the banking sector for the economic recovery and maintaining financial stability," said May Yan, Hong Kong-based head of Greater China Financials at UBS Group AG. "The call for national service from the largest banks can't go on forever. A weak financial system is very dangerous to the nation."
Read more ...
In an economy hurt by the virus outbreak and the protracted dispute with the U.S., outstanding non-performing loans hit a record 2.7 trillion yuan ($395 billion) in June, according to the China Banking and Insurance Regulatory Commission. At the same time, the bad loan coverage ratio, which measures provisions against loans gone sour, has dropped rapidly over the past two years, leaving a smaller margin for error.
The non-performing loan ratio at the biggest four banks, which measure bad debt in the total loan book, rose to an average 1.45% at the end of June from 1.26% a year earlier. That compares to 1.5% overall in the U.S.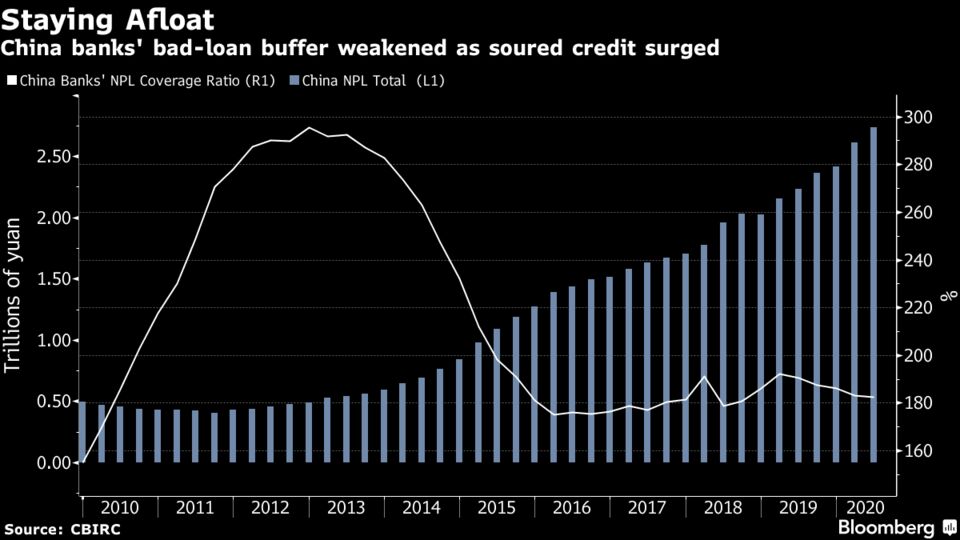 The banks' ability to build buffers by making money has been severely restrained. Authorities have called on lenders to forgo 1.5 trillion yuan in profit by providing cheap funding, deferring payments and increasing lending to struggling small businesses. As part of the pandemic response, China has allowed many borrowers to delay interest and principal payments to March next year, which is hiding the true sense of the bad debt bulge.
Average lending rates to small businesses fell to 5.94% in the first half, down 76 basis points from 2019. ICBC said its lending topped 1 trillion yuan in the first half, a record, saddling it with a large amount of cheap loans.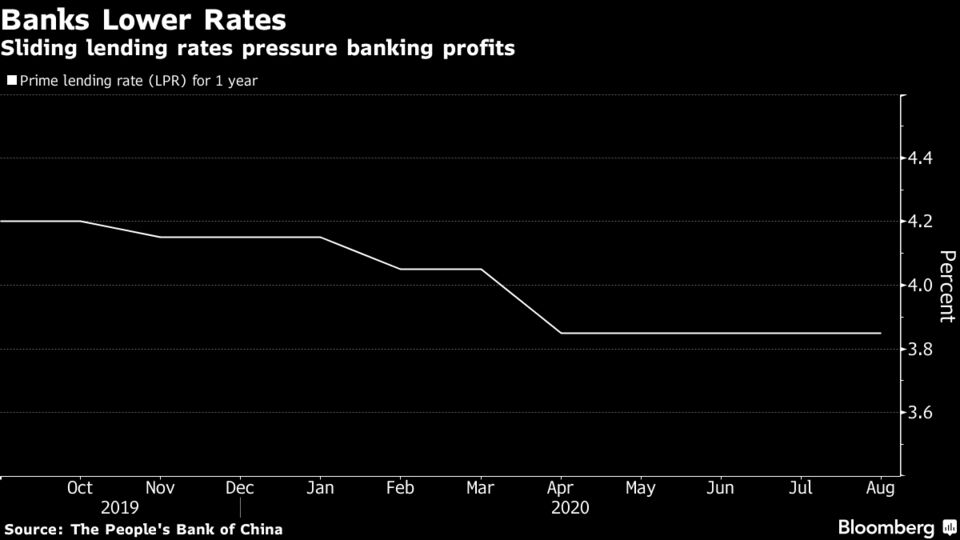 Cheaper and more voluminous lending is eroding capital strength. While they still currently meet minimum domestic requirements with a safe margin, China's big four banks face a shortfall of $220 billion to meet global capital rules kicking in at the start of 2025, S&P Global Ratings said in a report last month. That gap may now grow to more than $900 billion over the next few years as economic pressure weighs on earnings, S&P said.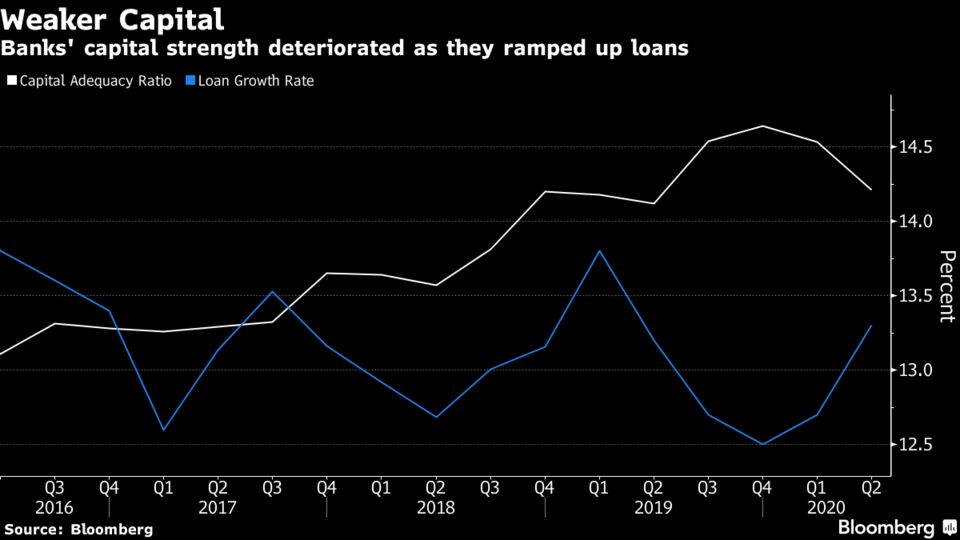 Profit at China's biggest banks declined by at least 10% in the first half from a year earlier, the biggest drop on record as bad loans ballooned. In a worst-case scenario of government pressure, China's lenders could be guided to lower profits by 20% to 25% in 2020, according to Jefferies analyst Shujin Chen. That will erode capital even further and be a risk to financial stability, she said.
Profits Slump
China banks posted earnings declines as loan losses surged
Source: Company filings
The erosion in earnings, margins and buffers isn't lost on investors, and that has likely closed the door for Chinese banks to tap the equity markets for more capital.
The biggest banks are trading at a record low 55% discount to their forecast book value after underperforming the benchmark indexes in Hong Kong and on the mainland for most of the past five years. Regulators generally require share sales to price at at least 1 time book value.
While there may now be limited room for further declines in the valuation of the banks, Yan said that given the credit losses and sliding earnings there's little to suggest there will be any major triggers ahead that could give the shares a boost.

And it's not just the heavily-regulated banks that investors are worried about. As policy makers pumped out liquidity, the dark corners of China's shadow financing rebounded and easy access to money pushed up leverage at China's already overextended households and in the economy overall.

The question on everyone's mind now is how far Beijing can push its banking industry without stoking serious risks. It's also preoccupying officials, who are telling banks to lower salaries even as the lenders ramp up hiring by the thousands.
CBIRC Spokesman Xiao Yuanqi told a press briefing last week that no matter how the pandemic and the economy develop, it will ensure that banks have a solid capital foundation. Liu Gaoqiang, the deputy central bank governor, said at the same briefing that the People's Bank of China is working with various departments to ensure banks have enough capital.
"The PBOC should have enough policy room to step up the stimulus," said Peiqian Liu, China economist at Natwest Markets Plc in Singapore. "Commercial banks shouldn't worry that they'll be left alone to bear the burden."