Li Family Bought $500 Million CK Stock. Others Aren't Biting
Billionaire's purchases fail to revive group's flagging shares
Tycoon and son have mopped up 83 million shares in past year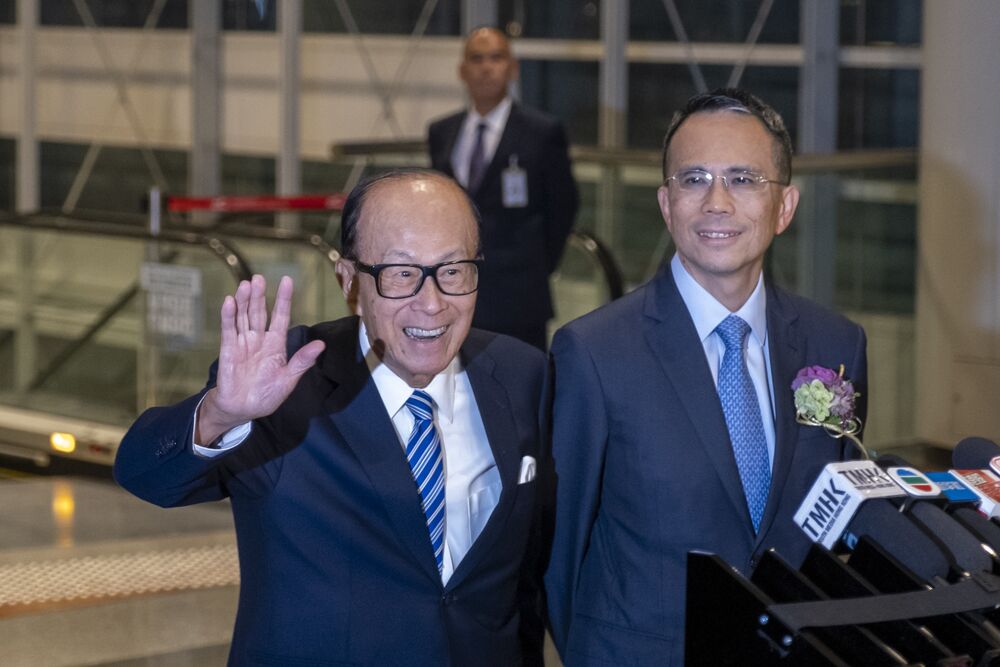 Li Ka-shing, Hong Kong's richest man, is known to his admirers as "superman" for his knack for picking assets on the cheap. But that magic touch hasn't been working on his own companies lately.
Li and his elder son Victor -- who now runs the ports-to-property empire -- have spent about HK$3.8 billion ($490 million) since August last year to buy the flagging shares of CK Asset Holdings Ltd. and CK Hutchison Holdings Ltd. Despite the series of purchases, CK Asset's stock is sinking toward last March's record low, while CK Hutchison is approaching its lowest level since a group revamp in 2015.
The reasons for the stock declines are many. The conglomerate's retail and port operations have been pummeled by political turmoil arising from Beijing's tightening grip over Hong Kong, the outbreak of Covid-19 and a slowdown in global trade. In August, the group pointed to the difficulty in foreseeing a rebound in earnings. Adding to the woes, mounting tensions between the U.S. and China are posing a new threat, with overseas deals facing increasing scrutiny and regulatory hurdles.
"To investors, being cheap alone is not a good reason to buy a stock," said Raymond Cheng, an analyst at CGS-CIMB Securities. "People feel there are uncertainties in Hong Kong with the pandemic and the political environment. There are concerns about the market in the short term."
Although the purchases represent only about 1% of the combined market value of the two firms, the move is more of a show of confidence by the controlling family as they raise their holdings when prices dip. That prompted CGS-CIMB analyst Cheng to briefly raise CK Asset's stock rating between March and April to a buy from neutral, but he flipped to reduce last month after the company's first-half results and 35% dividend cut.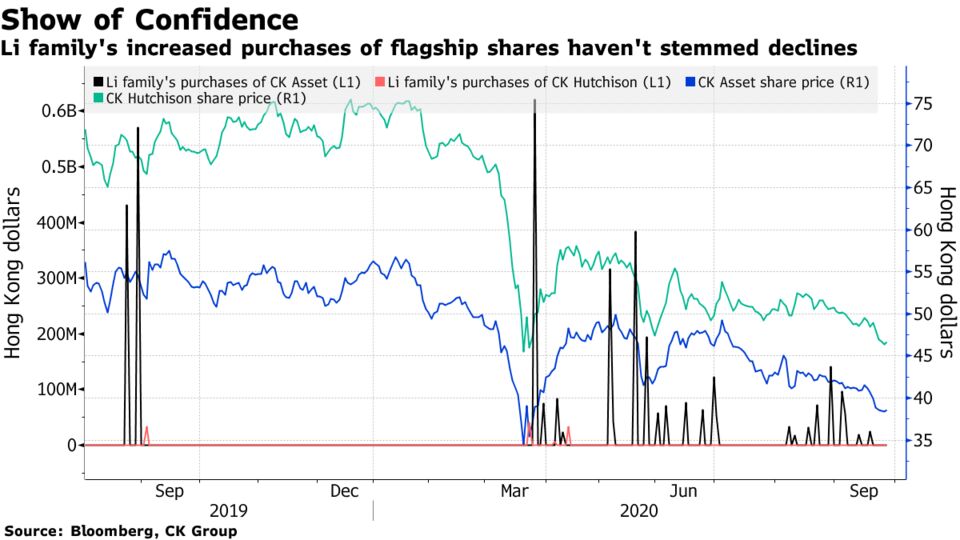 CK Asset, the Li family's property development arm, is losing appeal among investors who have a dim outlook on Hong Kong's real estate market, Cheng said. Representatives for CK group didn't respond to a request for comment.
The property unit is also facing some challenges in mainland China. Financial regulators have instructed banks to pull credit lines meant to finance a HK$2.5 billion sale of a Chengdu property by the company, people familiar with the matter said. CK Asset has said the project was no longer a subsidiary.
To read on setbacks:
Markets
China Halts Funding for Property Sale by Li Ka-shing's CK Asset
Bloomberg News
Chengdu government is investigating suspected land hoarding
CK Asset's former housing project probed by local government
China's financial regulators have instructed banks to pull credit lines meant to finance the HK$2.5 billion ($323 million) sale of a Chengdu property by CK Asset Holdings Ltd., according to people familiar with the matter.
Billionaire Li Ka-shing's firm said in July that it planned to sell its subsidiary developing residential complexes in one of the most expensive neighborhoods in the sprawling southwest city, and would provide financing for the buyers to complete the transaction.
But regulators this week instructed local banks to halt credit support aimed at financing the Chengdu sale and subsequent asset restructuring, citing concerns of risk, the people said. China's property regulator held meetings with government officials in six cities including Chengdu in August, asking them to control property prices.
The project is known as Chengdu Le Parc, a high-end residential and commercial development in the city's tech zone. The buyers were two local developers: Chengdu Ruizhuo Real Estate Co. and Yuzhou Group Holdings Co., a company listed in Hong Kong.
The Chengdu financial regulatory bureau said in a statement Wednesday that it was investigating and punishing "hoarding behavior," including the Chengdu Le Parc project.
A representative for CK Asset said that the project was no longer a subsidiary and didn't immediately respond to email queries about the government notice.
A Yuzhou Group representative said via a text statement that it didn't hoard land. It only bought the project in July and has been following government procedures. Chengdu Ruizhuo Real Estate declined to comment.
Data analysis allows Chinese firms to pin down local needs
Pandemic, geopolitical tensions are fueling the domestic push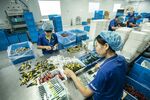 As export orders started plummeting in March amid the coronavirus's global spread, Chinese toothbrush maker Tommy Tu turned to the domestic market. With the help of Alibaba Group's huge trove of data on what Chinese consumers are searching for, his factory shifted to making products that became local hits, like a battery-operated electric toothbrush for 9.9 yuan ($1.5).
The strategy helped Tu recover most of the lost foreign sales and reduce his Jiangsu-based firm's dependence on exports to 60% of revenue, down from 90% earlier.
Spurred by the economic devastation unleashed by the pandemic, hundreds of thousands of Chinese factories like this -- some of which had exported almost everything they made -- are re-focusing on the domestic market of 1.4 billion people. They are turning to e-commerce giants like Alibaba, Pinduoduo Inc. and JD.com Inc. with deep pockets and years of observing consumer behavior, in what could be a long-term pivot.
"We have to focus more on domestic sales," said Tu, who doesn't anticipate a "return to the old days" of robust overseas demand. "We have to move away from just blindly sticking labels on products to actively researching, designing and building our own brand."
Rebalancing
China's economy has gradually reduced its reliance on exports
Source: World Bank
Chinese factories are having trouble in overseas markets not just because of the global economic contraction caused by the pandemic. Political tensions are flaring between China and the U.S., Australia and Canada, while rising labor and material costs are propelling foreign clients to turn to more affordable exporters such as those in Southeast Asia.
With China's status as the factory to the world -- an economic model that powered its growth in the past two decades -- coming under pressure, President Xi Jinping is ambitiously seeking to boost domestic consumption in a revamp of the world's second-largest economy.
Though China's exports demonstrated strength in feeding global demand recently-- rising 9.5% in dollar terms in August from a year earlier -- exports will be pressured in the long term as other nations increase output, according to Nomura Holdings Inc.