THIS IS WHY WE MUST EXTERMINATE HAN CHINESE RATS WHEREVER THEY ARE!
China's Epic Dash for PPE Left the World Short on Masks
The humanitarian campaign saved lives but has made foreign governments wary of the long reach of the organizer, the Communist Party's United Front.
By
Sheridan Prasso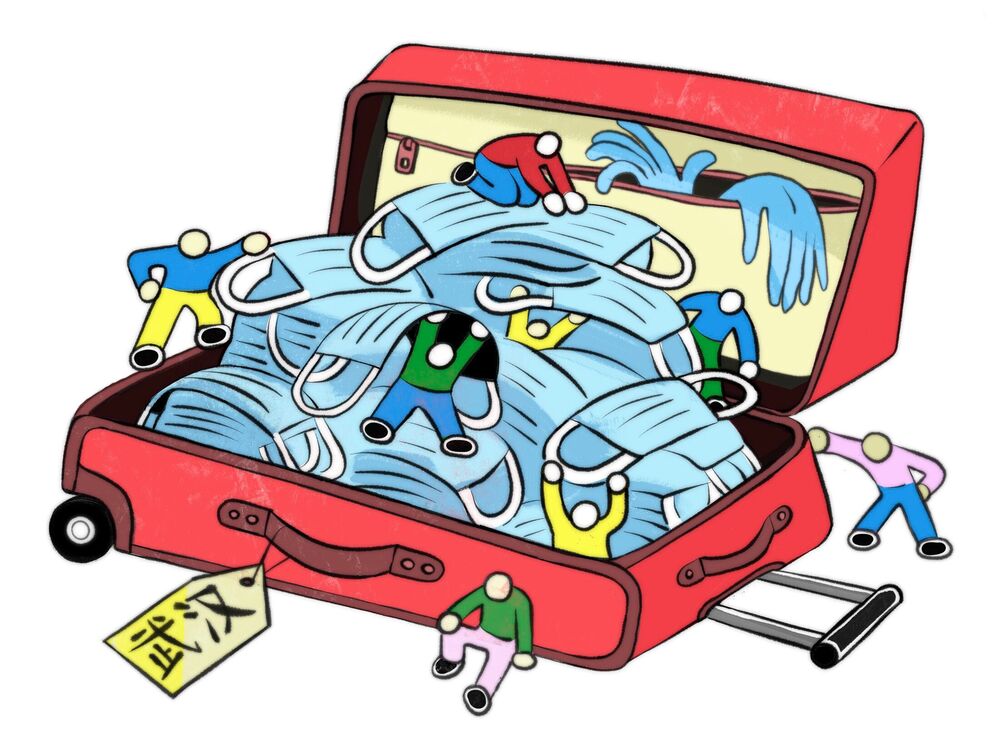 Just after the lockdown of Wuhan in January, the same week the U.S. confirmed its first case of the novel coronavirus, Chinese civic organizations in dozens of countries on five continents began buying masks and other personal protective equipment. It was the beginning of an unprecedented humanitarian mobilization, orchestrated by the Chinese Communist Party's United Front Work Department, to send PPE supplies to a China struggling with an epic public health crisis.
In Nagoya, Japan, volunteers drove to pharmacies and bought 520,000 masks in three days, according to an account carried by Xinhua, China's official news agency. By Jan. 26, the head of a Chinese chamber of commerce in Toronto, just back from a trip to Beijing, started making calls to members telling them they needed to join the effort, the report said. Almost 100 people drove to Toronto—some overnight, on icy roads—and were dispatched to buy supplies. Planes out of Kenya and Milan were packed with boxes and suitcases filled with PPE bound for China. An overseas Chinese association in Argentina sent some 25,000 masks within a week of receiving the request.
These efforts were praised in China as the highest form of civic duty. To put the need in perspective, e-commerce giant Alibaba Group Holding Ltd. posted on social media on Jan. 22, the eve of the Wuhan lockdown, that its inventory of available masks was 46.1 million. That was only enough for every resident of Beijing and Shanghai to buy one, never mind the rest of the nation's more than 1 billion people. The result was stunning: By the end of February, as other countries were realizing their own need for masks and protective equipment, the campaign had sent 2.5 billion items to China worth 8.2 billion yuan ($1.2 billion), including 2 billion masks, according to Chinese government figures.
The achievement has once again put a focus on the organizational skills of the United Front. The scope, speed, and effectiveness of a campaign coordinated with the help of Chinese messaging app WeChat was no ordinary disaster relief drive. In late January, a call for help went out through the United Front-affiliated All-China Federation of Returned Overseas Chinese and was promoted or posted on the websites of Chinese consulates in New York, Los Angeles, Melbourne, and elsewhere. Most of the PPE was sent in by mid-February. It was a demonstration of how the United Front can mobilize thousands of organizations and social media groups—more than 250 associations in the U.S. alone, according to testimony last year before the House Intelligence Committee.
The United Front has the U.S. Congress's attention because it is more than a humanitarian organization. In June, 148 Republican lawmakers called for sanctions on top United Front officials, citing "malign influence campaigns" as a factor. "Beijing's exploitation of diaspora networks to gather personal protective equipment from overseas is a stunning example of how it is integrating economic, political, and security campaigns, with the United Front Work Department as the vanguard," says Robin Cleveland, chairman of the U.S.-China Economic and Security Review Commission, a bipartisan congressional organization that published a 2018 report on the United Front.
Mao Zedong called it a "magic weapon" for its ability to so neatly marry civic action with the aims of his Chinese Communist Party—notably during the two-decade civil war that led to the 1949 defeat of Chiang Kai-shek's Nationalist forces. The organization has played a role in building support for China's moves to suppress dissent in Hong Kong. It is the organizer or close affiliate of thousands of overseas associations focused on Chinese living abroad, who numbered 60 million in government estimates from 2015, including people of Chinese origin born outside the country. These groups typically have words like "friendship" or "benevolent" in their names, or chambers of commerce or associations of people from particular regions of China.
The PPE effort may have resonated particularly among overseas Chinese because it was more than political: There was an emergency in the old country. Indeed, foreign governments also sent help. Canada announced it was sending China 16 metric tons of PPE on Feb. 9. However, China's sheer need led to a shortage of supplies and higher prices in some countries once the virus hit their shores. In Canada, Prime Minister Justin Trudeau faced criticism as prices of N95 masks surged fivefold. Responding to complaints that China was hoarding PPE, Foreign Ministry spokesperson Hua Chunying said on March 31 that control of the epidemic at home was the "government's top priority" but that China was also sending medical supplies abroad.
Under President Xi Jinping, who set about revitalizing the United Front in 2015, the network—which reports directly to the party's all-powerful Central Committee—has grown to an unprecedented scale. The medical supplies campaign is providing the world a unique opportunity to understand how powerful it is, according to Alex Joske, who wrote a report about the organization in June for the Australian Strategic Policy Institute. "Xi has clearly given a strong push to the United Front system to do more and be bolder," he says.
Party officials have trumpeted the PPE campaign's success. Xu Yousheng, a vice minister of the United Front and director of the Overseas Chinese Affairs Office of the State Council, credited the mask-buying effort's "unprecedented scope of participation" with demonstrating "the great power of the Chinese nation in unity." The United Front didn't respond to a request for comment.
China isn't the only country to call on overseas communities in times of crisis, and it remains to be seen if the United Front can muster a similar result in a non-humanitarian context. After all, many overseas Chinese moved so they could avoid the tight hold of the Communist Party. "This isn't necessarily representative of Chinese diaspora communities," says Joske. "Only a small number of overseas ethnic Chinese might be tied to United Front groups, but the groups can be highly effective at mobilizing and getting their message out there."
Still, says David Mulroney, a former Canadian ambassador to Beijing, "China treats overseas Chinese as being part of the great Chinese nation, something that Xi Jinping has pushed. It speaks to them, engages them in ways that other countries don't, activating people and organizations quietly. That's textbook United Front."
After the virus hit Canada and the country suffered shortages and price spikes, critics worried aloud about how China could rally overseas ethnic Chinese. "To learn the lessons, we really have to educate Canadians on the risk of these foreign influence operations," says Erin O'Toole, a member of Parliament who heads the opposition Conservative Party. "Canadian lawmakers and every democratic country should be very concerned, because it is the influence of a foreign state in your home country."
By mid-March, as China's efforts to control the pandemic were paying off and the global need for supplies was becoming clearer, Beijing reversed the PPE flow in what came to be known as "mask diplomacy." It dispatched a medical team and supplies to Italy on March 12 and sent similar groups or equipment to 89 countries by the end of that month. In Australia, employees at a subsidiary of the state-owned Greenland Group, one of China's largest property developers, initially participated in the PPE-to-the-mainland effort, but shifted their focus to local relief once the need became known. China also said recently it would offer developing countries Covid-19 vaccines or loans to purchase them.
Even so, the campaign has become another example in the United Front's global reach. In Canada last year, more than 200 associations showed support for the United Front by signing a statement opposing the pro-democracy push in Hong Kong. In Europe, more than 1,000 such organizations and social media groups are embedded in civil society, according to researchers at Charles University in Prague. United Front groups also are active in Africa, Latin America, and the rest of Asia, according to the reports carried by Xinhua and the Chinese Communist Party's website.
Mareike Ohlberg, a senior fellow at the German Marshall Fund in Berlin and co-author of Hidden Hand: Exposing How the Chinese Communist Party Is Reshaping the World, says the United Front's prowess is causing governments to be more vigilant. "There is a vast organizational potential, and it can be used against vulnerable populations or against your interests," she says. "Some governments are already starting to wake up to this. They need to be smarter." —With Natalie Obiko Pearson