How Can China Contain Its $8.3 Trillion Fiscal Crisis?
Beijing faces a fine-balancing act as local-government borrowings reach critical levels.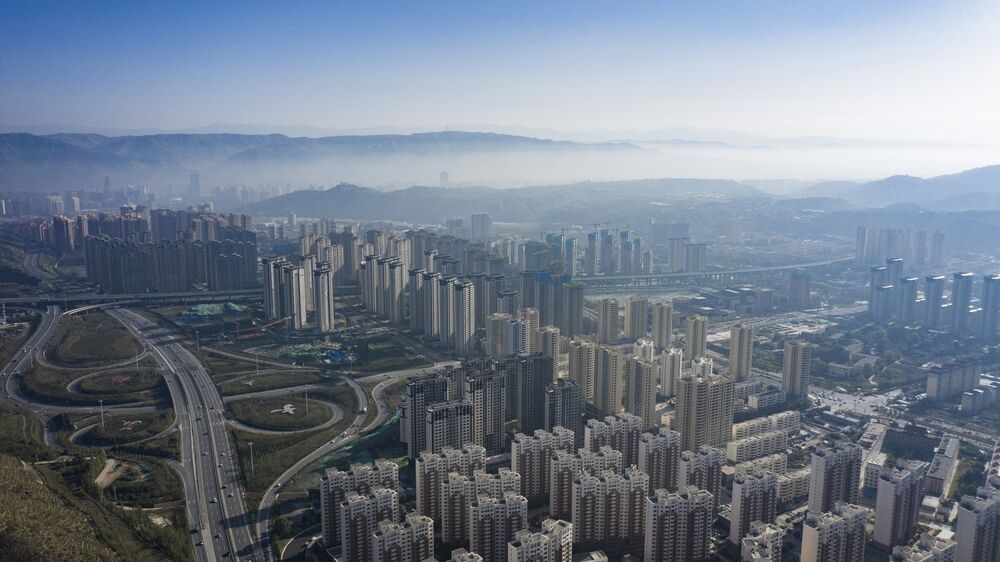 Call it luck or stellar crisis management. China, one of the world's most indebted nations, has not experienced a full-blown financial crisis, yet. There were a few close calls. In 2019, the government had to seize a regional bank, for the first time in decades, to prevent a run on deposits. Last year, a wave of real estate developer defaults ended up with homebuyers threatening mortgage boycotts. Both scares got defused. One may even argue that China is now a safer place for investors after Beijing tightened regulations on unruly local banks and aggressive home builders.
But there is one more elephant in the room: Borrowings from local government financing vehicles. For years, municipalities have been relying on these off-balance-sheet entities to fund infrastructure and support the local economy. LGFV debt rose to 57 trillion yuan ($8.3 trillion) in 2022, or 48% of China's gross domestic product, according to estimates from the International Monetary Fund.
It is fiscal maneuvering on an epic scale. LGFV borrowings are almost the same size as official central and local government debt combined. Bank loans aside, these vehicles routinely raise money from corporate bond issues, accounting for over 40% of the total market. Their outstanding amount reached about 36 trillion yuan last year.
Investors are nervous. LGFVs' ability to service their debt is worse than developers', in that their mandate is non-profit and to provide public services. The average return on assets among LGFV bonds was only 0.4% in the first half of 2022, according to data compiled from Gavekal Dragonomics. Meanwhile, these 1,800 issuers are not compensating buyers for the risks they take, paying on average only 4.3% interest.
To make matters worse, after the property slump, municipalities may not be in a position to help out their LGFVs even if they wanted to. Before Covid, regional authorities got roughly 20% of their income from land sales. Last year, this important revenue stream tumbled 23%.
If anything, it's the other way around, with local authorities resorting to LGFVs to fix their fiscal problems. In 2022, as developers retreated to repair their cash flows, these entities snapped up more than half of the residential land sold, worsening their balance sheets further.
Already, poorer provinces are lobbying for a central government bailout. In a now-deleted online post, Guizhou, in landlocked central China, said that it was struggling to solve its debt problems. In December, Zunyi Road & Bridge Engineering Construction Group, a local LGFV, got a partial bailout from its lenders, swapping short-term borrowings into 15.6 billion yuan worth of low-interest, 20-year loans. But that was apparently not enough. Another LGFV in the province best-known for its fiery baijiu was on the verge of reneging on a bond last year.
Granted, Beijing has conducted large-scale bailouts in the past. In a 2014 audit, two-thirds of LGFV debt was explicitly recognized as a government liability. In the ensuring four years, more than 12 trillion yuan of such borrowings were swapped into official local-government bonds. But the current 57 trillion yuan is on a different scale. President Xi Jinping's government is walking a very tight rope.
With some luck and investor faith, China might just be able to defuse this fiscal crisis, too.
Gavekal's Xiaoxi Zhang makes an interesting point. The poorest provinces, such as Guizhou, tend to be more distressed. But they also have smaller amounts of outstanding LGFV debt, in part because they are seen as riskier and can't issue as easily. Therefore, next time one of these regions causes panic among bond investors, Beijing can still swap all their borrowings into official government bonds.
That argument has a big if. It assumes the next scare will be triggered by the likes of Guizhou, which does have a long history of defaulting on private creditors. If instead, the surprise comes from more prosperous provinces, such as eastern Zhejiang or Jiangsu, which also happen to be the biggest issuers, all bets are off. Beijing may not be able to contain that kind of blowup and China's Minsky Moment may well have arrived.
To be sure, there is a brighter story to tell about LGFVs, in that they have built a cheap, quality service for the public. Unlike the US, people in China can ride high-speed trains and take road trips at little cost. But the economy is now at a stage mature enough that the fiscal authorities have to figure out how to pay for all that infrastructure. Beijing will have to tread very carefully this time.