WeChat Is China's Everything App, and the 'We' Is Looking Suspicious
TikTok may have started the Chinese app security debate, but WeChat has policed the messages and chatter of its users to toe the Communist Party line.
By
Jamie Tarabay
and
Zheping Huang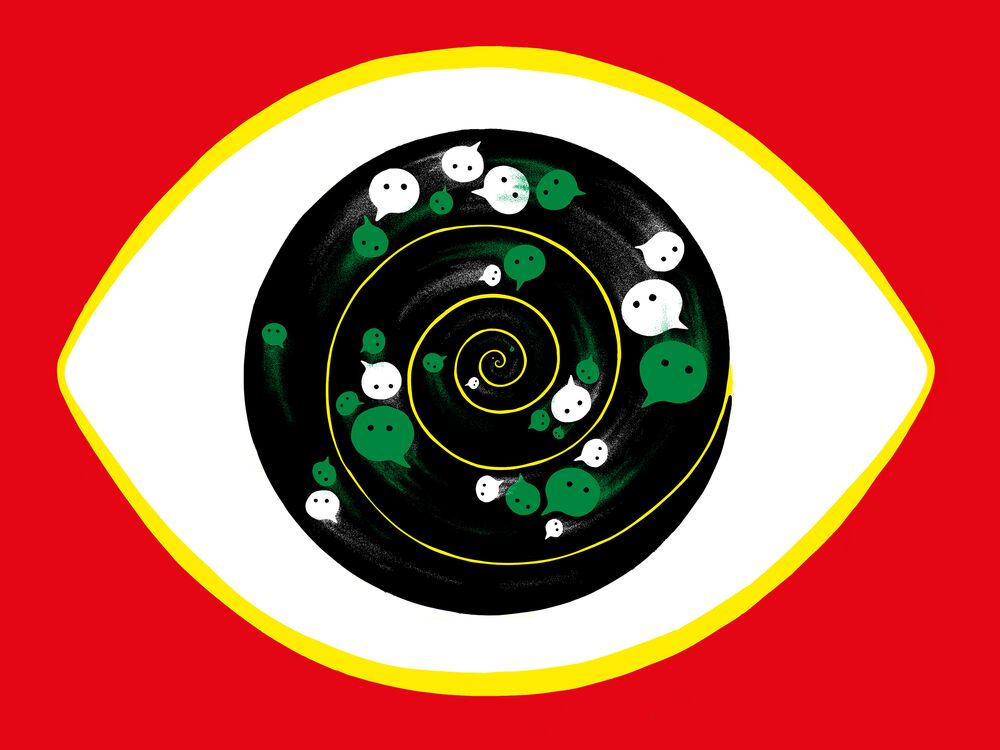 When the Trump administration issued executive orders on Aug. 6 that would essentially ban the Chinese apps WeChat and TikTok over national security concerns, executives at TikTok were quick to distance themselves from any user anxiety over the social media phenomenon's relationship with the mother country and authorities there.
WeChat was less quick to push back. That's because Tencent Holdings Ltd., the company that owns WeChat, has for years worked to keep the app aligned with the values of China's ruling Communist Party. The day after the ban was announced, Tencent—which has a market cap of more than $660 billion—simply said it was "reviewing the potential consequences" of the executive order; it later tried to make a distinction between the app's Chinese and overseas versions but didn't address U.S. security allegations.
It was the Chinese government that assailed the U.S. move—as it has done repeatedly over the past few years when the U.S. has gone after companies from the mainland—with foreign ministry spokesman Wang Wenbin telling reporters on Aug. 7 that it was "nothing short of bullying." He said, "The U.S. side has put selfish interests above market principle and international rules to the detriment of American users and companies." Political manipulation and oppression "will only end up with its demoralization, eroded national image, and trust deficit."
WeChat is so intrinsic to China's society that it's difficult to get a cab or a pizza without it. While it has been compared to Facebook Inc.'s WhatsApp, WeChat also provides search, social media, as well as payment functions. It's also heavily censored, monitored, and—according to U.S. officials—used as a propaganda messaging tool for millions of Chinese citizens living abroad. "It's important to note that China's censorship and propaganda apparatus is a responsibility that's pushed down to companies like Tencent and ByteDance [TikTok's parent company]," says Fergus Ryan, a researcher at the Australian Strategic Policy Institute.
All the platforms are expected to toe the party line and ensure content doesn't "cross any of Beijing's red lines," Ryan says. Article 28 of China's 2017 cybersecurity law says, "Network operators shall provide technical support and assistance to public security organs and national security organs that are safeguarding national security and investigating criminal activities in accordance with the law." In a regular press conference with foreign media on Sept. 1, foreign ministry spokesperson Hua Chunying said it was the U.S. rather than China that had turned apps into surveillance systems to spy on the public.
Trump's two orders would prohibit "any transaction" by U.S. individuals and entities with WeChat and TikTok, but the administration's sweeping language seemed to indicate the ban might extend well beyond their use in the U.S.—leaving investors confused and trying to figure out the orders' definition of transactions as it applied to Chinese companies. Did it include the use of the apps outside the U.S. and specifically in China where WeChat is ubiquitous and essential to business?
The White House was inundated with lobbying efforts and questions from leading American corporations including Apple Inc., which has a large presence in China. The administration has since quietly assured U.S. companies they can continue to use WeChat for their operations in the mainland.
But the scope of the executive orders were vague enough for Tencent's executives to thread the needle on just what the ban might mean for its users—19 million in the U.S. alone. In a call with investors on Aug. 12, company executives tried to suggest that the ban applied only to overseas operation and—while never bringing up Trump's security questions—repeatedly stressed a distinction between WeChat and Weixin, its virtually identical app available only to users within the constraints of China's Great Firewall—the legal regulations and technological constraints that keep China's internet quarantined from information from the rest of the world the government deems undesirable. WeChat is primarily a resource for everyone living beyond the firewall; Tencent says the two apps operate on different sets of servers.
WeChat can be a powerful factor in countries where the Chinese diaspora is substantial because it is often a major source of information for that population. During last year's federal election in Australia, for example, leaders of the main political parties took to the platform to conduct question-and-answer sessions with Chinese Australian voters.
Despite the difference in names and servers, WeChat and Weixin are inextricably linked: WeChat users communicate with residents in the People's Republic via the mainlanders' Weixin apps and vice versa. It's become a more crucial link recently because of Beijing's crackdowns against firewall workarounds and hacktivist groups. Still, for years already, those outside China who contacted those inside have tolerated glitches in their conversations: Photos were deleted before they landed, and an expansive and fluid library of keywords are banned, sometimes leading to whole messages being altogether lost. Anything deemed offensive, subversive, or troublesome to the ruling Communist Party quickly disappeared.
Even news of the executive orders themselves has vanished from the platform, according to Citizen Lab, a research group at the University of Toronto's Munk School of Global Affairs and Public Policy. "We found that WeChat blocked a few Chinese and English keyword combinations referencing the executive orders, China's information control apparatus, as well as related accusations of Tencent's involvement in the apparatus," says Lotus Ruan, a researcher at Citizen Lab. Tencent has offered no comment on the allegation. Citizen Lab has noted that it had no evidence that surveillance of overseas users was at the "direction of the Chinese government." The keyword and photo deletions, however, align with official pronouncements—perhaps even more so. In a Citizen Lab experiment using WeChat and Weixin, even passages from Chinese state media reports that used keywords were blocked.
Zhou Fengsuo, a former student leader during the Tiananmen Square protests of 1989 and a naturalized American citizen living in the U.S., says his WeChat account has been temporarily suspended numerous times over the past seven years. "WeChat censorship is so obvious that people are no longer sensitive about it," he says. "My account is dealt with in the same way as Chinese accounts, which are under surveillance all the time." Shortly after Chinese activist Liu Xiaobo died in 2017, Zhou says he couldn't commemorate Liu by sharing photos of the Nobel Peace Prize laureate and his wife with friends on WeChat, or on the app's semi-public feed.
Images he's sent to people in group chats never made it through, nor did many messages he sent as part of conversations with users based in the mainland as well as overseas. "You have to acknowledge the fact that there's no way to communicate privately with people inside the Great Firewall," he says. "You should assume that everything is transparent." Zhou says that, according to China-based activists he's talked to, political dissidents who use the app to advocate against the regime are reported to authorities who then visit them to threaten retaliation.
To the Trump administration, the national security concerns surrounding WeChat go beyond Communist Party surveillance, censorship, and the silencing of activists. There is the "Chinese appetite for large volumes of sensitive personal data," said John Demers, the assistant attorney general for national security at the U.S. Department of Justice, during a recent online discussion at the Center for Strategic and International Studies about countering Chinese espionage. As examples of Chinese ambitions to collect masses of personal data in large swathes, Demers cited the hacks of the U.S. government's Office of Personnel Management in 2015 and the credit reporting agency Equifax Inc. in 2017, two breaches where Chinese hackers are alleged to have swept up the personal details of hundreds of millions of people.
WeChat is also used, Demers said, as a messaging tool to try to maintain the loyalty of Chinese studying overseas. "Here's the goal of the Chinese government: Send the Chinese students here to reap all the benefits of the U.S. technical education, but do not allow them to get polluted by ideas like liberal democracy or religious freedom," Demers said.
He cited images and accompanying captions from Chinese news sites—published by the Global Engagement Center at the U.S. State Department—that have circulated in group chats on WeChat. One, for example, warned Chinese people in the U.S. of the possibility of a terrorist threat occurring during the July 4 holiday celebrations. "They message how dangerous the U.S. is. Don't go out there and get to know the country," Demers said. Tencent offered no comment.
Cybersecurity experts agree that a ban on WeChat and even TikTok for its mass collection of personal user data should be on the table when it comes to national security. "That's a discussion we need to have, and any regulation shouldn't necessarily look in the first instance where the app is from, although that should be part of the mix," says ASPI's Ryan.
"But at the end of the day," he says, "there's a reason why there's only one app people use. It's because of China's Great Firewall and the fact that they've blocked alternatives from around the world. It's a position the Chinese Communist Party has now put everyone else in."